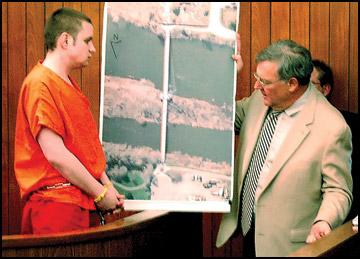 HAVRE - Handcuffed and shackled in ankle restraints, Dustin Strahan testified Wednesday that he tried to intervene when his friend, Anthony St. Dennis, allegedly stomped a homeless man to death near a Missoula footbridge.
Strahan, 21, and St. Dennis, 19, are both charged with deliberate homicide in connection with the fatal attack on Forrest Clayton Salcido, whose battered body was discovered the morning of Dec. 6, 2007, near the California Street footbridge in Missoula.
Strahan characterized the act of violence as random and unprovoked.
"St. Dennis just walked up to him and started cussing and pushing him, trying to instigate a fight," Strahan told the Hill County jury.
Strahan's account of the brutal slaying came at the end of the second day of testimony in St. Dennis' murder trial, which got under way Monday morning with jury selection. Missoula County prosecutors are nearing the end of their case, and lawyers for St. Dennis will soon begin laying out a defense.
Strahan, whose own murder trial is slated to begin in March, testified under immunity that he took part in the assault only after he saw Salcido fight back against St. Dennis, and said that at one point the 56-year-old Navy veteran appeared to have the upper hand.
"It looked like Anthony was getting the worst of it, so I jumped in," Strahan said. "I jumped in and hit Salcido a couple times."
St. Dennis then knocked Salcido to the ground and "started stomping on his head … well over 10 times," Strahan said. At that point, he said, he tried to stop the attack.
"I came over and tried pulling him off of him," Strahan said.
Strahan's mother, Melody Shoop, also testified on Wednesday, and described her son's behavior after he returned to their home late on the night of Dec. 5, when the attack occurred.
"He came into my room and laid on my bed and he was crying and he said something terrible has happened," Shoop said. "He was crying and shaking and he kept saying, 'I tried to stop him, I tried to stop him.' "
The following day, Strahan went to police with information about the murder at the behest of his mother, who read online news reports about Salcido's death.
But Strahan initially told investigators that he and St. Dennis attacked Salcido because they saw the homeless man raping a woman. He admitted the attack was unprovoked after further questioning from police.
"He folded like a deck of cards," Missoula County Attorney Fred Van Valkenburg said in his opening statements on Tuesday.
On cross-examination, Public Defender Chris Daly plied Strahan about that lie and about several other discrepancies between Strahan's trial testimony and earlier statements to police.
Daly also trained his questioning on the whereabouts of another young man Strahan said had been at St. Dennis' house prior to the assault. Strahan and St. Dennis were drinking vodka at the house all evening, consuming a "double quart" of alcohol between the two of them, Strahan said.
He said the friend had gone home before he and St. Dennis walked to the footbridge near California Street, where they encountered Salcido.
Daly, who early on in the case's proceedings sought immunity for an anonymous witness, asked Strahan to explain a fourth set of footprints on the footpath that forensic impression analysts have never matched to either of the defendants or the victim.
"Was there anybody there besides you and Anthony that night?" Daly asked Strahan, who said there wasn't. "Did you spit on Salcido? Did you kick him in the neck?"
Strahan said he never hit the man after St. Dennis knocked him to the ground.
Strahan testified Wednesday under a letter of "use immunity," which is granted to witnesses in criminal cases to prevent their testimony from being used against them in a criminal prosecution.
Van Valkenburg said Strahan has not been promised any special deals in exchange for his testimony and prosecution.
St. Dennis, who prosecutors allege threatened Strahan in a letter intercepted by Missoula County jail officials - writing that his co-defendant had "better get his story straight" - did not visibly react during Wednesday's testimony.
St. Dennis, a senior at Hellgate High School before his arrest, and Strahan, who dropped out of high school several years ago, have both pleaded innocent to the felony offense of deliberate homicide.
Forensic scientists also took the stand on Wednesday and said Strahan's shoes, which police collected as evidence, were stained with blood that matched Salcido's DNA profile. Strahan denied ever kicking the man.
Phil Kinsey, a DNA analyst at the Montana State Crime Lab in Missoula, told jurors that blood samples from the shoes that both defendants wore the night of the murder matched Salcido's DNA profile. Kinsey said the profile match is so unique that it could belong to just one in 17 billion individuals.
The trials of both men were moved to courtrooms outside Missoula because defense lawyers argued successfully that media coverage of the homicide was biased and inflammatory, making it impossible to choose a fair and impartial jury in Missoula.