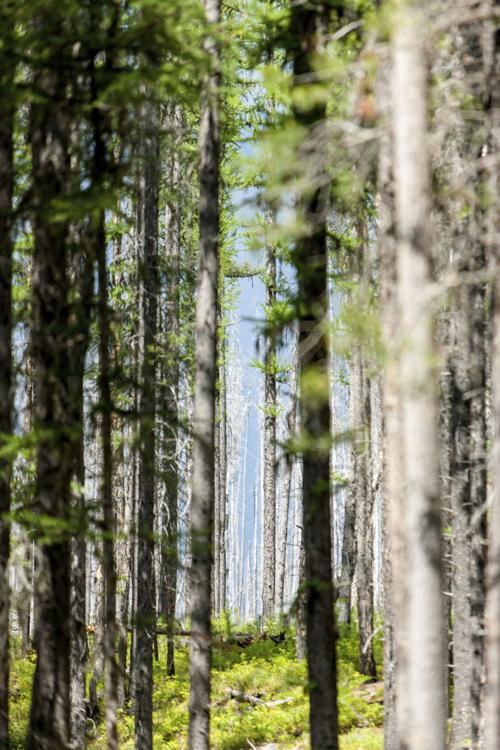 As a fifth-generation Montanan, I grew up in a timber and tourism community right off Highway 2. Our mills were bustling, the trains were hustling, and visitors from around the world flocked to Glacier National Park. Montana knows how to create a system that works for everyone because everyone works together. Revenues from the timber industry were reinvested in the community and the conservation efforts of the forest helped our timber harvests. Building a strong tourism industry and strong timber industry are not mutually exclusive.
In Montana, our land is our way of life: its beauty and bounty provide us with world-class recreation, hunting, fishing, natural resources and economic activity. However, too often outside forces and special interests get in the way of us conserving our land, developing our resources and growing our communities.
We have 22 million acres of forest with 13 million available for timber harvesting. Despite this, the U.S. imported $14 billion in wood products in 2013. Montana has the potential to help meet the demand while our economy recovers from the worst housing recession in generations; however, due to predatory lawsuits funded by out-of-state special-interest groups, federal regulatory constraints and intensifying wildfires, the available supply of harvestable timber is actually far lower.
Last Congress, a collaborative process was established that brought local stakeholders and the U.S. Forest Service together to create plans for timber harvest. This idea blossomed in Montana because we work together and play by the rules – it's just part of our core values. We lead the nation in collaborative projects; unfortunately, we also lead in projects that are under litigation because certain groups have no interest in playing by the rules or respecting the agreements we reach with each other. If they see a plan that's good for Montana, but not in line with their agenda, they litigate it. Then just like that, a project that took hundreds of hours of planning and working together is delayed, if not dead on arrival.
This trend does not have to continue though. It is fixable. Yesterday I introduced the National Forest Collaborative Incentive Act of 2015. This bill would implement reforms to tackle litigation and wildfire concerns—two of the biggest barriers to unleashing Montana's timber potential. The bill includes key reforms to:
1. Prevent catastrophic wildfires;
2. Incentivize collaborative agreements; 
3. Allow for new funding sources for Forest Service projects; and, 
4. Require the USFS to reinvest in forest management.
Currently, Montana's timber industry is under a continual assault by excessive and predatory lawsuits. This delays projects and costs local communities and taxpayers millions of dollars and hundreds of jobs. A recent study by the University of Montana's Bureau of Business and Economic Research found local communities bear the brunt of litigation of Forest Service timber sales. Costs for the Spotted Bear River litigation alone are estimated at around 130 lost jobs and $10 million in income and revenue.
My bill will curb lawsuits by addressing both sides of the issue: first, by incentivizing locally driven collaborative projects, and then by requiring litigants to put forth bond money up front to cover the administrative costs of their lawsuit. Earlier this year, Thomas Tidwell, chief of the USFS, testified before Congress that this type of litigation impacts the ability of the agency to complete forest thinning projects.
The bill adds incentives for collaborations by offering a streamlined process for environmental reviews and limiting the decision-making process to "action" versus "no action." For example, a collaborative considering a Forest Service project would eliminate the need for the USFS to spend time and resources reviewing other alternative projects that would never be implemented. Every Montanan knows the dire threat of the upcoming wildfire season. These collaborative projects would immediately reduce that threat by cutting the bureaucratic red tape that delays preventative projects.
These ideas are bipartisan and backed by the Wild Turkey Foundation, the Montana Loggers Association, local governments, former USFS Chief Dale Bosworth and others. And one of the most attractive aspects of this reform package is these reforms could be implemented immediately by the Forest Service, requiring no new planning, mapping, rulemaking or regulations. The National Forest Collaborative Incentive Act simplifies environmental process requirements, but doesn't ease them, reduces project planning times and reduces the cost of implementing forest management projects while still ensuring robust protection of our natural environment.
Timber harvests in our state have dropped 80 percent over the past 25 years, and our annual output has still not rebounded to pre-recession levels, despite heightened demand and soaring wood products prices. By implementing common sense reforms to encourage collaboration and discourage out-of-state special interests from waging war on Montana foresting communities, I am confident Montana can rebuild our timber industry and conserve our forests for generations to come.
U.S. Rep. Ryan Zinke was sworn in to the U.S. House of Representatives on Jan. 6, and sits on the House Natural Resources Committee and the House Armed Services Committee. 
Catch the latest in Opinion
Get opinion pieces, letters and editorials sent directly to your inbox weekly!