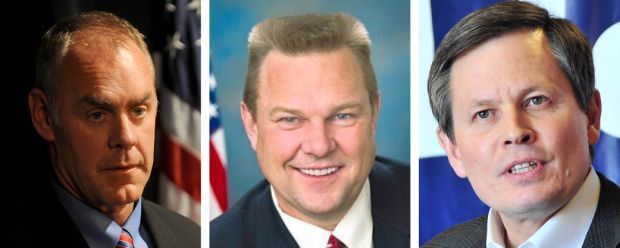 For once there is some great news in behavioral health care, and it is the 21st Century Cures Act led through Congress by the cosponsorship of assisting bills by U.S. Rep. Ryan Zinke and U.S. Sen. Jon Tester, with the support of U.S. Sen. Steve Daines. Yes, the Montana delegation was all in, and the act passed the Senate on Dec. 7 with bipartisan support.
While news coverage has been somewhat mottled in delivering a clear message about the act, it is legislation that rivals important advances that have been made over the past decade. For example, the Wellstone and Domenici Mental Health Parity and Addiction Equity Act of 2008, and then in 2014 the Affordable Care Act's expansion of mental health and addiction treatment commensurate with benefits for medical/surgical care. Some have argued that this act is the most important piece of legislation since President Kennedy's Community Mental Health Centers Act of 1963.
The seeds for this act were sown by Rep. Tim Murphy's (Pennsylvania) Helping Families in Mental Health Crisis Act of 2015 (H.R. 2646), and Sens. Chris Murphy (Connecticut) and Bill Cassidy's (Louisiana) Mental Health Reform Act of 2016 (S. 2680). These bills were fashioned into what became the 21st Century Cures Act. The American Psychological Association, the APA Practice Organization and Montana Psychological Association have worked with legislators for four years to pass legislation that would provide essential prevention services, treatment for populations in need and support for research, education and training. Although the Cures Act is not a perfect solution, we believe that it takes important and necessary steps to improve behavioral healthcare. This legislation was scheduled to be signed into law on Dec. 13 and would:
• Eliminate the Medicaid "same day" exclusion, which prohibits separate payment for mental health and primary care services provided to Medicaid enrollees on the same day. This change will especially benefit rural citizens.
• Strengthen the enforcement of mental health parity requirements by directing the Department of Health and Human Services to produce, in coordination with stakeholders, action plans for improved federal and state coordination, and to issue new guidance to health plans.
• Enhance mental health and substance use treatment for children and families, including reauthorizing the National Child Traumatic Stress Network to support children recovering from trauma, and support screening and treatment of maternal depression.
• Include provisions that address mental health issues in the criminal justice system, such as increased funding and new authority for the Justice and Mental Health Collaboration Program, law enforcement training and alternatives to incarceration.
• Authorize the Minority Fellowship Program at $12.7 million to train culturally competent minority mental health professionals, reauthorize the Graduate Psychology Education Program at $15 million and include health service psychology programs and internships in a new $10 million demonstration grant.
• Provide $4.8 billion outside of the budget caps for initiatives at the National Institutes of Health for fiscal years 2017-2026, including $1.8 billion for cancer research, $1.56 billion for the BRAIN initiative and $1.4 billion for the Precision Medicine Initiative.
Michael R. Bütz, PhD, of Billings is federal advocacy chair for the Montana Psychological Association.