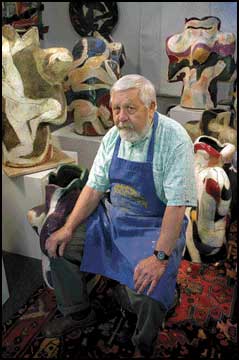 His friends were many, his legacy great, his influence immeasurable. As word spread Wednesday of the death of internationally celebrated ceramic artist Rudy Autio, those who knew him struggled to find words to describe their feelings of loss, and their sense that one of the great artists of this era has passed.
"I'm kind of numbed by it all right now, it's so hard to fathom what we've lost," said Steve Glueckert, curator of the Missoula Art Museum. "Rudy was a real giant, a genuine superstar in the world of art, and yet such an approachable, nurturing person."
"Above and beyond his talent, he was a fabulous human being to student ceramicists all over the country, and to the community," noted Peter Held, a former director of the Holter Museum of Art in Helena, who now serves as curator at the Ceramics Research Center at Arizona State University.
"He was very thoughtful and giving; people just loved him. He is a Missoula icon."
Autio was born Oct. 8, 1926, in Butte, the son of Finnish immigrants. After serving in the Navy during World War II, he enrolled at Montana State University in Bozeman. There, he studied under Frances Senska, the most celebrated crafts-artist and educator in Montana at the time.
During his time in Bozeman, Autio met two other people who would become essential influences and supporters in his life: his future wife, Lela, and fellow artist Peter Voulkos.
After earning a bachelor's degree in applied art in 1950, Autio attended Washington State University in Pullman, where he earned a Master of Fine Arts degree. During the summer of 1951, Autio returned to Montana and took a job along with his friend, Voulkos, at a brickmaking factory in Helena called the Western Clay Co. The company was owned by Archie Bray, an industrialist with a love of fine art.
Bray agreed to allow Autio and Voulkos to fire their ceramic works in the brick factory's kiln. Inspired in no small part by what the pair of artists produced that summer, Bray chartered the Archie Bray Foundation, a nonprofit educational institution devoted to the advancement of ceramic arts.
Autio was named one of the foundation's founding resident artists.
"Together with Peter Voulkos, Rudy helped change what it meant to be a ceramic artist in America," said Glueckert. "Before 1945, ceramicists were potters. They weren't considered artists. Peter and Rudy broke all the rules and transformed what it meant to do what they were doing.
"American ceramics changed because of the two of them."
Autio left the Archie Bray Foundation in 1957 to take a position as professor of ceramics and sculpture at the University of Montana in Missoula. He would ultimately spend 26 years at UM, where he became the figurehead of a department that was soon flush with talent.
Over the years, his work was celebrated in exhibits in far-flung regions of the world, including Chicago, New York, Helsinki, Prague, Buenos Aires, London, Brussels, Belgium, Bucharest, Istanbul and Tokyo.
He was named a "Master of the Medium" by the James Renwick Alliance, an affiliate organization of the Smithsonian American Art Museum in Washington, D.C., and he won countless other awards and fellowships for his work.
But Autio's influence wasn't simply as an artist. During his tenure at UM, Autio taught generations of students who would go on to become recognized in their own right. One of those students, Beth Lo, is now a professor of ceramic arts at UM.
"Rudy had an incredibly generous spirit," said Lo. "He was in a small group of elite ceramic artists internationally. (But) he always came across as very wise and very humble; he always had a good word to say."
Local art observers will recognize Autio's signature forms - horses and women - in the 30-by-20-foot wall hanging in UM's PAR-TV Center. He is also the artist responsible for the 7-foot-tall, 5,000-pound bronze grizzly bear statue on the UM Oval.
But Autio is best-known internationally for his large, voluptuously shaped ceramic works, painted over with abstracted female figures and other images.
A 1980 article from American Crafts magazine asserted that, "If Peter Voulkos has been considered the Picasso of the American sculptural ceramics movement, then Rudy Autio is its Matisse."
That isn't the only such comparison Autio has drawn.
Ken Little, who taught ceramics at UM with Autio from 1974-1980, said Autio was one of four giants of American ceramics.
"If the ceramics world had a Mount Rushmore, it would be Peter Voulkos, Rudy, Paul Soldner and Don Reitz," said Little, a lifelong friend of Autio and now a professor of ceramics at the University of Texas-San Antonio. "He was the Thomas Jefferson of Mount Rushmore."
Little said Autio was a "genius" at finding the perfect balance between the craft and emotion of art, crediting him with instilling in Little the need for both a left-brain and right-brain approach to teaching and creating.
"I knew a lot of art theory, and a lot of ideas and conceptual underpinnings of how to make artwork, but I was not comfortable with my emotional side, and the idea you work with feelings from your gut," he said. "Rudy was very good at reinforcing me to trust that, and allowing me to interplay between my gut and my brain."
Little spent last weekend with the ailing Autio, Autio's wife Lela, and their children and grandchildren, singing songs and playing games with the man who he said "raised me like a son."
Having lost his battle with leukemia, Autio was at peace with his death, said Little, and the two spent a lot of time laughing and talking about old friends and experiences.
"We sang old cowboy songs," said Little. "He had a song he loved called 'Amelia Earhart' that he used to play for me on guitar. We sang that together, and basically I just tried to convey to him how important he had been to me and how much I loved him."
The lessons he learned from Autio went far beyond their shared passion for ceramics.
"He was an amazing sage, and was very accepting of all things and experiences that happened to him," said Little. "He taught me by example that life is a gift as opposed to a struggle. It was a hugely important life lesson for me."
The gift that was Rudy Autio's life and talent won't soon be forgotten in Missoula. Beth Lo marvels when she recalls her last encounter with Autio, just this past Monday.
"He was sitting outside with his family, his grandkids were running around, and he sat there drawing in the sun," recounts Lo.
"He just kept producing, all his life. He never seemed to let down or slack. That's a real inspiration that I'll never forget."
Memorial services for Autio are planned in both Missoula and Helena, but details were not available late Wednesday. Autio was 80 years old.