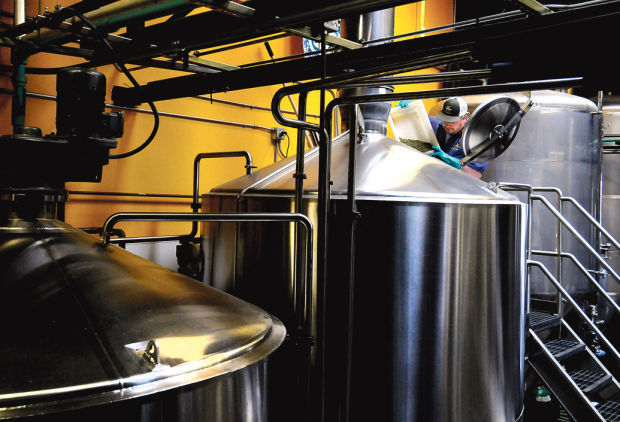 Two new Missoula businesses are poised to take advantage of the abundance of craft breweries in the area, as well as cut down on drunken driving.
Tap Room Tours and Montana Brewery Tours are separate endeavors that are modeled on popular winery tours common in California, Oregon and Washington. Using large buses, the tours are designed to allow customers to experience a multitude of craft breweries in large groups without the dangers of driving while intoxicated.
Phil and Cate Mason, both lifelong residents of Montana, recently launched Tap Room Tours after they took a winery tour in Washington.
"I'm retiring out of the Forest Service, and I wanted to repurpose my life," Phil Mason explained. "I thought, this would be a niche in Missoula that would fit and promote things going on in Missoula that are local. We would like to see Missoula become the destination spot for craft brew aficionados."
The Missoula and Bitterroot valleys combined already have eight breweries and one distillery, with at least three more breweries and one more distillery in the works. Montana ranks third in the nation in breweries per capita with more than 40 operating statewide.
The Masons plan to offer tours three days a week: Thursday, Friday and Saturday. They will offer different tours each week on a rotating schedule, and they will include a tour of Bitterroot breweries every third Saturday. Their bus accommodates up to 14 passengers. The price for a tour of Missoula breweries will be $69 per person and will include pizza at one of the breweries, a complimentary pint glass, bottled water, coolers to store purchases and pickup and drop off at your home or hotel in the area. The tour will also include a stop at the Montgomery Distillery on a rotating schedule. The tours will go from 1 to 5:30 p.m., with the Bitterroot tours running from noon to 6:30 p.m.
The Masons also offer private tours, and hope to expand to the Flathead Valley in the near future.
"We have had a wonderful response from all of the breweries and look forward to promoting their business as well as ours," Mason said. "It will be far more fun when you drink and we drive."
Dylan Shultz, a 24-year-old river guide and business student at the University of Montana, recently launched a similar business called Montana Brewery Tours.
While guiding for Lewis & Clark Trail Adventures for the past four years, he was always asked what there is to do in town.
"My first suggestion is always check out the breweries, and tourists often don't know of any of the breweries," he said. "States are often known for the great things they produce and Montana should be known for its great craft beer. Our mission is to cultivate an appreciation for the art of craft beer in Montana through offering guided behind-the-scenes brewery tours, enabling tourists and locals alike to experience Montana's awesome craft beer."
Shultz's tours will also use a 14-person bus, and they will visit three breweries in about three hours in Missoula.
"We start at Draught Works, go over the ingredients and the basics of brewing beer and taste some beer," Shultz said. "Then we will move on to a place like Bayern Brewery and get a behind-the-scenes tour. A pint or a flight is included at each place. And then the KettleHouse will be the third brewery, and at that point we're just having fun."
Shultz will pick up and drop people off at 411 W. Front St. in downtown Missoula.
"I'm really trying to make it more educational for people," he said. "They will learn to understand what the differences are for them to branch out and try new beer."
Shultz's tours will be $49 per person, with a minimum of four people. His "hop-on" concept means if the bus isn't full, anyone can join a tour. He will also offer private tours and Bitterroot Valley tours, which will be $79 and include a meal.
"There is a growing craft beer movement in Montana that has created great diversity in beer, and breweries are a culturally rich place for tourists or locals wanting to experience Montana," Shultz explained. "I worked two full-time jobs all winter in order to get started and have had to do everything myself, from the graphic design to the website creation. I have received great support from every single brewery or organization I have approached about Brewery Tours. It's been a great learning experience in all aspects of starting a business and its very fulfilling to see it finally come into fruition."
The two new businesses launched just in time for Missoula Craft Beer Week, which culminates with the 22nd annual Garden City BrewFest on Saturday from noon to 8 p.m. in Caras Park.
A fundraiser for the Missoula Downtown Association, the event will feature 68 beers from 19 Montana breweries and other brews from the Pacific Northwest. The beers will be judged by the Zoo City Zymurgists, a homebrewing club. Admission is $12 and includes one 7-ounce commemorative glass and two beer tokens. Additional tokens are $1.
Live music from Miller Creek, Tom Catmull and Shakewell, and a wine and food selection will also make it a can't-miss party.