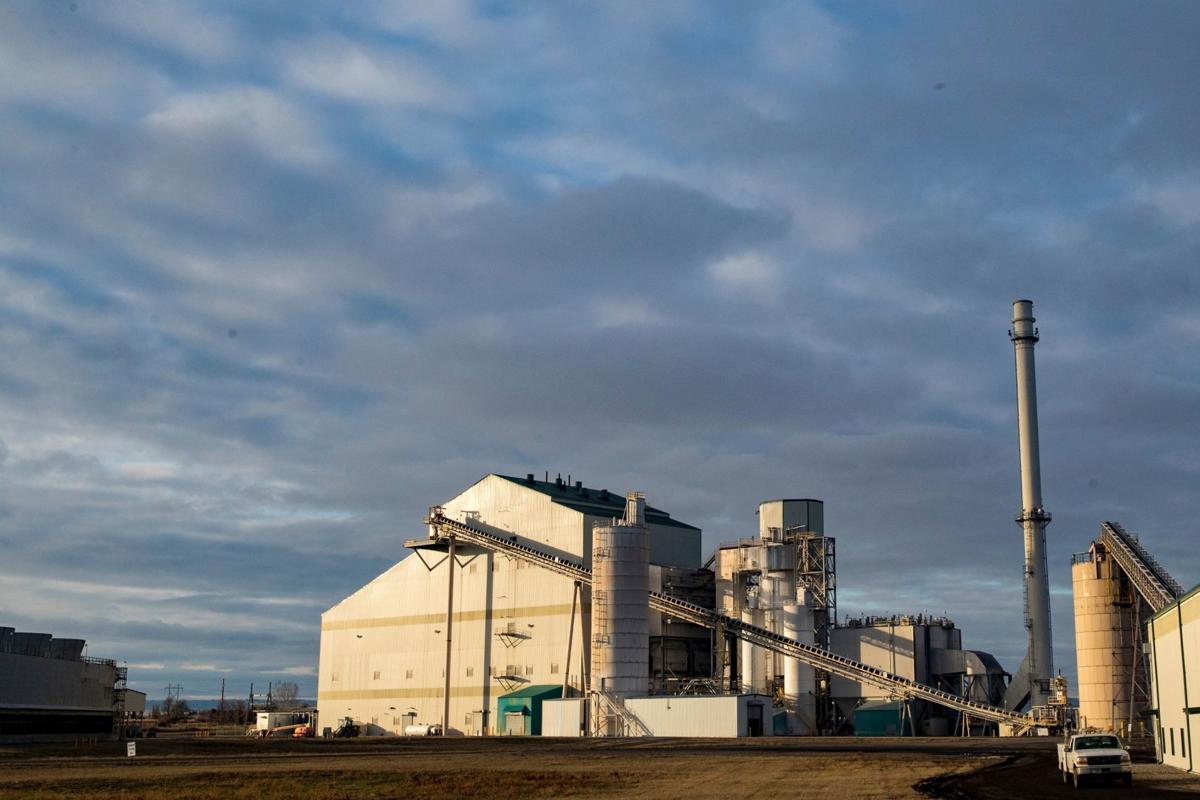 Plans to marry a struggling coal-fired power plant in Eastern Montana to a bitcoin mine appear to be lagging, with little construction done and back taxes on the power plant exceeding $4 million.
Bitcoin mining had been hailed as a lifeline for Hardin Generating Station in March when federal regulators approved transferring the power plant's title to Big Horn Data Power LLC, an out-of-state company whose ownership is as cryptic as a string of ones and zeroes.
Bitcoin mining requires high-powered computers that maintain digital ledgers verifying split-second transactions of cryptocurrency. The industry's daily electricity usage has been compared to that of smaller countries. The 107-megawatt Hardin power plant was pitched as an energy feedbag for warehouses packed with servers running full tilt every second of the day.
But the data-server warehouses slated for the Hardin power plant haven't been built. State records of emissions from Hardin Generating Station indicate that for long periods of time this year, the power plant wasn't burning any coal. Also, county property records show Big Horn Data Power hasn't assumed ownership, despite the Federal Energy Regulatory Commission approving the power plant's sale last March.
Butte-based FX Solutions is the project manager. FX's Matt Vincent said construction stalled while Big Horn Data Power waited on newer, faster servers. There's a "Bitcoin halving" event in May, which will lower payments to Bitcoin miners, meaning that faster data processing will be necessary to generate similar amounts of revenue.
The new servers won't even be on the market until April 2020, Vincent said.
"These changes to the center are necessary in order to optimize operations in anticipation of the next Bitcoin halving event, which will take place in May 2020," Vincent said in an email sent Friday. He said he couldn't say more about the project without hearing from the Bitcoin mine's owner. He confirmed Michael Enright was his Bitcoin mine contact.
Enright is also managing director of Beowulf Energy which, by way of three corporate offspring, owns Hardin power plant as well. Rocky Mountain Power, a Beowulf creation, is recognized by the state of Montana as Hardin Generating Station's owner. Heorot Power, another Beowulf subsidiary, is the power plant manager. The power plant's delinquent tax bills go to Colorado Energy Management, another part of the Beowulf hierarchy. The companies have a long history of not responding to journalists. Enright kept the streak going last week, not returning calls placed to Beowulf Energy's New York City offices over two days.
The power plant's poor performance predates its cryptocurrency plans. City and county governments have had fiscal heartburn over the power plant for years. Hardin issued $12 million in revenue bonds to pay for infrastructure servicing the power plant.
Hardin planned to pay off the bonds with taxes collected from the power plant. There was one problem: the power plant didn't pay its taxes. Under the bonding agreement established in 2006, Rocky Mountain Power was to have eight tax-free years and then begin paying taxes in 2014. The power plant's owners haven't honored the deal.
The Big Horn County treasurer told The Billings Gazette last week that tax bills sent to Colorado Energy Management had gone unpaid since 2014 and now total $4,183,729.16. Roughly half that money is owed to the City of Hardin, which has now been twice-burned by economic development bonding schemes that didn't go as planned. The same year the community approved the $12 million revenue bonding deal for the power plant, the city's development authority issued $27 million for the regional jail, which sat empty for several years thereafter.
You have free articles remaining.
Hardin Mayor Joe Purcell did not respond to calls placed to his phone over several days last week.
Hardin and Big Horn County weren't the only ones hopeful cryptocurrency would save Montana's beleaguered coal energy industry.
"Will bitcoin throw coal a lifeline?" tweeted Travis Kavulla in March 2018. A Montana Public Service Commission member at the time, he was referencing record of a Butte bitcoin operation having contracted with Talen Energy for 64 megawatts of Colstrip Power Plant electricity.
Fourteen months after Kavulla's tweet, Talen announced that two of Colstrip's four units were uneconomical and would close at the end of 2019. Today's energy contracts show Bitcoin miners contracting for power from sources cheaper than coal energy, like market hydropower.
U.S. Sen. Steve Daines in 2018 saw Bitcoin businesses as a good fit for Montana and Montana electricity, speculating in a hearing Aug. 21, 2018, that the state's coal power and cold weather would keep Bitcoin mines electrified and operating cool more easily. The decline of coal threatened that potential, he said.
"As the demand from Bitcoin miners increases, and the reliably of electricity from coal generation decreases, this could be a threat to the expansion of Bitcoin operations and even greater threat to energy supply and prices from Montana as a whole," Daines said at the hearing.
That promise of a Bitcoin rescue for Hardin Generating Station was still stirring in March when the Federal Energy and Regulatory Commission approved plans by Rocky Mountain Power to sell the power plant to Big Horn DataPower Holdings LLC. In December, Mayor Purcell told his City Council he had met with Rocky Mountain Power and a nameless server company and was told to expect 50 to 60 jobs as a result of the pairing of the power plant and the Bitcoin mine.
While the Hardin plans have stalled, Beowulf is courting local government support for the marriage of Bitcoin mines and coal-fired power plants in New York, where it owns two. Beowulf has been using the Hardin project as proof that merging Bitcoin mines and power plants is a good idea, reports Kate Kaye of Investigative Post. Elected officials in New York have referred to the Hardin project as fully operational and proof that Beowulf projects in New York are worthy of tax subsidies.
There have been trenches dug for footings for a would-be Bitcoin mine at the Hardin power plant site, but no concrete poured, FX Solutions' Vincent confirmed. There is uninstalled electrical equipment on the ground. 
Power plants have to report their operating hours and emissions to the Montana Department of Environmental Quality. Those records show the Hardin Generating Station operated 96 hours from July through September and not at all from April through June. Hardin Generating Station was at its busiest during the first three months of the year, when it ran for 49 days.