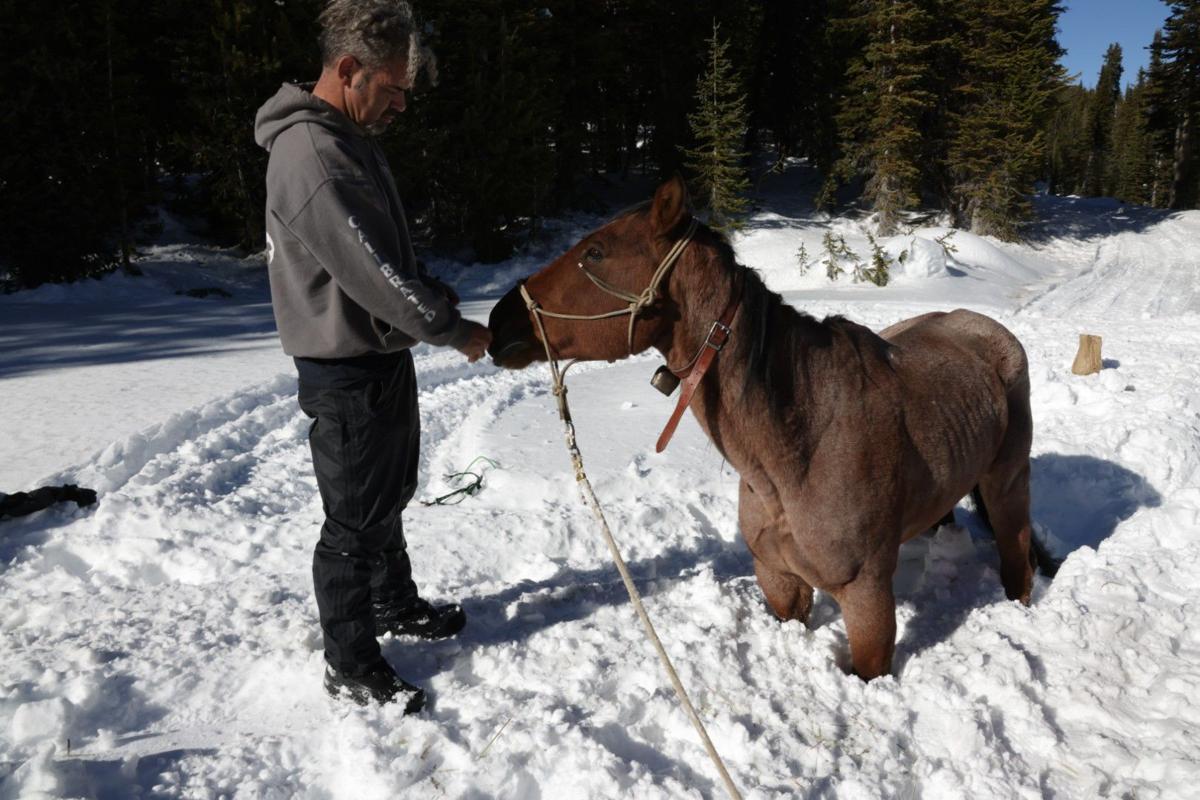 "He's just a big old sweetheart," said Jessica McCartney, who received the rusty-colored quarter horse as a gift from her husband Doug a year ago. "He's a lover, and he would be perfectly content if we stood around and petted him all day."
McCartney describes Sweets as an "in-your-pocket" type of horse, the kind that just wants to be near his people. Which made it all the stranger when the 13-year-old horse took off in early October from a hunting camp near Slough Creek in the Absaroka-Beartooth Wilderness Area.
"Anyone can ride him or pack him. I don't have to worry about him getting spooked or scared," said McCartney, whose brother-in-law raised him from a colt. But something did spook Sweets, enough to drive him across the rugged backcountry nearly 30 miles, where he spent 28 days dodging predators and ended up stuck in a snowstorm on Lulu Pass that nearly killed him.
Sweets disappeared the evening of Oct. 4 or early on Oct. 5 from the Slough Creek area, where he was turned out with a dozen other horses and mules. The nine-member hunting party searched daily for Sweets until Oct. 13, when they left the mountains.
Trying to find Sweets, McCartney said, was like trying to find a needle in a haystack. When he took off, the trails were dry and dusty, and as a single animal he didn't leave much of a trace.
"From where we were to where Sweets was found, there isn't even a trail to get to him. He went on a walkabout through all those mountain passes."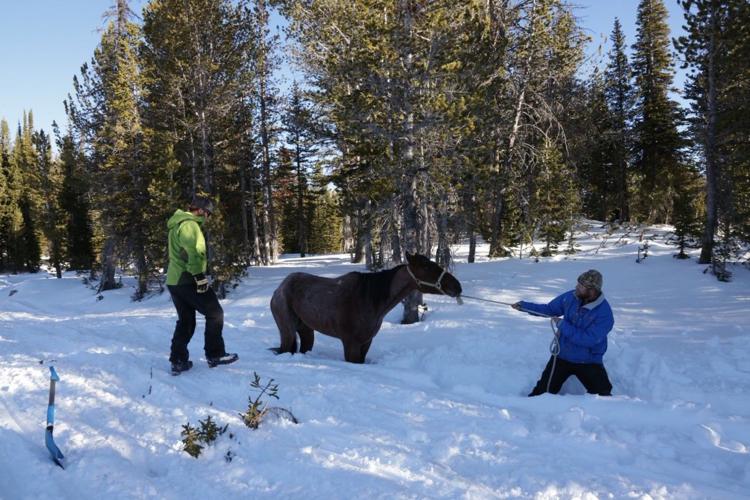 The McCartneys reported Sweets missing to multiples agencies, including Montana Fish, Wildlife and Parks, the U.S. Forest Service, as well as the area brand inspector, local outfitters, guides, and even the local gas station.
"I really did think that a grizzly bear ate him," said McCartney. "My husband wasn't as convinced. I just couldn't believe he would leave the other horses."
A long walk
Sweets was first spotted in early October by filmmaker Jessica Jane Hart, who was filming a motorcycle rider on a rough jeep trail outside Cooke City.
"It's not that easy to get to, even with ATVs, and it's not very heavily trafficked," said Hart. Sweets was wearing a bell and hanging out in a meadow near Mud Lake on Lulu Pass, and because it was a popular hunting area, Hart said she didn't think anything was amiss.
"He was fat and seemed pretty happy, was really friendly and came up to us. We just took off and assumed he belonged to someone."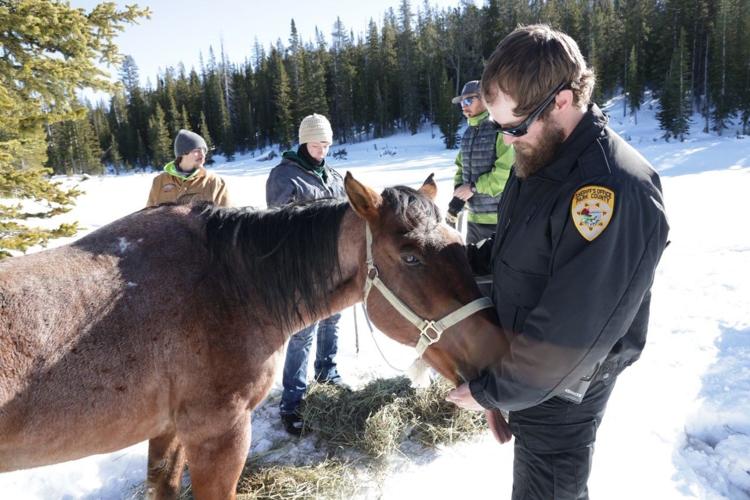 Hubert Hoines, Doug McCartney's cousin, was with the hunting party when Sweets was initially lost. He describes horses as herd animals, and Sweets was no exception. He'd been with the McCartneys for a year and had made some good friends in that time. "They won't leave their buddies unless they are brand new. Why he left on his own is a million-dollar question no one will know," said Hoines.
There's speculation that Sweets got spooked by a bison or another large animal, made it too far away from the pack and got turned around. "He is the only one that can tell you that story," Hoines said with a laugh.
Hart spotted Sweets again on Nov. 2, nearly a month after he initially went missing. She and her fiancé Reed Youngbar were hiking Lulu Pass on skins. A storm had moved into the area, ushering in freezing temperatures and dumping more than four feet of snow. That day, it had warmed up and the snow was, as Hart described, like mashed potatoes. They were about four miles up Lulu Pass, a popular turnout near Cooke City for snowmobilers.
"Not having known that he was a lost horse, I felt terrible," said Hart. "It's a hard thing to see something like that starving to death."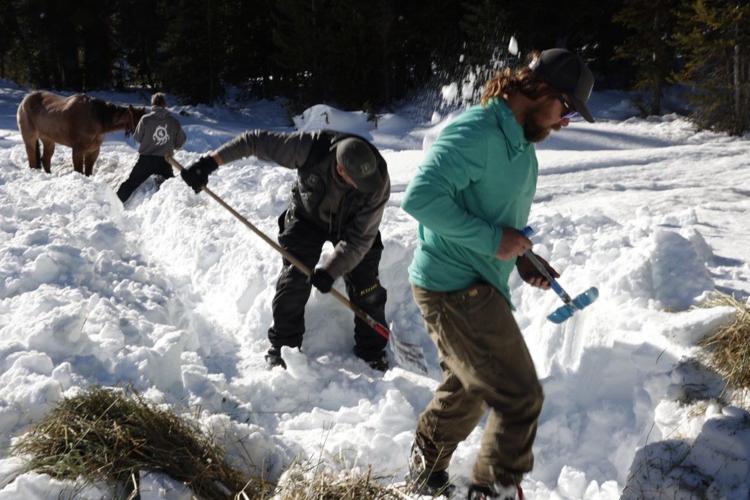 It's estimated the normally robust Sweets had lost 250 to 300 pounds. He was nearly cemented into the snow, which was just below his belly. "We knew he was in trouble, and he couldn't move much," said Hart. "We came home and called everyone we knew in town." They also posted to Facebook, and word got around.
Sweets was spotted on a Sunday, and by Monday a variety of agencies and friends were contacted to assist. The horse's owners were in the mountains tearing down a hunting camp without cell phone service, but close friends and family members joined the rescue efforts.
"We didn't think the horse was going to make it out at all," said Hart. "We were pretty sure we were going to take these owners in and watch them shoot it."
Hart, Youngbar, and their neighbor Travis Pitman spent most of Monday digging a trench so Sweets could begin to move. They left hay, apples, and water. "He was so thirsty, just sucking down water," Hart said.
Dave Green, a Forest Service snow ranger based in Cooke City, pitched in Monday with feeding and watering the horse. "It definitely perked up its energy. I think it was on the verge of not surviving; it was good we got to it when we did."
This was Green's first horse rescue, an incident he said was unusual. "Talking with others out of the Gardner area, horses go missing quite a bit, but they have a tendency to find their way back. With the circumstances of this horse being lost so far back in the wilderness and having the snowstorms, it was lucky to be able to find this opening and get him out."
Chad Wiberg, a friend of the McCartneys, didn't hesitate to assist with the rescue, as Doug is not only his farrier, but helped Wiberg when he was in need. "He's bailed me out before; it's only fair to return the favor, but even if that wasn't the case, we still would have gone and got the horse. No sense in having that animal go through that."
Wiberg, Hoines and Gary Ellis, another cousin of Doug's, arrived early on Tuesday morning hoping that it was cold enough to freeze the trail and walk the horse out. "When we got there, it was still 35, 40 degrees," Wiberg said. "We knew there was no way he could walk on top of it, so we switched gears."
Plan B
Hoines had procured a tranquilizer, and they also borrowed a wide-track snowmobile from Park County Search and Rescue and attached a make-shift pulling system crafted from a large tarp and two lodgepole pines.
As Sweets went under, he collapsed into the snow and on the tarp placed beside him. The crew worked quickly, as they weren't entirely sure how long it would take, or how long Sweets would be out.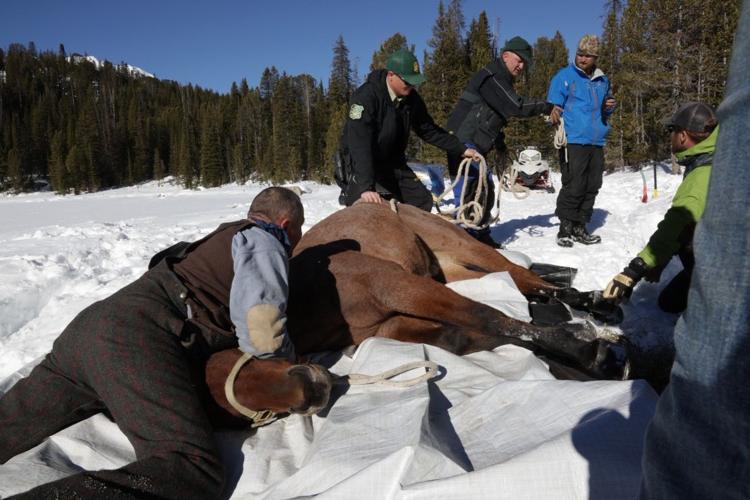 "Normally, when we drag stuff out like that it's dead," said Wiberg. Across four miles of snowmobile tracks, a few sticky places, and Sweets was back to the horse trailer, where he laid for another half hour or so, and then "just popped right up," said Wiberg. "We had a little bit of luck on our side getting him out of there. I can't believe it went as easy as it did. I don't think anybody did."
"It seemed like a miracle he got out," added Hart.
Miracles abounded for Sweets, given he was deep in grizzly country, and a wolf and wolverine had also been spotted in the area.
"We really thought he was grizzly bear bait, there are that many bears in the area," said Wiberg.
Because Sweets' story was posted to social media, there were plenty of comments and speculation surrounding the circumstances.
"Some people thought we just up and left him like we didn't care," said Hoines, who was with the hunting camp when Sweets went missing. "If they could understand how many miles we covered. I told Doug we have to stop. There comes to a point."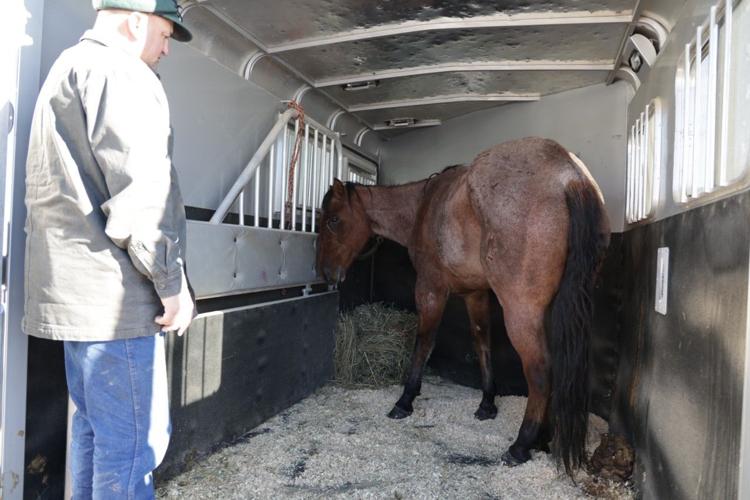 "We really did do everything that we could to look for him," said Jessica McCartney. "We contacted everyone we could think of to contact. I just don't know what more we could have done. It really is incredible how far away he went."
Locals will say, one of the unwritten rules for losing a horse in the backcountry: not only do you report it to the proper authorities, alert your local gas station attendant and motel front desk. "That's where people check in," Hoines said. And if you've spotted a lone horse, chances are someone is looking for it.
"That horse went out of his way," Hoines added. "Too bad he didn't have a Go-Pro."
The ordeal hasn't changed Sweets much, outside of the weight loss, said McCartney. "He's pretty convinced that your sole purpose in life is to stand around and pet him."
Back at home, Sweets is getting vitamins and probiotics as well as a regimented diet to help him safely gain weight back to his regular 1,350 to 1,400 pounds. He's even pouting a bit, described McCartney, when she put a blanket on him. "He's never had a blanket on him in his life."
---
Photos: Rescuing Sweets  
Sweets stuck in the snow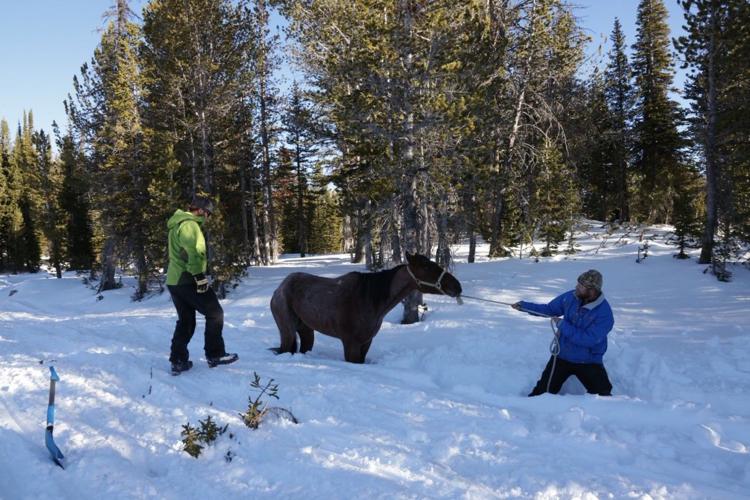 Sweets stuck in the snow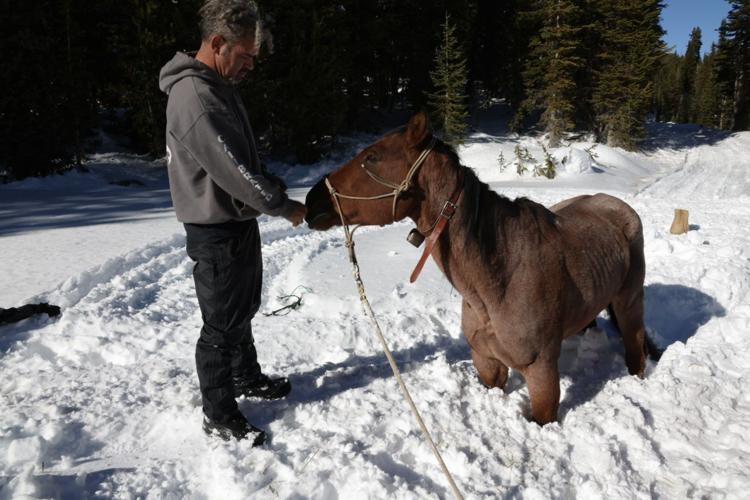 Digging out Sweets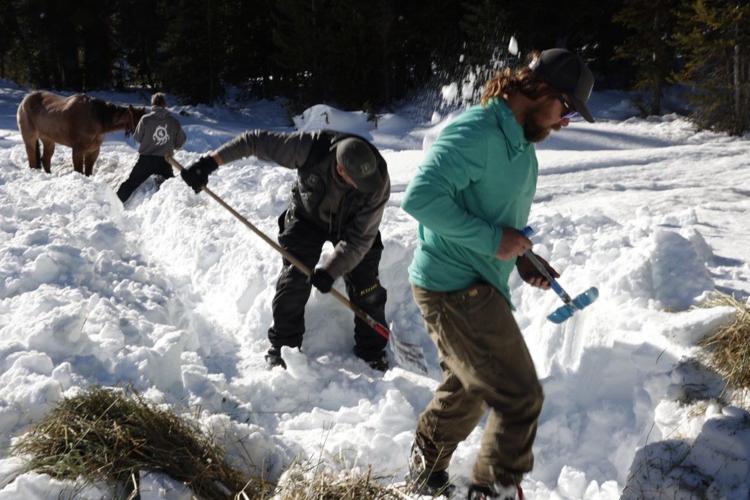 Sweets stuck in the snow
Sweets stuck in the snow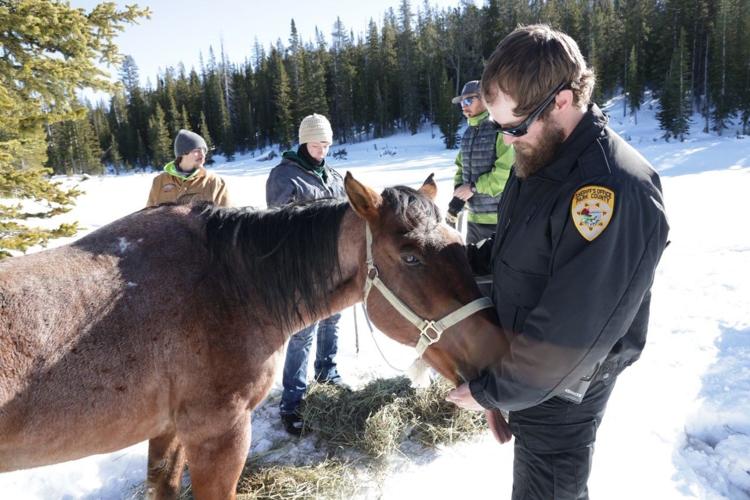 Getting Sweets to the tarp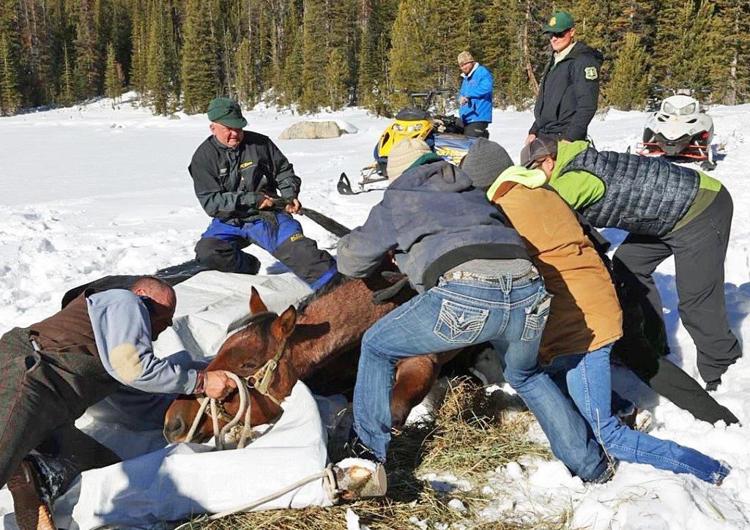 Tranquilized on the tarp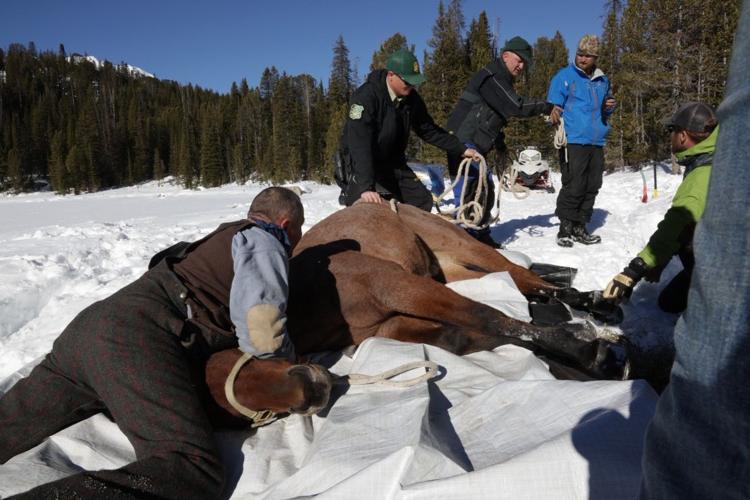 Back to the horse trailer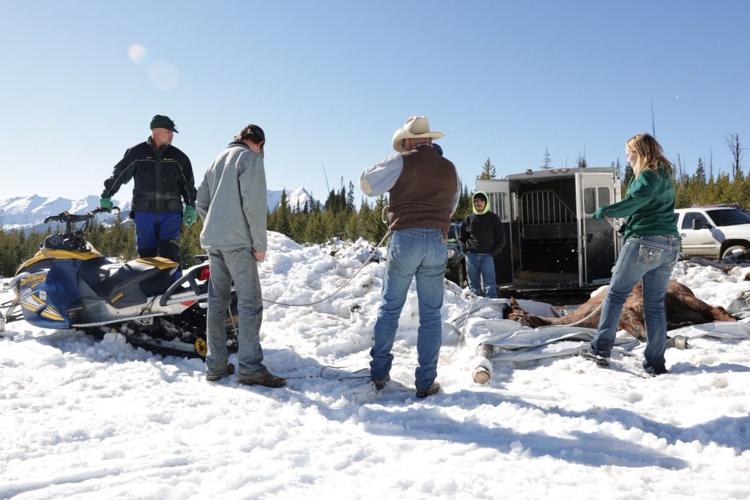 Tranquilized and back to the trailer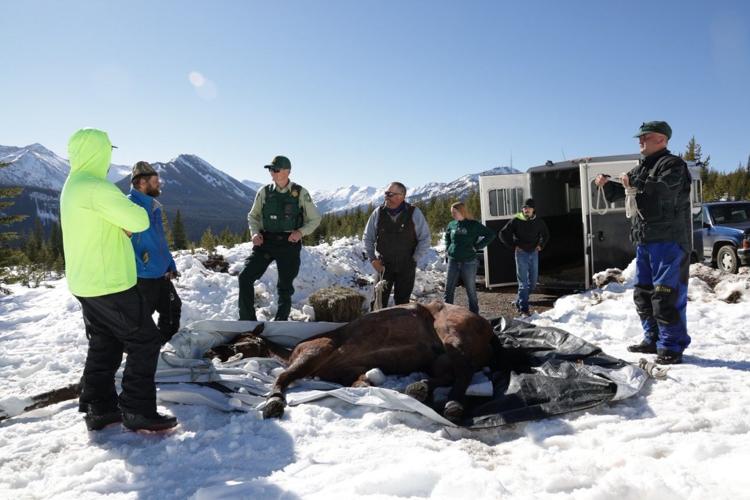 Stand up after the tranquilizer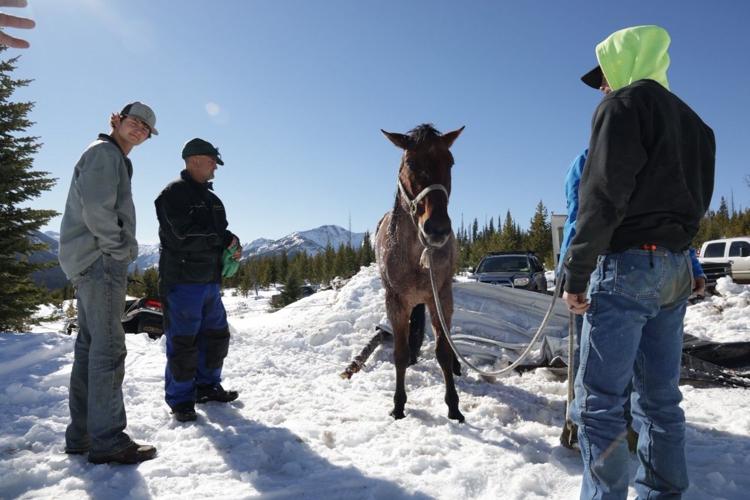 After the rescue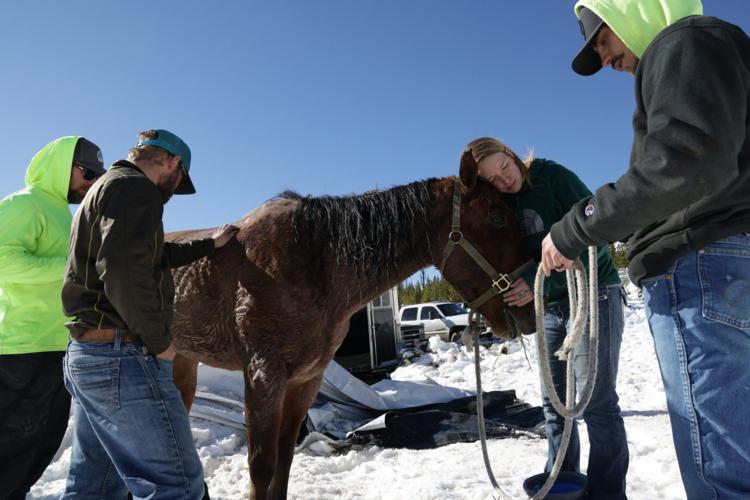 Sweets loaded into the trailer