ANACONDA – There are as many as 17,000 bodies buried in Anaconda's five cemeteries, some of the graveyards sprawling across hillsides overlooking the one-time company town, and you might think all those headstones an apt metaphor.
What could easily have been the kiss of death was delivered to Anaconda back in 1980, when the smelter the town grew up next to was closed forever.
As it was, the closure exacted a huge toll on the town, greater even than a long-ago state election. With a change in just more than 900 votes out of more than 52,000 cast in 1894, Anaconda would today be the capital of Montana, and home to all the state jobs that come with the title.
Even though Helena won out in a vicious election – Montana's warring copper kings, William Clark (who backed Helena) and Marcus Daly (Anaconda's founder), spent the equivalent of approximately $80 million in today's dollars trying to sway voters – Anaconda still thrived for decades after the capitol was built 83 miles away.
But when the Atlantic Richfield Company shut down the smelter in 1980 due to falling copper prices, it was almost too much for Anaconda to bear.
"It's pretty tough when you lose 60 percent of your tax base and 1,100 primary jobs," says Connie Ternes Daniels, the elected chief executive of the since-combined city-county government. "We've never really recovered."
But they've never, ever, thrown in the towel, Daniels says.
"What's really cool is watching Anaconda redefine itself," she says.
You see it from the $20 million Jack Nicklaus-designed Old Works Golf Course, opened in 1997 on a Superfund site with signature black slag sand traps made from old mining waste, to the ongoing $19 million, 30,000-square-foot expansion of Community Hospital of Anaconda, which wants to better position itself as a regional medical center.
Dig a little deeper, though, and you'll find Anacondans such as Jim Liebetrau, a Montana native, or Lebanese immigrants Hassan and Feyrouz Najjar.
Meet people like them, and then you'll really understand why Anaconda has not gone gentle into that good night.
Below one of Montana's most recognizable landmarks, the Anaconda Smoke Stack – at 585 feet, 1 1/2 inches, the tallest chimney on the planet from the day it was completed in 1919 until one at a power station in Germany exceeded it in 1962 – you'll find about the only other thing left of the smelter.
Besides mountains of black slag, anyway.
Almost the only hint that these massive 125-year-old brick buildings and their many broken window panes, tucked away in a neighborhood known as Goosetown, weren't abandoned when the smelter itself was, are vehicles parked in the vicinity.
Inside, however, the place – now home to the Anaconda Foundry Fabrication Company, better known as AFFCO – hums with activity.
Inside the foundry itself, it glows.
You feel like you're stepping into circa-1700s industrial London when you walk into AFFCO's industrial foundry. There, employee Matt Tesson has a pot-full of iron heating up to 2,500 degrees, cooking up a bright golden soup of molten metal that will be cast into ball mill liners, used for grinding ore.
If Tesson was dealing with stainless steel, says Liebetrau, president of AFFCO, the induction furnace would be cranking even hotter, to 3,000 degrees. That's only 7,000 degrees less than the surface of the sun.
"He'll quench it, grind it and get a shiny surface so he can run it on the spectrometer," Liebetrau says as Tesson gets ready to remove a small sample. "That reads all the elements in the metal, and it has to meet the necessary specs. Before he pours it, he'll take a chemistry sample."
Once the specs are met, a century-old crane will hoist a metal bucket and move it into position to accept the lava-looking molten metal. Then the crane will move it over the molds, and Tesson will expertly turn a large wheel on the side of the bucket to tip it and let the red-hot liquid stream out as sparks dance above.
In the late 1800s, there were more than 10 industrial foundries in Montana.
This is the only one left.
Like more than 1,000 people, Jim Liebetrau lost his job with the Anaconda Mining Company on "Black Monday," the 1980 September day when the smelter – and its foundry department – was shut down by Arco.
So what did Liebetrau do? He teamed up with two other investors – one a suddenly unemployed ACM engineer like himself – and bought this old physical plant from Arco.
"We didn't know any different, and we didn't have a choice," Liebetrau says of himself and partners Robert Mackey and Ed Strommen. "We went into horrendous debt, we had zero customers when we started, the economy was a mess and interest rates were at 20 percent back in 1980. People told us we were nuts."
Today, after 34 years in operation, Liebetrau says AFFCO employs 82 people – a far cry from the nearly 450 who worked in these same buildings in 1900 when they were connected to the smelter and the Butte mines, but still one of the top employers in present-day Anaconda-Deer Lodge County.
When was Liebetrau sure AFFCO – which also includes machine and fabrication shops – was going to succeed?
"Last week," he says, laughing. "No, we just went day-to-day, getting up and going to work. I suppose we were 10 years into it before I felt, well, we're going to make 'er."
Liebetrau and Mackey eventually bought out Strommen. In 2002, Mackey died in a fall from the upper deck of a houseboat while vacationing at Lake Powell. A few years after that Liebetrau, now 69, instituted an Employee Stock Option Program.
Employees who retire – and some have worked here for three decades – have their stock bought back by the company, which re-issues it to other employees.
"I have to do something with it," Liebetrau says of the company he helped start against all odds, when Anaconda was reeling from the smelter closure. "Why not let the employees who helped build it, own it?"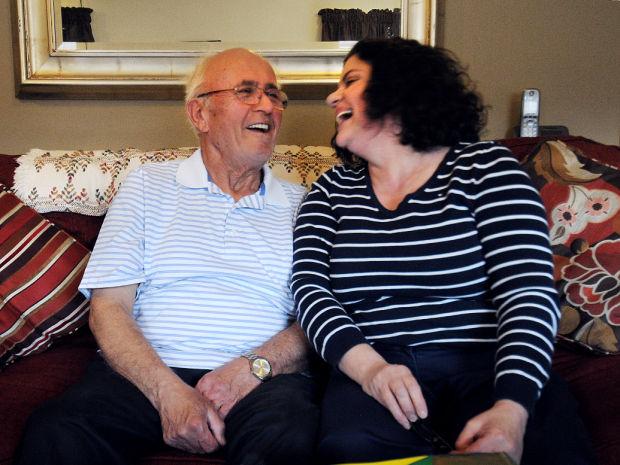 You have free articles remaining.
The funeral of an uncle first brought Hassan Najjar from Lebanon to the United States, and in 1971 he went to work in the Anaconda smelter.
He returned to Lebanon in 1977, where he met and, two months later, married Feyrouz – everyone in Anaconda now knows her as Fay – amid a civil war. He brought her back to Montana with him.
"My aunt, she said, 'I know Las Vegas, New York City. What the hell is Montana?' " Fay says, laughing.
The Najjars started their family in Anaconda, but once the smelter shut down, and with the civil war over in Lebanon, they returned to the Middle East with their 3-year-old son.
"Two weeks after we got there, Israel invaded Lebanon," Fay says. "We spent nine months living in one room with 30 other people. There was no money, no work, there was only war, everywhere. We were down to our last $500, so we borrowed $1,500 to come back to Montana. It took us three days just to get to Beirut."
In Anaconda, Hassan found work helping to tear down the smelter where he had toiled for nearly a decade. But that was a job with an expiration date. What to do?
"The economy went downhill after the smelter closed, and there was lots of repossessed property," Fay says. "Hassan's brother owned the other motel in town, the Trade Wind."
And the 19-room Marcus Daly Motel was available.
"It was a dump," Fay says.
Worse yet, perhaps, it came with the Montana Hotel next door.
There was certainly a time anyone might have loved to get their hands on the Montana Hotel, once Anaconda's grandest, a four-story castle-like structure built by Daly that opened its doors four months before Montana achieved statehood in 1889.
But 1985 was not it. By then, a previous owner had lopped off not just the turrets but the entire top two stories, auctioned off most of the interior's legacy components and left little more than a shell standing in downtown Anaconda.
The Najjars wanted the 19-room motel that later had been attached to the Montana Hotel, not the old building that had lost its spot on the National Register of Historic Places when the top two stories disappeared from the skyline.
"But they would not sell separately," Fay says, and in 1985 "we signed a huge loan. Hassan would not let anyone co-sign for us and the bank president finally took a chance on us. It was just me and Hassan, work work work, scrub and clean."
The Najjars later sold the Montana Hotel, and for three decades have concentrated on the Marcus Daly Motel.
They've almost finished their latest project, remodeling all the rooms. Many of their guests are invited to pop into the small combination house/motel office in the center of the asphalted motel parking lot in downtown Anaconda, where the Najjars raised their four children, to have a cup of Lebanese coffee with Fay in the morning.
"None of our kids ever worked a day here" in the motel, Fay says. "They had to get other jobs, show up, be accountable to other people and prove themselves."
Sons Rabih and Samer graduated from Montana State University in Bozeman, daughter Sara from the University of Montana in Missoula, and daughter Reema is a senior at MSU.
Hassan and Feyrouz – she served six years on the local school board – are grateful beyond words that their children grew up in Anaconda and not war-torn Lebanon, where both had relatives who were severely injured in the fighting, including a niece who lost both her legs in a bomb attack.
"When we bought the motel, people thought I was crazy," Hassan says. "But we needed a way to stay. I thought, if I can raise my kids here, even if I end up with nothing myself, I've won."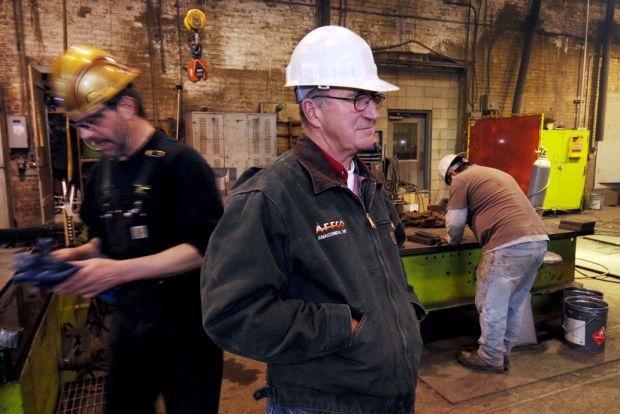 Thousands of people left Anaconda after the smelter closed, but enough people like Jim Liebetrau and Hassan and Fay Najjar stuck it out to keep a pulse beating.
Today's population of approximately 6,500 is about half what it was in 1930, when the census showed a population of 12,494. Once home to two high schools, including a public one that competed in Montana's largest classification, Class AA, plus a Class A Catholic high school, the public one has been the only one for the past 40 years, and it will drop down to the Class B ranks this fall.
"My graduating class had 267 kids in it," says Daniels, the city-county CEO who graduated from Anaconda High in 1976. "That's almost as many as are in the entire high school now."
But to Daniels, the thousands of headstones behind and above the courthouse where she works are no metaphor for a dying town.
They instead are a testament to the immigrants who founded and built Anaconda, and to their stubborn survivors and other newcomers who refused to let it die.
"The cemeteries reflect our cultural diversity," Daniels says. "If you look around in Mount Carmel (one of the five graveyards), you'll find headstones written in Arabic, Serbian and Croatian languages."
Croatians, Serbs, Slovenes, Montenegrins, Irish, Italian and more – there was once even an African Methodist Episcopal Church, started in 1895, for the town's black population – made Anaconda what it was.
New generations have preserved the Stack, that ever-present reminder of Anaconda's past, even as they carve a new identity for their community.
"I tell my kids, 'Don't you ever forget Anaconda. Don't you ever forget this town,' " Feyrouz Najjar says. "It has been such a wonderful place to our family."
It's a place where a towering smokestack, tiny homes crowded into old neighborhoods, and thousands of graves remind you of what it once was.
And while the unique golf course or hospital expansion may be the face of the new, albeit smaller, Anaconda, it's the people who stayed after the smelter shut down, or have arrived since "Black Monday," who truly represent what the town, against the odds, is.
Anaconda is a survivor, and a stubborn one at that.