HAVRE – Four dozen conversation pieces cover the body of Montana State-Northern wide receiver Sam Mix.
Most are on his torso and chest. Others are on his arms, hands, fingers, legs, head and armpit.
Each is enough to evoke a question – the kind Mix often tries to avoid any time a curious stranger catches him shirtless or sporting a tank top.
On May 2, 2015, 17-year-old Justice Brown, devoid of motive, thrust a 12-inch steak knife into Mix's body 48 times at an on-off campus apartment. He also brutally stabbed Mix's two female friends. The wounds have healed. But the scars remain – some more visible than others.
Physical scars, including the resulting nerve damage of a right arm that isn't fully functional. Emotional scars, which led to post-traumatic nightmares.
Mix, Taylor Woolman and Alicia Schneid are lucky to be alive after surviving one of the most vicious attacks on record in the small, remote college town of Havre, a half-hour's drive from the Canadian border.
The 6-foot-1, 190-pound sophomore took the biggest leap in his recovery this spring when he returned to the football program after being told his playing career was likely over.
"Doctors said I wouldn't play football again, but football gave me a financial route to college," said Mix, who earned first-team reps in Northern's spring game. "I wasn't going to let (Brown) take it away from me. I'll leave football on my terms.
"Right now, I'm just so happy to be alive and that Taylor and Alicia are alive."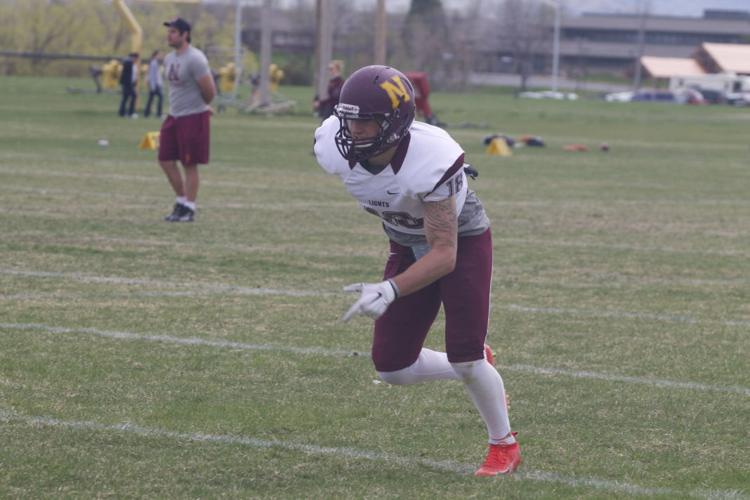 Mix had already wrapped up his first year of college courses, but still found himself in Havre on May 1, 2015, at the conclusion of finals.
It was graduation night at MSU-Northern, and Mix only stuck around to move into an off-campus house his now-graduated friends would leave the following day.
He liked it there. The move from the posh Seattle suburb of Sammamish – he prepped at nationally ranked Skyline High, where he caught passes from current USC quarterback Max Browne – to Montana's rugged Hi-Line gave him the starkest of cultural and social contrast.
"Things were going well out there for him with football and school. He was having fun," said his mother, Jennifer Mix. "He was branding cows and all that with his teammates and having a blast."
Mix went to a party that evening, meeting up with Woolman, a member of the volleyball team, and Schneid, also a Northern student. Around 2:30 a.m., the three called it a night, and opted to leave for Schneid's off-campus apartment.
Once there, the three hung out in a bedroom while listening to music for about a half hour. Schneid then began to heat up macaroni and cheese.
When the timer rang, it was the onset of the most horrific evening of their lives.
"When she got up to check on the microwave and went to the kitchen, I heard (Schneid) scream," Mix said.
Schneid was faced with a silent, dark figure, which appeared to have broken in from a back window. When she asked who the person was, she was immediately struck.
Initially, she thought she was punched, but the intruder, Brown, had actually grabbed a knife from her apartment's cutting block. She was stabbed.
A frail-looking Native American boy from the Rocky Boy Indian Reservation, Brown had no previous interaction with the three students. He was high on both methamphetamine and marijuana, and was also drunk.
Schneid made a run for the bedroom. By the time Mix got up, he was met at the doorway by Brown.
Physically, Mix was in the best shape of his life, weighing 205 pounds after adding around 15 pounds of muscle. He was still inebriated from the party, though, which made neutralizing the wiry, knife-wielding Brown a harrowing task.
"It was one of those things where he was hyped up on meth, and I truly was trying to fight," Mix said. "In all honesty, I was pretty intoxicated and it was almost 3 in the morning."
Just when Mix had started to get control of the smaller Brown, his lung was punctured while throwing a punch. A rib broke, too, and he began losing blood. Four liters, he said, before passing out.
Woolman was also trying to fend off Brown in the melee, but ended up being victim to 26 stab wounds, including an eight-inch piercing of her brain. The knife stuck in her head, and Brown proceeded to use a second knife on the victims.
Schneid was stabbed seven times, but was able to run to a neighbor's for help, a piece of one of the knife blades still lodged in her jaw. When officers and medics arrived, Brown was gone. Mix and Woolman were both bloodied and unconscious.
Woolman was found gripping the knife by the blade.
Each was transported to Havre's hospital. Mix and Woolman were then airlifted to Benefis Hospital in Great Falls shortly after.
Jack Trethewey, a Havre firefighter, left his home just before 5 a.m., not knowing what had just occurred blocks from his home.
Typically, he locks the garage door before heading to work. On this day, he didn't.
After Brown stabbed the three MSU-Northern students and left, he tried to find a place to hide. He went through a series of homes, finding only locked doors.
When he came across the Trethewey residence, he found the garage open. He went in and proceeded to enter the house.
Janet Trethewey, Jack's wife and a professor at MSU-Northern, was sleeping in their bedroom when Brown walked in and stood at the foot of her bed.
She woke up when she heard a sharp noise.
"I hollered, 'What the hell!'
"I thought it was a dream," she said. "At first I just saw this figure standing at the end of my bed, and he took off."
The family's dog, a German shepherd, was in bed with Trethewey. When the dog made a sudden move toward Brown, he bolted.
She immediately got up, realized he was gone, and began inspecting her house. Nothing was taken. She wondered why the young man was there.
When she called her husband, who'd just learned of the stabbings, she found out why and called the authorities.
He was soon found by officers just a few blocks from the crime scene, fitting the physical description while also being covered in blood. He was later charged with three counts of attempted deliberate homicide.
"Damn, that was close," Janet Trethewey said. "I think he didn't do anything to me because of the dog. I think it scared him."
She still has a hard time believing that the incident happened in her sleepy town.
"All three of those kids are changed forever," she said. "I think that you come to a small college like Northern, it is a real family feeling. You don't expect it here. It happens in big cities.
"In a lot of ways, it took away a lot of the innocence of Havre. Shows that bad things can happen anywhere."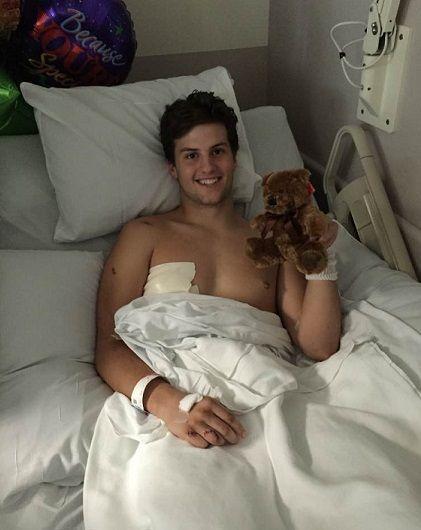 Havre Police Lieutenant Aaron Witmer is well-known in northern Montana. In his 15 years on the force, he's dealt with about every type of crime in about every type of capacity.
You have free articles remaining.
When Witmer arrived on the scene of the stabbings in the early morning of May 2, he dubbed it one of the worst scenes in his career.
He didn't see much blood in the kitchen or the living room when he entered the residence. Things changed when he reached the hallway, where he saw streaks of blood on the walls.
"Once you got to the bathroom, there were just large amounts of blood caked on everything," Witmer said. "It was like someone dumped a gallon of blood on the floor, walls and toilets."
Witmer said he even he saw signs of arterial blood spray, a projection spatter and the result of a severed artery.
What was most unsettling for Witmer, though, was the nature of the crime. The sheer randomness of Brown's violent acts against three strangers.
"It ranks right up there because of the heinousness of it all," he said. "How it happened so randomly. Mr Brown didn't pick them or stalk them. You hear about people grooming their victims. Here, Mr. Brown just saw an opportunity against three kids."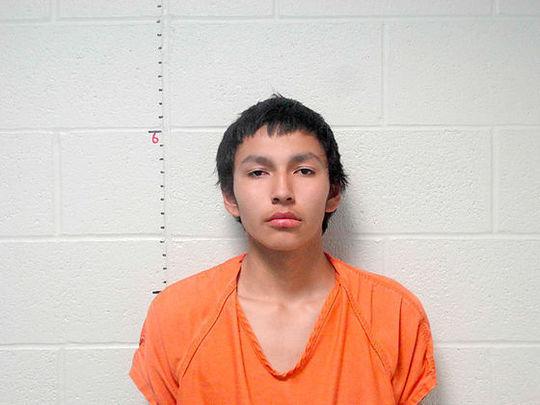 Before Jennifer Mix picked up her ringing cell phone at 4:30 a.m., her mother's intuition had already alarmed.
A call from Northern Montana Hospital informed her and her husband, Dean, that their son was in "pretty bad shape," and was to be airlifted to Great Falls.
"They were very matter-of-fact about it," Jennifer said. "I was thinking, 'OK, was this a car wreck?' When they said he was stabbed several times, I just couldn't believe it. I couldn't process it. "
Living in proximity to a metropolitan area, the Mix family was far enough from the more violent parts of the city, but close enough to be wary of them. When Sam signed an NAIA letter of intent with MSU-Northern, it was figured to be safe haven.
But not even nine months after sending Sam to school, the two parents were trying to find a private plane to immediately get them to Great Falls after a grisly attack by a complete stranger.
The flight didn't work out, so they jumped in their car and made the 650-mile drive and arrived after Sam's surgery. Even a close friend from Washington State University made the trip after hearing the news.
When they got to Great Falls, teammates, coaches and friends were already visiting Sam.
Within the hellish 24 hours the family had before seeing their son, they were already thinking of ways to extract him from MSU-Northern and Havre altogether. But after seeing the community support, that changed.
"They were just really rocked by this event, too," Jennifer said, "Nothing had happened like that before. It became apparent that it'd be taking football away, and we couldn't let (Brown) take that away from him."
First-year coach Aaron Christensen, who had just accepted the position four months before the stabbings, was more worried about Mix having a fully-functional life again than football.
"Sam is a tough kid. I really didn't know what to think. That's a lot for anyone to go through," Christensen said. "My first thought wasn't if he plays football again, but if he's OK. Football is just a game; there's a lot more important things in this world."
Mix's medical bills were up to an estimated $350,000, 90 percent of which was covered by insurance. Fundraisers also helped with costs, and MSU-Northern said it would still honor Mix's athletic scholarship.
He was soon transferred to a Seattle hospital before being released. His close friend, Woolman, still has a much tougher road to recovery.
A Belgrade native, Woolman spent three months in Billings and Denver hospitals, rehabilitating from the wound to her brain that left her partially paralyzed, two punctured lungs and a severed nerve on one knee.
Mix visited Woolman in Colorado before she was released in August 2015.
"It's crazy to see your friends' lives changed so drastically," he said. "She knows that I'm praying for her every day. She's amazing. I wouldn't put anything past that girl."
Schneid was released from medical care in Havre the following day, and has since moved back to Virginia. 
This wasn't Brown's first brush with the law.
Brown, who dropped out of a high school as a freshman, was charged with the rape of a 13-year-old girl in August 2014, a crime in which he later plead guilty while incarcerated for the stabbings. He'd also been charged with obstructing a peace officer and endangering the welfare of children.
In the case of the stabbings, he initially denied the allegations, saying he was trying to break up an altercation. He then changed that story, saying he blacked out. In November 2015, however, he pleaded guilty to all three counts of attempted deliberate homicide.
Two months later, he was sentenced to 100 years for the stabbings and additional 40 years for aggravated burglary in Montana State Prison. There was no trial.
During the sentencing, Mix sat in a packed courtroom near Brown's mother as the sentence was read in an "awkward" situation. Both of Brown's parents have also in and out of jail for offenses ranging from substance abuse to DUIs.
Brown avoided eye contact with his victims and was nearly inaudible throughout the court process.
"I'm happy. Not so much from a vengeance standpoint, but more so from the community that he's locked up and is where he is with life in prison," Mix said. "If he gets killed in prison, or if he died there at 80, that doesn't make a difference, just as long as he's kept away from society. The guy is a maniac who had mental issues dating back to his childhood."
The case also changed Witmer's life.
"I can honestly say that after that, I started closing the windows and making sure everything is locked," Witmer said. "This isn't Mayberry. There are a lot of bad people out there who will do bad things to good people."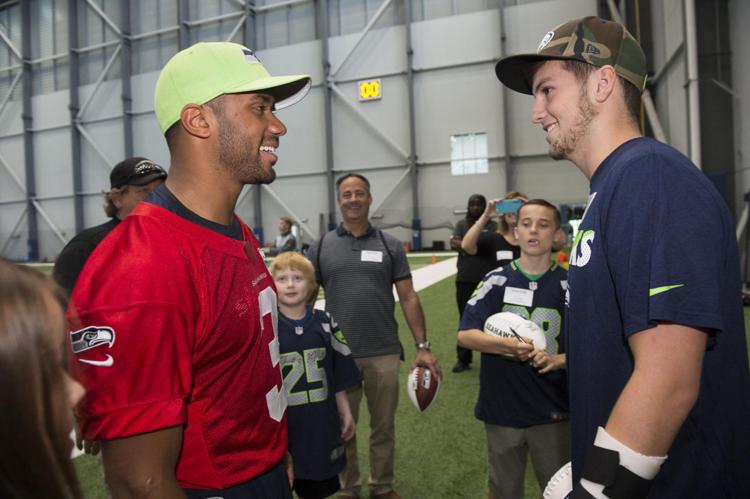 A severed nerve has taken away Mix's right bicep function. Aesthetically and feeling-wise, the pass catcher's hands and fingers will likely never be what they were.
None of this seemed to matter during spring football, the first time he buckled a chinstrap since the attack.
As a true freshman two nearly two years ago, Mix hauled in eight passes for 61 yards, but Christensen already thinks he's better than he was in 2014, despite his physical setback.
"He's been playing well. He's one of our top receivers," Christensen said. "I think he's playing better football now than before he got hurt. He had a really strong spring."
School and football-wise, he's come nearly full circle. Socially, though, things are different.
When news spread in Washington, the Seattle Seahawks invited Mix to a practice a month after the incident. There he met NFL stars like quarterback Russell Wilson and defensive back Richard Sherman.
Around campus, he's often approached and asked how he's managing. When he visits home, peers also inquire about that night.
"It gets kind of weird, but I wouldn't say anyone is bothering me," Mix said. "People have been really positive and looking out for me."
Mix often talks matter-of-factly about the attack, conscious that even talking about it trumped the alternative: Death.
So now, he's taking advantage of the life was that was nearly taken from him.
"As a player, I hold myself to the same standard to what I was before and even higher. It's like I was never out at all. It's all about how you bounce back."