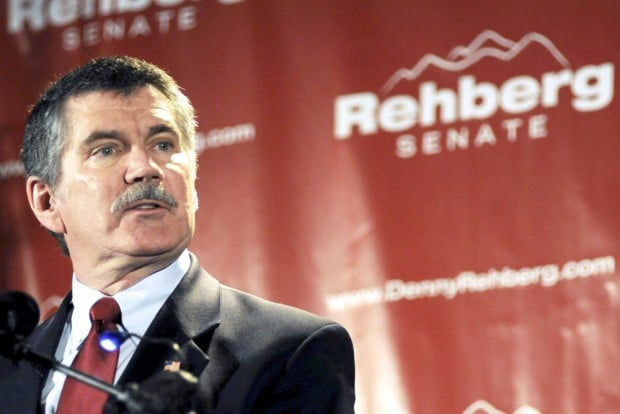 HELENA - For months, Montana Republican congressman Denny Rehberg has been criticizing U.S. Sen. Jon Tester for being the leading recipient of campaign cash from lobbyists. But it turns out Rehberg has been taking donations from some lobbyists without disclosing their place of employment.
The Rehberg campaign countered that the missing information is simply a byproduct of incomplete records submitted by the donors themselves, and not an orchestrated effort by the campaign.
Rehberg's challenge for Tester's seat is one of the most closely watched in the nation, with control of the U.S. Senate at stake. The campaign has already grown highly contentious, with relentless attacks coming from the candidates and their allies.
Republicans who believe that Tester is vulnerable because of his association with unpopular Obama administration policies are ardently backing Rehberg, well-known in the state for a political career stretching back two decades. Montana Democrats fervently support Tester, a populist farmer adored by supporters for taking his flattop haircut and homespun image to an upset victory over Conrad Burns in 2006.
Republicans, seeking to tarnish Tester's outsider image, have been hammering the Democrat for taking more lobbyist donations than any other candidate, trying to turn the tables on Tester who famously beat Burns by attacking that Republican's "K-Street cronies."
As recently as last week, the Rehberg campaign hammered Tester for his lobbyist donations, with Rehberg campaign manager Erik Iverson saying that cash was a major reason why the Rehberg campaign was trailing in fundraising.
But an Associated Press analysis of campaign finance disclosure reports through October turned up nearly three dozen lobbyists, who donated a total of about $20,000 to Rehberg's campaign, with their employment left blank on disclosure forms.
The occupation was found with a search of a database of lobbyists at the Center for Responsive Politics and a Federal Elections Commission database of other campaign finance disclosures.
Candidates are required to list the name, address and occupation of each individual contributor on disclosure forms submitted to the FEC. But the AP analysis found the Rehberg campaign did not list the occupation on 189 contributions for the first nine months of 2011. That's 13 percent of the 1,400 donations received by the campaign over that time frame.
The Rehberg campaign is adamant that the information was only left blank because the donors did not provide it. The campaign said that it believes the only accurate way to fill in the information is to rely on the donor directly, rather than using public records since people can quickly move or change jobs.
"We not only comply with the law, we make every effort to go above and beyond it," said Rehberg campaign spokesman Chris Bond. "This is all done in the light of day in publicly available documents and we believe that transparency is a good thing, because it allows folks in Montana to know that contrary to his rhetoric, Jon Tester is the number one recipient of lobbyist campaign cash in the country."
The campaign pointed out that many lobbyists report their occupation as "consultant" or other euphemisms that can also avoid detection and argued leaving it blank is no worse - and perhaps even more honest until the accurate information can be filled in. The Rehberg campaign pointed out many donors leave the occupation blank for their own reasons - including farmers, retirees, and others.
Tester had far fewer donors with a blank occupation, about 1 percent of his 4,675 individual contributions over the same period. None of those unlisted individuals was found to be a registered federal lobbyist. He did have some registered lobbyists who described their occupation more generally, such as "government relations."
Many of those left blank on Rehberg's disclosure reports are individuals who come from well-known Washington D.C. lobbying firms, including a policy adviser to former vice president Dick Cheney who now lobbies for Shell Oil. But the Rehberg campaign reported to federal election officials that it did not know the occupations of the donors, simply reporting that it was still working on finding the information.
According to the Center for Responsive Politics, Rehberg ranked 10th among the 435 members of the House with $74,450 in donations from lobbyists so far in the 2012 election cycle.
The center said unreported occupations can trick its analysis and result in an artificially low tally.
The Tester campaign, alleging the information was purposely left off the disclosure forms by Rehberg's campaign, pointed out that Rehberg has also called for more accountability in campaign donations.
"This is exactly why Montanans can't trust Dennis Rehberg. He just called for '100 percent transparency' in campaign fundraising, then he hid the money he takes from Washington lobbyists," said spokesman Aaron Murphy.
Tester's lobbyist donations still outpace the Republican congressman. Tester ranks first among all candidates this election, with $257,000 in donations so far from lobbyists, according to the Center for Responsive Politics.
In the most recent FEC disclosure form available for the AP analysis, from the third quarter of 2011, the Rehberg campaign gave federal officials a lengthy explanation for the large number of donors with incomplete records.
FEC rules only require campaigns to put forth their "best effort" in collecting the data, according to the agency's enforcement guidelines. The rules do not order any other sanctions once a campaign says it tried to gather the information.
The campaign said it wrote to the donors asking for the employment information, and also told the FEC it is also making follow-up phone calls to get the information.
But in some cases it appears the campaign could have fairly easily found the occupation for the donors.
One of the unlisted donors was Dan Quayle - former vice president of the United States. According to his online biography, and other candidates' disclosure reports, he is currently chairman of Cerberus Global Investments and president of Quayle & Associates.
Another of those with an unlisted occupation that seems like the campaign would easily recognize is retired Florida congressman Lincoln Diaz-Balart, who served in Congress with Rehberg until 2011. Diaz-Balart is now a registered lobbyist in Florida.
Tester also had unlisted occupations for people known personally to him, such as former members of the state legislature where Tester started his political career.