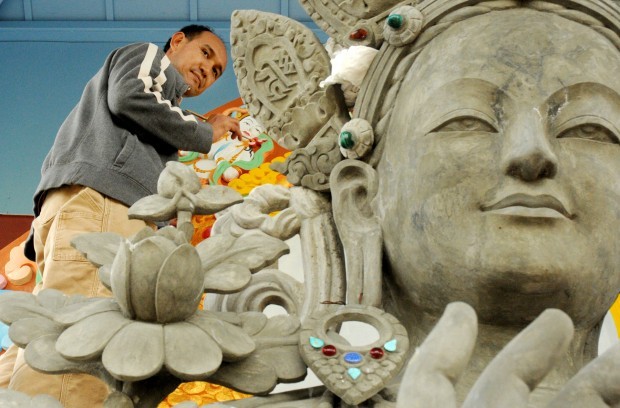 ARLEE - Lama Sonam Tsering sat with legs crossed on the scaffold as he leaned forward to carefully paint the gyabyul, or "arched doorway," that rises behind a 23-foot statue of Yum Chenmo, or "Great Mother."
The Nepali artist's brushstroke Tuesday was only a couple of inches of pastel pink, but the Buddhist is practiced at patiently bringing stone and cement to life with paint and prayer.
"More than 20 years," Tsering said simply.
Tsering has traveled the world since he was 18 years old, sculpting and painting for Tibetan monasteries such as Ewam Sang-ngang Ling's Garden of 1,000 Buddhas outside Arlee.
His father and his grandfather, back through all the generations Tsering knows, were skilled Buddhist painters.
"This is my tradition," said Tsering after pausing to find the right English word. "I learned from my father since I was a child."
Tsering, though, is most respected for his sculpting work after completing an apprenticeship with a renowned master in his teenage years.
He later met Gochen Tulku Rinpoche, who founded the monastery in the Jocko Valley, and consequently accepted the invitation to sculpt and paint the seedling garden's centerpiece.
The statue of Yum Chenmo, its base and the 41-foot canopy above it was started by a Spokane artist. But the curving lines of the goddess's face and hands, as well as some of the ornate carving, was refined or created by Tsering.
Buddhist teachings fill his techniques with purpose, just as the hollow statue is filled with soil from the 13 highest peaks, and sits atop buried and broken weapons and other silent symbols. The lessons helped shape his modesty and root his priestly work in the traditional designs and styles that communicate the six virtues on the path to enlightenment: generosity, ethics, patience, diligence, meditation and wisdom.
Do not mistake the white earbuds planted in Tsering's ears as irreverence for the lessons surrounding him or music to soothe him. His iPod is filled with Buddhism lectures.
He begins the audible lessons each morning as he opens the first can of paint and only pauses the iPod to eat a brief lunch and at the end of work each evening.
Tsering waves and smiles at each visitor or friend who walks into the old sheep-grazing field to see his progress.
It is difficult to hear his soft, humble voice over the engine of a steamroller pressing dirt and gravel for the base of the garden's pathways.
"I was kind of thinking two to three months to finish painting," Tsering said calmly despite the noise. After this two-month residency, he expects to return next summer to complete the canopy.
Last, he will paint Yum Chenmo's eyes in a ceremony for "opening the eyes," giving life to what was once dull gray stone and concrete awaiting his chisel and brush.
Jayme Fraser is a junior studying print journalism at the University of Montana who is interning at the Missoulian this summer. She can be reached at 523-5241 or at jayme.fraser@missoulian.com.
Be the first to know
Get local news delivered to your inbox!