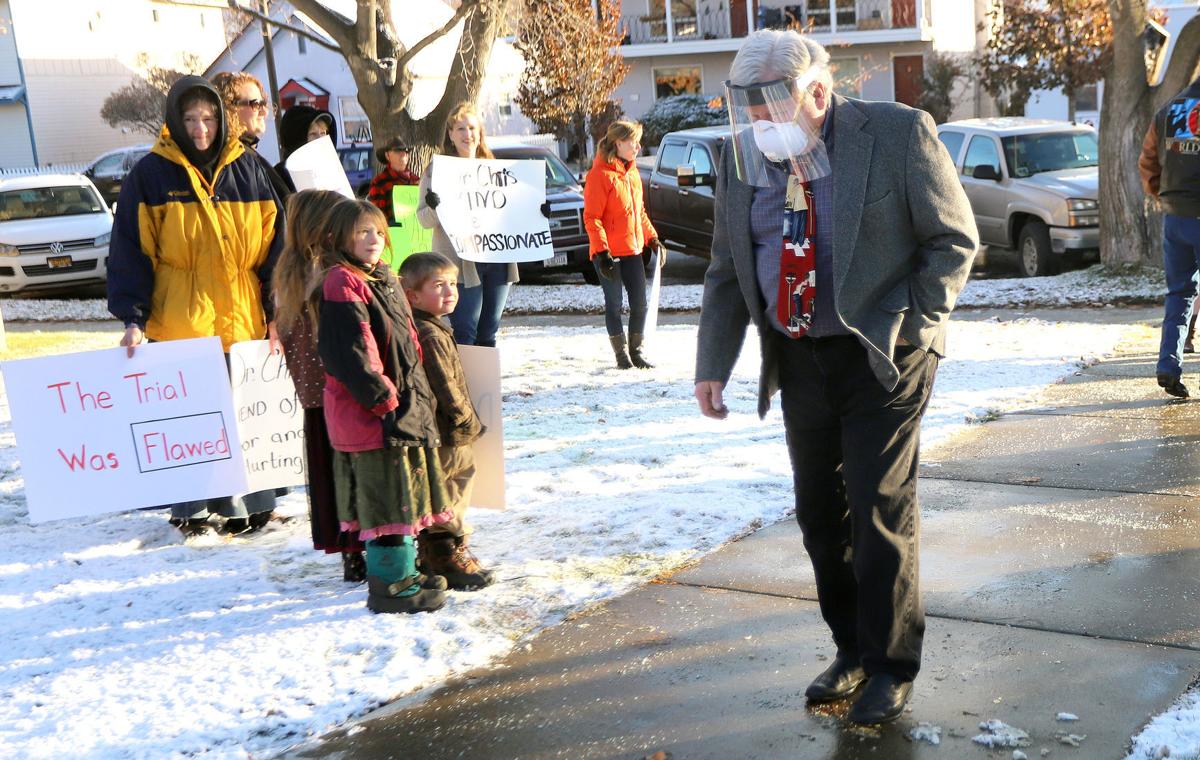 A former Florence physician convicted two years ago on 20 felony counts of what the Montana Supreme Court called an "obscene" over-prescription of opiates will begin a 10-year prison sentence in March.
A Missoula judge said Friday he will lift the stay that's kept Chris Christensen out of prison.
Missoula Judge Jason Marks made his decision following an hour-long hearing in which Christensen's lawyer argued that his client was in the high-risk category for COVID-19 and therefore should not be imprisoned.
In a case that's already been marked by long delays, Marks said Friday that he will write an order that requires Christensen to turn himself in at the Ravalli County Detention Center on a specific date in March. By that time, Marks said he expects Christensen to make every effort possible to get vaccinated for COVID-19.
"I'm not going to let this drag out with that not happening," Marks said. "I want to make it crystal clear that I will not entertain more delay."
Christensen's case dates back to 2014 when his Florence Clinic was raided by the Missoula High Intensity Drug Trafficking Area Task Force after area pharmacists reported concerns about large opioid prescriptions issued by the doctor. He was initially charged with 400 felonies in 2015, including two charges of negligent homicide.
In 2018, Christensen was sentenced to 20 years in prison with 10 suspended after a jury found him guilty of 22 felonies, including two counts of negligent homicide. The presiding judge stayed execution of his sentence pending appeal to the Montana Supreme Court.
In September, the Montana Supreme Court reversed the negligent homicide conviction but upheld the 20 other convictions that included nine counts of felony endangerment and 11 counts of distribution of dangerous drugs.
On Friday, Marks rejected a motion from Christensen's attorney for a resentencing hearing, but he did take notice of a note from Christensen's physician that said Christensen was unlikely to survive a case of COVID-19. Several COVID-19 deaths have been reported at the Montana State Prison.
Christensen's lawyer, Josh Van de Wetering said "to sentence Dr. Christensen into the Ravalli County Jail or the prison would be excessive punishment, unjust in this COVID time and unnecessary, and it could very well kill him."
Ravalli County Attorney Bill Fulbright told the judge the case has run its course.
"The defendant stands convicted, and it's time for that sentence to start," Fulbright said. "It's been long enough. There are victims who have the right to see justice take place."
While Ravalli County Sheriff Steve Holton testified that Christensen would be held in isolation awaiting his transfer to the prison and that so far the detention center has not had any cases of COVID-19, Marks said he was concerned about Christensen's underlying health conditions.
"I think it is very clear that an appropriate sentence, in this case, is not a sentence of death," Marks said.
Both Fulbright and Van de Wetering said they often get questions on why this case continues.
Fulbright said there's a lot of confusion on why Christensen isn't already in prison. Van de Wetering said he hears from people wondering why Christensen was convicted at all — "they think Dr. Christensen is a hero."
Before the hearing Friday morning a group of about 20 people gathered on the courthouse lawn to support Christensen holding signs that read things like "Do not kill Dr. Chris," and "A great doctor, but a poor trial." Christensen prayed with the group before the hearing and heard some yelling "We love you Dr. Christensen" as he walked into the courthouse.
John Harrington of Hamilton said Christensen ministered to him and his wife several times and provided medical treatment at their home without charging them.
"He had a big heart," Harrington said. "He helped people…His problem was he could never say no, and that's what got him into trouble. I can't say that he did everything right, but he has a big heart."
Sharon Griffin's son, Greg, died eight years ago from an overdose of several drugs, including methadone that was prescribed to the recovering opioid addict by Christensen.
Greg Griffin was one of two victims of overdose deaths that led to the negligent homicide charges against Christensen.
"I think of him still every day," Griffin said from her Missoula home. "His two children are now 22 and 20. They lived their entire teenaged lives without him."
On Friday, Griffin said she was disappointed that Christensen was given another reprieve from his prison sentence.
"All of it's a disappointment," she said. "It's been something that I've had to live with. Something that I have had to deal with…He's escaped through every loophole there is. It's just not fair. I feel sorry for the jury that convicted him. They listened intently. They did a good job. They were fair. They did everything in their power to make this right…I still appreciate what they did."
Be the first to know
Get local news delivered to your inbox!