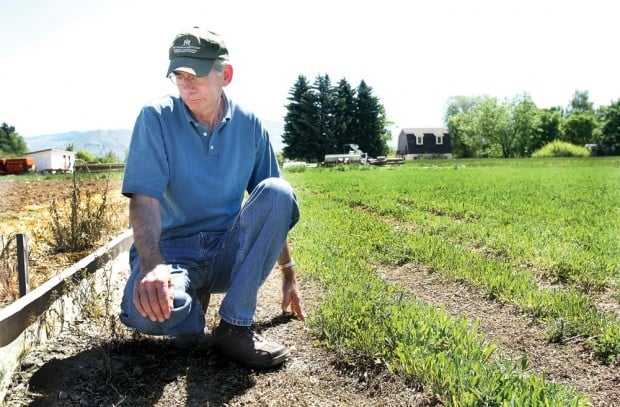 HAMILTON - It's not often that scientists have the opportunity to see their research have an impact on a grand scale.
Jim Story is one of those rare exceptions.
When the research entomologist arrived in the Bitterroot Valley 36 years ago, spotted knapweed was already taking over large patches of the landscape.
"It was a like a sea of purple when it bloomed in late July," Story remembers. "People used to call it Bitterroot alfalfa."
Today that's all changed.
On the northern half of the Bitterroot, the large fields covered in knapweed are gone from the valley floor thanks in good part to a variety of insects with a taste for the noxious weed that Story's research helped uncover.
When Story retired from his job at the Montana State University Agricultural Research Center in Corvallis last week, he did so knowing the Bitterroot Valley is better for his efforts.
"He would never tell you, of course," said Allen Bjergo, a fellow MSU agriculture specialist. "He did monumental research on the use of biological controls for noxious weeds."
Spotted knapweed was first identified in the state in 1927. No one knows for sure how it found its way here. Some say it may have been a contaminant in alfalfa seed brought from the old country.
When the weed found its way to the Bitterroot, it raced across the countryside.
"The Bitterroot quickly became known as the state's centerpiece for the knapweed problem," Story said. "The plant did really well here."
Story landed at the MSU Agricultural Research Center in Corvallis and began looking at the potential of biological controls for the weed.
"It was too big of a problem for landowners to address using herbicides," he said. "People couldn't afford it."
In the mid-1970s, a rancher and legislator named Bob Thoft became convinced that biological control was the only way that knapweed would be tamed. His efforts led to MSU starting a bio-control weed program in 1976.
Story and other researchers found the weed's natural enemies in its home ranges in Eurasia and began the process of importing the flies and weevils into this country.
"I always emphasized to everyone I talked to that this would be a very slow process," Story said. "I think people were pretty discouraged and disheartened to learn that there wasn't an immediate fix to the problem."
Story's idea was to find a variety of insects that would attack the weed in different ways. Seed head flies, moths and weevils reduced seed production. A root moth caused a decline in the plant's vigor.
The most effective natural agent turned out to be a weevil that chewed on knapweed roots.
Story received his first shipment of the root weevil in 1988.
"There were 50 adults in that first shipment," Story said. "I didn't know how we would ever have enough to make an impact."
The challenge for researchers in those early days was finding the insects in their native habitat. In his travels to Eastern Europe, Story discovered that knapweed didn't grow there anything like it did in the Bitterroot.
"We could only find small patches of it here and there," he said. "It was difficult to gather many insects because there just weren't that many plants."
In comparison, in Montana there was an estimated 4 million acres of rangeland overrun with the weed.
"I really wasn't sure that I would see an impact of bio-control in my career," Story said. "There was just so much knapweed."
The magic year came in 2004.
"That year, the weevil population just exploded around the research center," Story said. "I was getting all kinds of phone calls from people wondering what these bugs were that were crawling all over their fences and up the side of their homes."
The root-boring weevil proved to be the final straw for knapweed in the valley floor.
Retired U.S. Forest Service biologist John Ormiston remembers seeing the weevil first show up on his property.
"I have two acres and one was nothing but knapweed," he said. "About 10 years ago, I first started seeing the weevil showing up on my property and the knapweed started to die.
"I never transported any of them there," he said. "They just walked. ... Now you can go out almost any place in the valley and pull out a knapweed plant and find the roots looking gnarly."
Ormiston said Story was in good part responsible for knocking back the knapweed.
"His research was on the cutting edge of management of weeds," Ormiston said.
It's not only people in agriculture who benefit from knapweed control. Huge acreages covered in the weed also impacted wildlife.
"Knapweed took over large expanses of important wildlife habitat, including game winter ranges," Ormiston said. "It caused a good deal of problems for wildlife."
Story's "groundbreaking work" is helping the Bitterroot Forest control knapweed far above the valley floor, said Gil Gale, the Bitterroot National Forest's weed program leader.
"We hopeful in the next few years to be able to show the same kind of results in these higher elevations," Gale said. "We hope to see the program at Corvallis continue Story's good work. He was definitely a pioneer and leader in the field of bio-control in Montana."
Ravalli Republic editor Perry Backus can be reached at 363-3300 or at editor @ravallirepublic.com.