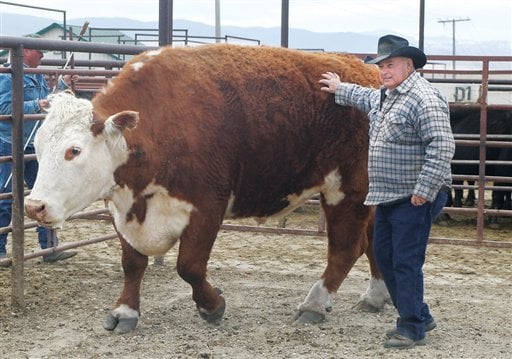 BUTTE - That's a lot of bull. Cletus, a 2,950-pound Hereford, walked into the ring Tuesday at the Montana Livestock Auction in Ramsay.
The 10-year-old behemoth doesn't go anywhere quickly, especially not when you want him to, so the men in cowboy hats lounging against bleachers had to sit and wait. Finally, Cletus made his entrance and the crowd whistled and gasped.
Owner and breeder Bill McIntosh of Avon watched the bidding.
"I do kind of hate to see him go," he said. "But you've got to be practical in this business."
Cletus sold to a buyer from Minnesota for about $1,600, and the big Hereford who was lead steer for almost a decade, was sent off for slaughter.
"He had a nice life, just eating and sleeping," said McIntosh.
Cletus was the largest the Avon rancher has ever seen, and the heaviest to come through the auction yard in memory, said field representative Dick Perkins.
On the ranch, the quiet and slow-moving animal was used as a lead steer, which keeps the herd calm and headed in the right direction. A steer is a castrated male.
Perkins said a lead steer is considered "the babysitter of the ranch."
McIntosh said he fed him nothing out of the ordinary.
"Grass in the summer and hay in the winter," said McIntosh. "We didn't supplement him with anything."
Cletus has always been big, about 725 pounds as an April calf, and he just kept getting bigger. McIntosh's children wanted to put him into the fair circuit, but he was worried that Cletus was just too large. Still, the animal found a home on the ranch and made himself useful.
When it came time to say goodbye, McIntosh was disappointed the Hereford didn't break the 3,000-pound mark. He weighed 3,100 pounds last year and just over 3,000 pounds earlier this month, but transit usually causes them to lose weight.
"I guess he wintered a little rough," said McIntosh.
All-in-all, he was pleased. Cattle prices are high, and he felt this was the time to sell. He described slaughter bulls as "cream" that pads the profits for a cattle ranch which often operates on razor-thin margins.
Already, he's looking for a new lead steer.
"I've got a couple of prospects," said McIntosh.
Whether they'll break that 3,000-pound mark is another question.
Be the first to know
Get local news delivered to your inbox!