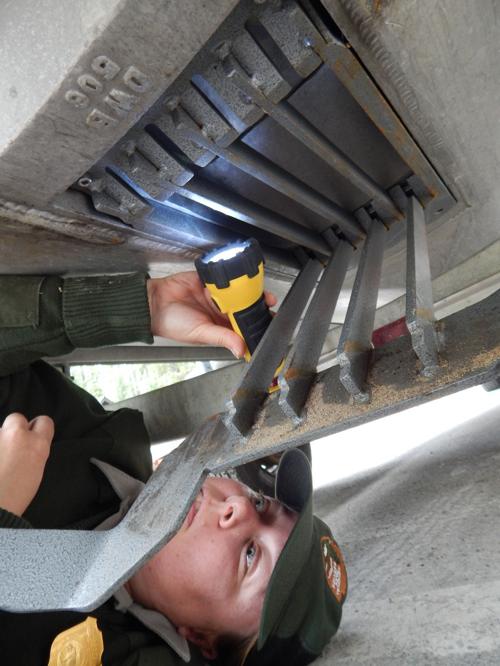 In an unprecedented move, Glacier National Park officials have closed all boating in park waters while they evaluate a threat of invasive mussels.
"If the waters in Glacier become infested with these invasive species, that flows to many different parts of the country," park spokeswoman Lauren Alley said on Thursday. "We have a tremendous responsibility to the rest of the ecosystem and the economic impacts that an infestation can have to the rest of those communities downstream."
While no traces of mussels have been found in park waters so far, the detection of the invasive species in the Tiber Reservoir east of Shelby on Wednesday triggered statewide concern. Alley said the National Park Service's 2014 invasive species plan calls for the boating closure in the event mussels are reported inside Montana waters.
"We are in the early stages of talking with a lot of partners about what this closure will look like," Alley said. It's simple for the Park Service to restrict boating on internal waters like Lake McDonald or Bowman Lake. Private inholders and tour companies with boats on some park lakes may be able to have their craft inspected before launching again next spring.
It's less clear how to manage boundary waters such as the North Fork and Middle Fork of the Flathead River, which share jurisdiction with the Flathead National Forest and Montana Department of Fish, Wildlife and Parks. That affects boaters who travel for miles to take on the whitewater rapids, trout fishing and scenic floating those rivers provide. Because Glacier Park has almost no public access points to either river, Alley said those decisions would probably be worked out by other stakeholders.
"We have no plans for closing any waters now," said FWP fisheries division manager Eileen Ryce. "At this time of year, the chances of anything being moved around are very slim. So we have a little bit of time on our hands to get things in place for spring."
FWP biologists detected the mussel larvae in routine water samples from Tiber Reservoir, which impounds the Marias River north of its confluence with the Missouri River, east of Glacier Park. Ryce said it's uncertain at this time whether the larvae are zebra or quagga mussels, although either species means big trouble.
"Chances are there are adults present somewhere in the reservoir, and we just haven't found them," Ryce said on Thursday. "There's an outside chance there was positive water in a live well [on a fishing boat]. But larvae are typically only present in the water column at certain times of year when adults are reproducing. When the water temperatures drop, they're no longer present."
Until now, Montana had been free of zebra and quagga mussels. The mollusks have infected waters as close as South Dakota, and are well-established in the Great Lakes and Midwest states.
"If they become established, it impacts water delivery structures, irrigation systems, hydropower facilities, and it can affect fisheries through food-web disruption," Ryce said. "The mussels have threads that are sticky, which they use to attach to each other and clog up things."
Flathead National Forest spokeswoman Janette Turk said the U.S. Forest Service doesn't have as comprehensive a response plan for invasive mussels as the National Park Service. Because it owns several campgrounds and boat ramps on the Flathead's Wild and Scenic River system, the Flathead Forest will be cooperating with state FWP river managers on future access decisions.
"Meanwhile, we hope people will be using best practices, rinsing their boats and being careful," Turk said. "Mussels aren't the only invasives out there."