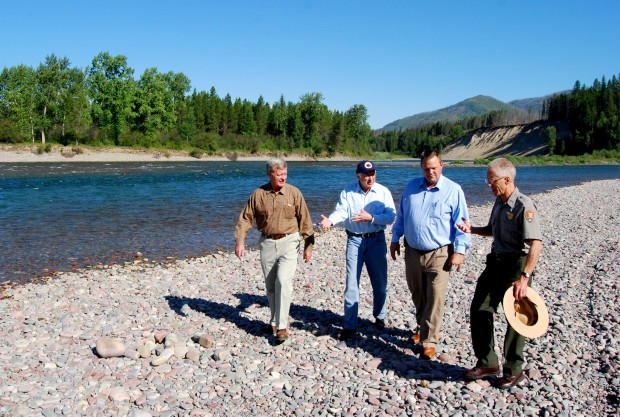 COLUMBIA FALLS - U.S. Interior Secretary Ken Salazar, on a swing through Montana to highlight water issues, came to the North Fork on Tuesday to see the confluence where the South, Middle and North forks join to make the Flathead River. But the crowd milling below Blankenship Bridge, about 10 miles north of Columbia Falls, kept him from water's edge.
Finally Salazar linked arms with Democratic Montana Sens. Max Baucus and Jon Tester. Then, turning to Baucus, who has fought upstream development for decades, Salazar said, "Show me your river, Max."
The North Fork Flathead is not, of course, Max's river; but it has run steadily through the senator's political career, countless gallons of wild and scenic water under Baucus' bridge.
"I've been working on this for 33 years," Baucus said, adding that "I don't know of any effort that's more important."
The effort - to maintain a pristine river against plans to mine its Canadian headwaters - has become Baucus' signature battle. As for the latest threat - gold exploration at river's edge, perhaps 10 miles north of Glacier National Park - "that's just another reminder that you need to be eternally vigilant," Baucus said.
At water's edge, he and Salazar stooped to bathe their hands in clean, cold water, with Baucus stressing the importance of Interior's top boss to "see it, taste it, smell it, feel it." Now that Salazar's done that, Baucus said, "he's going to have a lot better idea of what we're talking about."
Lately, the talk's been about coal and gold proposals. But it's also been about a UNESCO visit next month, requested by the United Nations World Heritage Commission. And it's been about nascent environmental agreements between Canadians and Americans, and about environmental reviews ordered by Canada's federal government, and about a possible designation that would protect the Canadian Flathead far into the future.
"Each of us," Baucus said, "has a moral imperative to leave this place in as good a shape, or better, as we found it."
That certainly was the idea behind creation of Glacier National Park, which formed the backdrop of Tuesday's visit. Glacier turns 100 next year, Baucus noted, saying the centennial provides "a good opportunity for us to make an especially strong statement."
He and Salazar both called for an active, rather than reactive, approach to crafting the North Fork's future, with Salazar pledging to "join hand in hand with our partners to the north."
Will Hammerquist, who works on behalf of North Fork water quality for the National Parks Conservation Association, called the region "a place of international significance." It's the location of the world's first international peace park and one of the wildest rivers remaining in the Lower 48. Ric Hauer, a scientist at the Flathead Lake Biological Station, likewise spoke of the river's remarkably pristine condition. Other transboundary rivers, he said, already have been severely compromised by Canadian mining, and offer a window into what may await the Flathead if upstream development interests prevail.
Salazar agreed the river and the mountains that hold it are important, but not just for fisheries and wildlife.
"When you look at Glacier National Park and the Flathead Basin," he said, "you really are looking at an economic engine for America."
And Montana, he said, "in so many ways exemplifies what is best about America."
With 10 million visitors a year to the state, and 2 million to Glacier Park, clean rivers such as the North Fork Flathead "have a profound impact on the economy," Salazar said.
He emphasized the need to see beyond jurisdictional boundaries - including international boundaries - saying "it's important to look at it as a watershed."
Salazar's visit to northwestern Montana followed his appearance Monday at a water forum in Billings, where the Interior chief talked of the dangers posed by development, climate change and other pressures to the West's limited water supply, and of the need for more money for federal water projects.
"We need to look at this place as one unified landscape," he said, and work with Canadian counterparts to negotiate a long-term solution.
That work, of course, already has begun. It was started by Baucus and others, more than three decades ago, which is why Salazar can perhaps be forgiven for calling it Max's river.