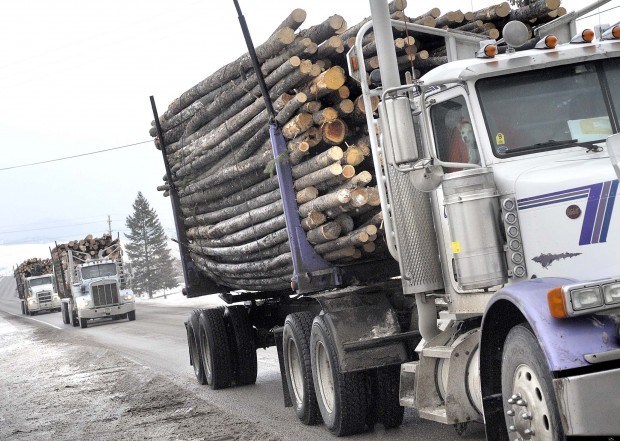 Ellen Simpson was writing a cautiously optimistic forecast for the Montana timber industry when she heard of Smurfit-Stone Container Corp.'s impending Frenchtown mill closure.
"It's been a free-fall since about 2006, with the last two years being by far the worst," said Simpson, spokeswoman for the Montana Wood Products Association. "Those in the industry feel it has bottomed out and there's a glimmer of light at the end of the tunnel. Smurfit was a big player. This is really bad news."
The linerboard plant west of Missoula bought wood chips and residual material from sawmills and small-diameter "junk wood" from independent logging contractors. In addition to being a revenue stream for these other timber workers, the mill provided a practical service – it got rid of the others' wood waste.
"As we were getting pressured over the recessionary period, being able to sell chips and shavings was an income generator," said Gordy Sanders at Pyramid Mountain Lumber Co. in Seeley Lake. "It really helped keep all of us remaining in business."
Smurfit-Stone Container announced it was refusing delivery of incoming chip and log loads as of Monday evening, according to F.H. Stoltze Land and Lumber Co. vice president Chuck Roady. That's doubly unfortunate because the company had been a booster for Montana's new "Jump Start" timber program, which provided money for private forest managers to do fuel-reduction and forest thinning work.
"Our phone is ringing off the hook – what are we going to do with all the stuff from the Jump Start program?" Roady said. "Without a place to take it, that puts everybody in a real bind. They've got a lot of money in this stuff already decked."
The closure decision, which takes effect Dec. 31, comes just as the state was getting momentum behind efforts to market woody biomass. Missoula Community Development Corp. forest business consulting manager Craig Rawlings said that progress will continue in the next three to five years, but Smurfit-Stone Container's loss will have an impact.
As for the Frenchtown plant itself, Rawlings and other analysts held little hope for a rescue attempt. That's because the national paper and linerboard markets are
already over capacity, and pulp mills across the country are closing as the industry restructures.
Montana Sen. Jon Tester and Rep. Denny Rehberg both said Monday they would be seeking money for retraining of Smurfit-Stone workers. Last spring, Tester and Sen. Max Baucus pushed for $11.3 million in federal stimulus loans to support the timber industry.