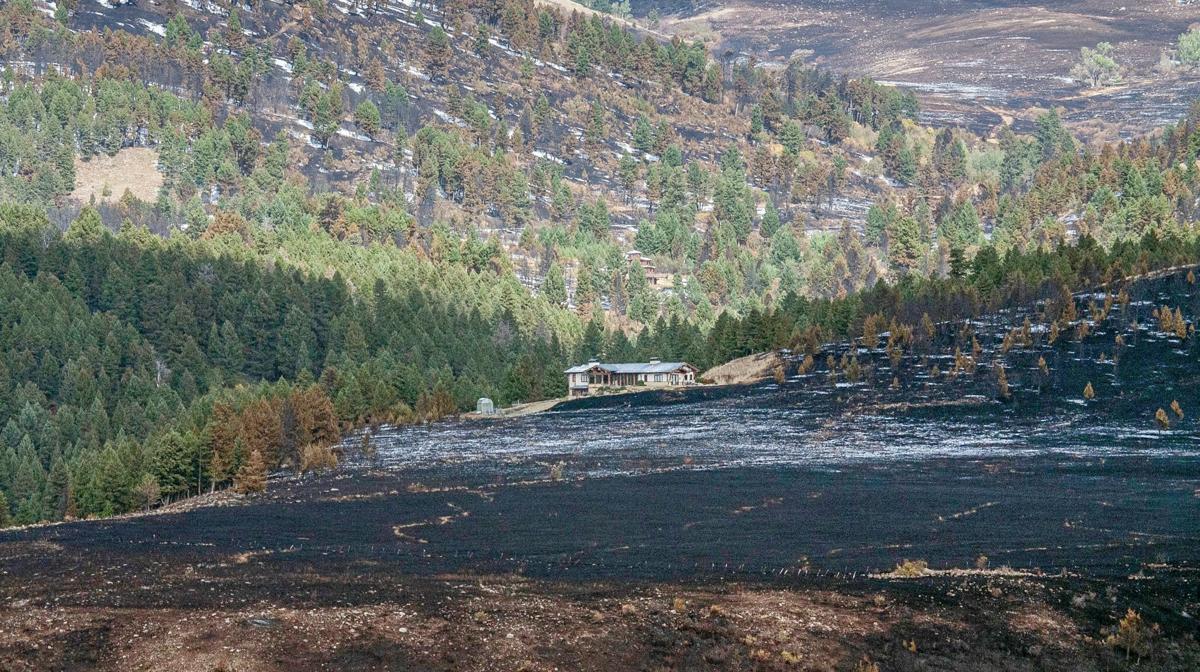 Red flag weather conditions capable of producing extreme fire behavior are expected Monday across parts of south-central and southeast Montana, according to the National Weather Service in Billings.
Crews continued to work Sunday on both the Bridger Foothills fire near Bozeman and the Bobcat fire in Musselshell County south of Roundup.
The Bridger Foothills fire was reported Sunday to be 77% contained. The Bobcat fire was reported to be 88% contained.
The Lone Star fire in Yellowstone National Park has burned about 5.3 miles of mature spruce, fir and lodgepole pine and is expected to see a warming and drying trend through Wednesday.
Amid critical fire weather conditions, the weather service is urging people to do what they can to minimize the chance of starting a fire. 
That includes avoiding burning, securing tow cabins and taking extra care with cigarettes or anything else that could ignite a fire.
The Custer-Gallatin National Forest announced late Sunday afternoon that six abandoned campfires had been found in the last 24 hours. In a brief social media post about the fires, the U.S. Forest Service wrote "If your campfire is too hot to touch, it's too hot to leave."
For areas within the red flag warning Monday, the National Weather Service in Billings expects temperatures between 90 and 100 degrees, humidities between 5% and 15%, southwest winds between 10 and 20 mph with gusts up to 30 mph and a dry cold front.
The red flag warning will go into effect Monday at noon and remain in effect until 9 p.m. that night.
Areas within the red flag warning include: Gallatin National Forest, Wheatland County, Sweet Grass County, Stillwater County, Beartooth Ranger District of the Custer National Forest, Golden Valley County, Musselshell County, Yellowstone County, the Crow Indian Reservation, Bighorn Canyon Recreation Area, northern Rosebud County, northern Treasure County, Northern Cheyenne Indian Reservation, Ashland Ranger District, Custer National Forest, Sheridan County, Carbon County, Powder River County, Gallatin County and and the Bighorn National Forest. 
A total of 166 firefighting personnel remained assigned to the Bobcat fire Sunday. According to a Sunday update from the incident management team handling the fire, the fire area no longer has active areas of fire but tree stumps and roots may burn below the surface. Burned trees and limbs that could weaken and fall, along with unstable soil remained safety concerns within the fire perimeter.
The Bobcat fire is located about 7 miles southeast of Roundup.
Crews on Sunday were planning to conduct an observation flight over the fire area to help with remaining suppression and rehab planning. Crews were also planning on continuing to look for smoke within 200 feet of the fire edge and extinguish remaining hot spots, in some cases using hand work and water to handle larger fuels like stumps that might continue to smolder and retain heat. 
The Type 2 Northern Rockies Incident Management Team 4 led by incident commander Rick Connell plans on transferring command of the fire to a local unit Monday at 6 a.m.
Work also continued Sunday on the Bridger Foothills fire, which has burned about 12.85 square miles 3 miles northeast of Bozeman, A total of 349 firefighting personnel remained assigned to the fire Sunday. 
The south side, large portions of the east and west sides and a large spot east of the fire are all considered contained. Heavy equipment work was ongoing to build a fuel break amid heavily timbered areas directly north of the fire. That contingency line was expected Sunday morning to be completed within a day or two.
While red flag conditions are expected Monday, including a weak cold front, cooler weather and a chance for precipitation are expected Tuesday and Wednesday. 
Some smoke from other fires in the west could arrive in the area, according to the Sunday update.
The incident management team also noted that fine fuels have cured and dried out and are available to ignite and burn under the right conditions. People recreating or spending time outdoors were asked in a message posted to the fire's InciWeb page to be careful with activities that could cause a spark and ignite new wildfires.
Be the first to know
Get local news delivered to your inbox!