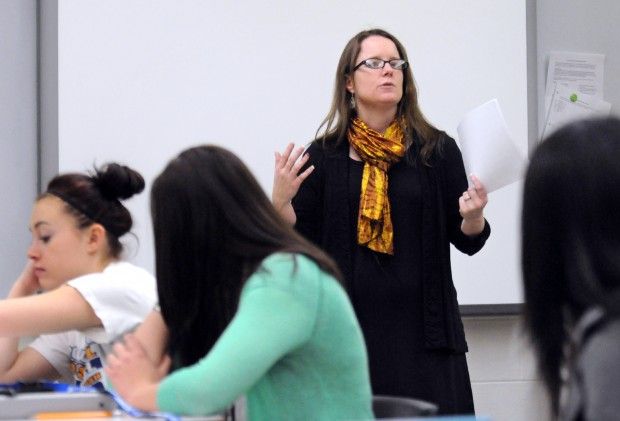 ARLEE – When Arlee High School teacher Anna Baldwin was named Montana's Teacher of the Year for 2014, the Montana Professional Teaching Foundation called it the highest honor a teacher in the state can achieve.
Baldwin's Montana award tossed her in the pool from which five winners for the Horace Mann Award for Teaching Excellence would be selected from across the nation.
She got one of those, too – and that now makes her a finalist for the NEA Foundation's 2015 Award for Teaching Excellence.
Baldwin and the other four Horace Mann winners will learn which of them has won the NEA Foundation honor on Feb. 13 in Washington D.C., at the organization's Salute to Excellence in Education Awards Gala.
The English and history teacher was so shocked when she was named Montana's 2014 Teacher of the Year 15 months ago that she asked the person who called to inform her three or four times if they were sure they had the right person.
But Baldwin says she has figured something out since.
Writing is a key to winning such awards according to Baldwin – "That's how they choose us," she says – and she teaches writing.
"It's a lesson for my students," Baldwin says, "that writing does matter."
In Baldwin's case, it matters to the tune of $10,000 and an all-expenses-paid trip to Peru next June to further participate in the Global Learning Project.
Those were two of the rewards for winning the Horace Mann honor.
The NEA Foundation award she's now up for comes with a $25,000 prize.
"I was really surprised, and certainly honored," when she learned she was one of the Horace Mann winners, Baldwin says. She and the other four winners were among 39 nominees from around the country.
She joins the four other Horace Mann honorees as finalists for the NEA Foundation's 2015 Award for Teaching Excellence:
• Terri Butts, a curriculum specialist at the Richland Two Child Development Center in Columbia, South Carolina.
• Richard Erickson, who teaches chemistry, physics and alternative education at Bayfield High School in Bayfield, Wisconsin.
• Crystal Williams Gordon, a biology teacher at Broadmoor High School in Baton Rouge, Louisiana.
• And Allison Riddle, a fifth-grade teacher in North Salt Lake City, Utah.
Baldwin, who is originally from Virginia and is a graduate of Georgetown University, has taught on the Flathead Indian Reservation for 16 years, the past 12 in Arlee.
She bases her teaching methods, she says, on "high expectations and cultural responsiveness," and calls her classrooms "active, carefully structured and adventuresome." Her aim is for all her students to find a personal connection in each lesson.
It's led to a lot of recognition for Baldwin in recent years. In addition to the Horace Mann Award for Teaching Excellence and the Montana Teacher of the Year honor, Baldwin was one of five educators in the nation to receive the Southern Poverty Law Center's 2012 Teaching Tolerance Award. In 2011, she won the Distinguished Educator Award from the Montana Association of Teachers of English Language Arts, as well as the Arlee School Staff of the Year Award.
"I try to get to know the students and their interests, and incorporate them into the classroom," Baldwin has previously told the Missoulian. "I go to their sporting events, band concerts. I talk to them – 'What did you do over the weekend?' 'Is that a new coat?' 'Are you going hunting?' "
And she's not above hitting up the governor of Montana for a lunch date with her students.
When Baldwin complained, good-naturedly, to Gov. Steve Bullock that his appointment of Anaconda teacher Angela McLean as lieutenant governor had scuttled a classroom project Baldwin and McLean were working on, Bullock asked if there was anything he could do to make it up to her.
There certainly was, Baldwin decided, and quickly invited herself and her students to Helena. Last spring, 21 of her students had a sit-down with Bullock in the Capitol to discuss his education priorities in a Socratic circle, and ate lunch with him at the Governor's Mansion afterward.
"Anna has been selected for this award by her peers because she has attained the highest teaching standards," Harriet Sanford, president and CEO of the NEA Foundation, said.
Sanford cited Baldwin's "exemplary instruction, advocacy for the profession, attention to diversity, leadership in professional development and engagement of parents and community."
"Honoring these educators is our way of thanking them, and all the public school educators they represent, for their excellent work," Sanford said.