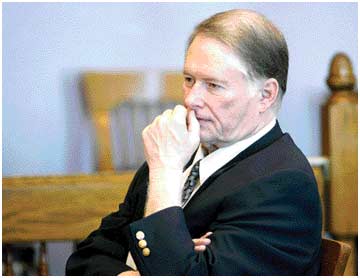 HELENA - A state judge Thursday found Billings businessman Tom Kennedy in contempt of court for helping people buy low-cost prescription drugs from Canadian pharmacies.
District Judge Kathy Seeley of Helena said Kennedy could avoid arrest by paying the civil fine and shutting down his business, known as Canadian Connection.
Kennedy, who's been operating the business despite a 2004 court order from another judge that said he's breaking the law and should stop operating, said he had little choice but to comply with Seeley's ruling.
"I'm done; I'm out of the business," he told the Missoulian State Bureau after the two-hour hearing in District Court at Helena. "I guess you can't fight city hall. I'm going to quit selling drugs."
Kennedy was brought before Seeley by the state Board of Pharmacy, which asked that he be found in contempt of court, fined and made to halt the operation of Canadian Connection. Kennedy's business arranged to have Canadian pharmacies provide prescription drugs to Montanans at prices averaging 50 percent less than in the United States.
Seeley said Kennedy "blatantly failed to follow" an October 2004 court order by now-retired District Judge Thomas Honzel that said he was violating state law by helping unregistered pharmacies sell drugs in the state.
Kennedy argued Thursday that the board had no jurisdiction over him because he wasn't engaged in the practice of pharmacy.
Instead, Kennedy said he put people in touch with a pharmacy in Calgary, Alberta, which then sent drugs directly to the customers. He took a
16 percent commission, and said in court that he made about $7,000 a year on the commissions.
Mike Fanning, a state attorney representing the Pharmacy Board, said Kennedy has never denied that he violated Honzel's order or appealed it, and that it's time "to vindicate Judge Honzel's order."
Honzel's order said Kennedy was violating a state law that says it's illegal for an unlicensed person to practice pharmacy or assist in the practice of pharmacy.
Kennedy is not a licensed pharmacist. While he has said he did not practice pharmacy, a Missoula pharmacist testified Thursday that she had visited Kennedy's business in 2005, posing as a potential customer, and that he had dispensed pharmaceutical advice that she considered potentially dangerous.
Rebecca Deschamps, who was executive director of the state Board of Pharmacy at the time, said Kennedy told her she could get a better deal on certain drugs by purchasing a double-dose-sized pill and then splitting it in half. Such splitting could result in irregular doses that might be harmful, she said.
Deschamps also said Kennedy talked about other drugs she might substitute for the ones about which she had inquired, and that his suggestions could be considered patient counseling, which is practicing pharmacy.
Kennedy, who acted as his own attorney, asked Deschamps whether he suggested she take any particular drug.
"No, not as such," Deschamps replied.
He also noted that any decision made on what drugs she should be prescribed or take would be made by a doctor, rather than him.