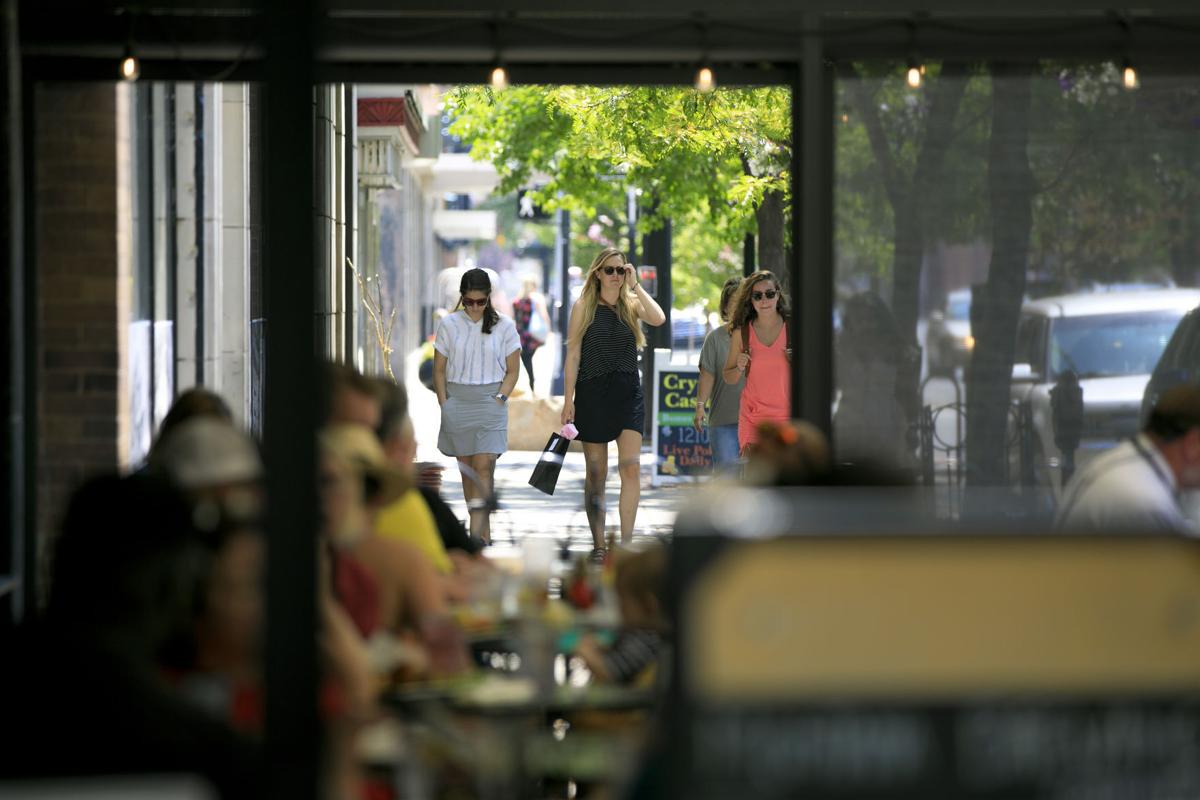 BILLINGS — Throughout the pandemic, Hunter Bierbach has been very cautious. Before getting vaccinated earlier this year, he limited trips to just the essentials like grocery shopping. He'd only recently started venturing out more, doing things like outdoor group sports and eating outside at restaurants.
After not seeing his 70-year-old parents in a year and a half, he'd convinced them to come visit Billings over the Fourth of July weekend. They are fully vaccinated, as is Bierbach's girlfriend.
On Monday, July 5, Bierbach developed a slight cough. By the next morning, his symptoms were more severe. He went to a local clinic to get tested, and a nurse told him he likely had caught a nasty summer cold circulating through town.
But while he was still driving home, a phone call confirmed that Bierbach was one of the incredibly rare COVID-19 breakthrough cases — a fully vaccinated person who still contracts the virus.
His mind raced through the implications of learning he caught the virus he'd worked so hard for months to avoid. He'd spent the last few days with his parents, at-risk for severe outcomes because of their age if they also got sick. How was he one of the just 2.5% of Montanans who caught COVID-19 after being fully vaccinated?
"I was more just in shock at that point than anything else and then frustration as, after having taken all those precautions, having gotten vaccinated, it … it seemed so random," Bierbach said recently. "Even though I'd gotten back to some normal-type behavior, I was still being pretty safe I thought."
Bierbach's parents, girlfriend and other close contacts are all fully vaccinated and have not gotten sick, something he's incredibly thankful for.
As he's coming to grips with how he became a statistic, Bierbach wants to emphasize this message: that while no vaccine is 100% effective, they are critical at protecting the spread of most illness and prevent people like him from getting more sick if they do contract the virus.
And after re-examining his own behavior, he's urging more Montanans to get the shot and be cautious in situations where they don't know the vaccination status of everyone around them.
"This doesn't make sense in that I was vaccinated and I caught this. There was such a slight chance," Bierbach said. "After having looked at and re-examined my own behavior, I think I can accurately pinpoint exactly why I was unlucky enough." 
Vaccines work, but hesitancy
New cases of COVID-19 in Montana have steadily declined since the spike last fall and winter before vaccines were available. Starting April 1, everyone statewide who wanted to get vaccinated was eligible. Since the start of June, weekly case additions have remained below 400 new cases, though there's been a slight uptick the last two weeks.
Data shows the pandemic in Montana now strikes almost exclusively the unvaccinated. As of July 14, Montana has just 437 documented breakthrough COVID-19 cases out of the 16,969 new cases the state has added since it started tracking that data Feb. 15. Those breakthrough cases include 47 hospitalizations and eight deaths.
When the state first started vaccinating people in phases based on age, health status and other factors, "every change in vaccine group brought a tremendous rush of people trying to get vaccinated," said Joe Russell, the health officer in Flathead County.
Back then his county would go through 750-1,000 doses of vaccine a day, but that pace would not last.
"It was a frenetic time and now this week in our clinic in the health department, we did 100," Russell said last Thursday. "The hospitals are almost no activity and we had a popup clinic last night and did all four that showed up."
Of the state's largest counties, Flathead has the lowest vaccinate rate. About 44% of the eligible population has gotten their first dose and 39% are fully vaccinated.
"It's just like someone shut off the spigot," Russell said.
Yellowstone County, where Bierbach lives, also lags in vaccinations behind all the other eight largest counties except Flathead and Cascade. Forty-six percent of the county's eligible population are vaccinated, slightly less than the statewide average of 47%. Counties like Missoula have vaccinated 65% of their eligible population. Gallatin comes in at 63%, Butte-Silver Bow at 61%, Anaconda-Deer Lodge at 59% and Lewis and Clark at 58% to round out the top five.
Because of a lack of demand, Yellowstone County like the rest of the state has moved from mass centralized clinics to more localized offerings, like at businesses, churches and parks. Barbara Schneeman, the public information officer for RiverStone Health, said people are also still getting vaccinated at pharmacies. RiverStone is the public health agency for the city and county.
Bierbach took his first opportunity to get vaccinated early on, and even after that practiced caution.
"Knowing as a relatively healthy 46-year-old that catching COVID wasn't probably going to be bad for me, but I don't want to be part of passing along to anyone else who might be more vulnerable, more at risk ... that was kind of my guiding philosophy and principle," Bierbach said.
As vaccines became more plentiful, uptake considerably slowed, Schneeman said in a recent email. A few donors sponsored a $50 vaccine incentive that yielded good results, but vaccine hesitancy and resistance is hard to overcome.
"We have tried to appeal to people's sense of community — getting vaccinated to protect their family, their friends, others in the community that have underlying health conditions. We likely underestimated the number of people who are in the 'vaccine resistant' category and may never get a vaccine," Schneeman said. "They might get vaccinated if someone close to them gets the virus and ends up hospitalized or has a more tragic outcome."
Up in Flathead County, Russell said generally the people coming in to get vaccinated now have an external force compelling them.
"They're not as happy (as people in the first wave). They just say 'I need to get this done,'" Russell said. That could include reasons like an employer who "strongly desires" an employee get vaccinated, and Russell is quick to point out to several pieces of legislation passed in the recent session by GOP lawmakers to limit an employer's ability to make employees get vaccinated.
Reasons Russell hears for getting the shot now are "my daughter won't let me go to her wedding if I don't get vaccinated" or "my daughter is going to have a baby and I was told I can't be around the baby if I'm not vaccinated," he said.
"Come on, please get vaccinated for your own sake," Russell added.
Health data in Yellowstone County shows a virus that is still making those who contract it very sick and die. While since May 9, the county has averaged between seven and 11 new cases per 100,000 residents a week, hospitalizations are up.
"What the data is telling us is that hospitalized patients are more ill and more of them are requiring intubation," Schneeman said.
The daily hospital inpatient census went from an average of 13.2 in April to 22.29 in May and 21.4 in June. The number of patients in the intensive care unit is also concerning, Schneeman said. That rose from an average of 3.4 people in April to 6.9 in June and 8.7 in July. And the number of people who are intubated also jumped dramatically, from an average of 1.6 in April to 4.7 in May and 5.5 in June.
Seven county residents have died this month.
But even people getting severely sick hasn't helped with convincing people to get vaccinated. According to data analyzed by the state, from April 25 to July 9, 94% of Montanans who were hospitalized for COVID-19 had not been vaccinated.
"Getting people vaccinated against COVID-19 is becoming more challenging. A few weeks ago, we canvassed a neighborhood a few days before a gardeners' market to let folks know that we'd be vaccinating that day and had 18 people get a vaccine," Schneeman said. 
While Bierbach is one of the rare breakthrough cases, he still sees the situation as more of the wealth of evidence vaccines work. He had a mild case of the virus, and all those around him have not gotten sick because they were vaccinated.
"I'm sure the vaccination in my case kept my COVID from being a lot worse, so it's I think hopefully as we continue to get people vaccinated," Bierbach said. "You worry that talking about contracting COVID while being vaccinated that creates the wrong effect and people then are more emboldened in not getting vaccinated, and that is not what I want to see happen."
Russell, who spent 30 years at the health department before retiring in 2017 and returning to the job late last year, said the vaccine is an incredible and effective feat of science. 
"We have the best tool in our whole public health scabbard to control it, to minimize it, and that's the vaccine," Russell said.
While Bierbach's breakthrough case is rare, those around him also being fully vaccinated and staying healthy is common and expected, Russell said, adding it's created disparate populations of the vaccinated and unvaccinated. 
"The vaccinated people are all hanging out together and they're not transmitting disease, but the unvaccinated are all also hanging out together and they're transmitting the disease," Russell said.
Flathead County has had 34 laboratory-confirmed breakthrough cases, though Russell estimates there are more out there but people never got tested because they just didn't get that sick. In one recent breakthrough case, a vaccinated person was caring for four sick family members who were all unvaccinated. 
"The vaccine is working. A lot of people who get sick are mild or have no symptoms and are shedding so little virus they're not going to transmit it," Russell said. "But I can talk to people until I'm blue in the face and I may convenience 1-2% of them to get vaccinated."
The reasons Russell hears for not getting vaccinated range from that people don't trust the shots because they're still under an emergency use authorization to a lack of trust in the government.
Politics also plays a big role, Russell said.
"We're the most conservative county in Montana and that's going to drive vaccination rates," he said. That political divide plays throughout the state. An analysis of data shows that counties who voted heavily for former Republican President Donald Trump in 2020 have lower vaccination rates.
Some who refuse to get vaccinated believe the pandemic is over or wasn't ever real to start with, Russell said. But cases are up about 50% over last month in Flathead County. And of those, the number of variants found is increasing.
"I think people should be concerned with variants," Russell said. "The reason variants become prevalent is that there's something unique about them that continue to get people infected."
Variants spreading
Of the breakthrough cases in Montana, 101 have had subtype testing for variants, and 93 have been found to be a variant of concern or interest.
Bierbach believes he was one of those cases, though his test sample has not been processed to determine that, he said. He would like it to be, and has volunteered to be studied if possible.
Jon Ebelt, a spokesperson for the state Department of Public Health and Human Services, said in an email last week the identification of all strains of COVID-19 variants are expected to be found in Montana.
The department has confirmed 726 variant cases. Of those, 577 are variants of concern, which means they come with increased transmissibility, more disease and a reduced effectiveness of vaccines, although vaccines are still highly effective. The Alpha variant is still the most common in Montana, with 500 confirmed cases, while there have been 51 of the Delta strain, which as quickly overtaken other parts of the country.
Yellowstone County has reported 82 variant cases and Flathead County leads the state with 96.
Ebelt said testing for variants requires specialized equipment and can be conducted at the state public health laboratory, as well as through contracts with the University of Montana, Montana State University and FYR Diagnostics. But not all samples are sent to those locations. The state health department, because of lower volumes and lower positivity rates, is able to sequence all the positive samples that run through its lab, Ebelt added.
"This has allowed us to maintain a high level of surveillance for variant strains currently circulating," Ebelt said.
Recovering
While Bierbach was feeling better by mid last week and is thankful his family and close contacts are not sick, he's still concerned about the long-term implications of getting COVID-19.
"They don't know in terms of long COVID how these breakthrough cases are going to fit in, and speaking selfishly I'm a little bit worried about that for myself," Bierbach said.
He was hit hardest early in the week, running a fever with body aches and a headache. When that dissipated, he was left with a slight cough, fatigue and lots of congestion he's hoping will resolve soon.
Bierbach is also unsure how he'll proceed when the financial company he works for eventually calls people back to work in a large building with lots of common space.
"You wonder who is going to have the appetite of returning to those behaviors of masking and social distancing," Bierbach said. "It could get pretty contentious, I imagine. Well, it already has."
Up in the Flathead, Russell is continuing to urge people to get vaccinated and not giving up.
"I am not a defeatist, but I know this community and I know what we're doing and I know the people that want to be immunized and we'll continue to do what we can to get the ones who are stragglers," Russell said.