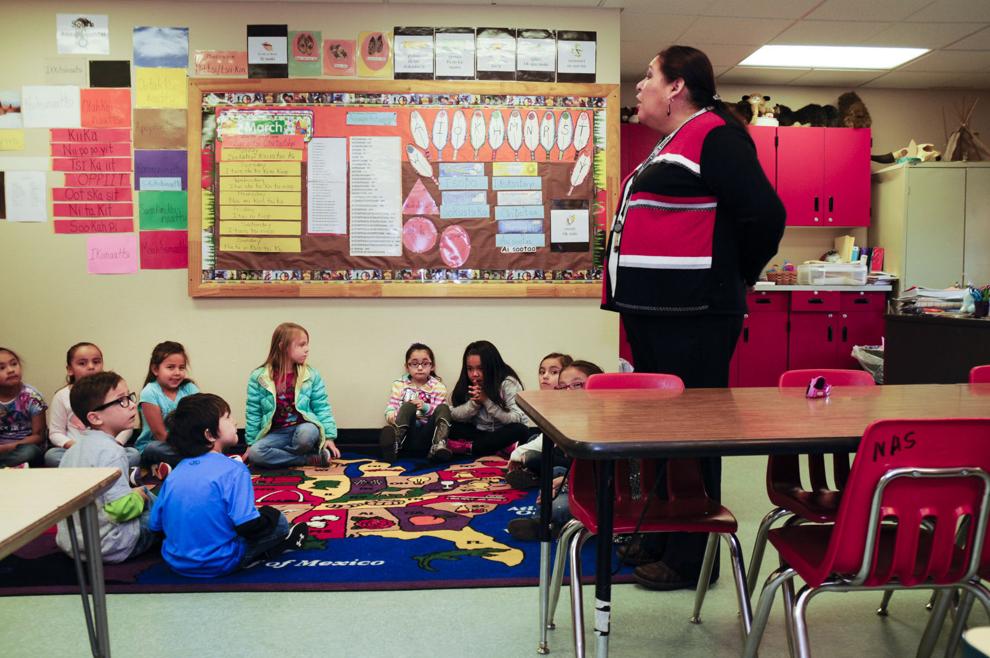 BROWNING – The kindergartners in Carolyn Zuback's Blackfoot language immersion program spill through the classroom door, buzzing off each other's contagious energy in a morning mob of childhood excitement.
Zuback collects the students in a corner of the room, directing them to sit on a colorful carpet.
"Remember when you walk into a teepee the girls sit on the right-hand side and the boys sit on the left," she says.
It's the first lesson – both language and cultural – of the day. The class is a product of a law passed in 2015 to encourage districts to create Indian language immersion programs and provide funding.
The window behind Zuback's desk is cracked, letting fresh air flow through the room. Before class, she lit a sage smudge bundle. Over on the rug, a group chuckles over a joke about passing gas as smoke rises from the wood box. As multilingual as they might be, these are still 5- and 6-year-olds.
All morning, Zuback will move seamlessly between Blackfoot and English. Girls in pink Nikes and sparkly cowboy boots and boys in Mario Bros. T-shirts clasp their hands below their waists and pray in Blackfoot, repeating lines back to Zuback.
After she's done speaking, Zuback holds her hand over her heart, which indicates she has accepted the prayer. The students follow.
"That's part of our culture," she tells them.
Roll call is done using the students' native names. A student answers with a cheery "Here!" and Zuback asks her to instead say Oki, Blackfoot for "Hello."
Kids move into a circle to say the days of the week and months of the year, first in English.
"Now our way," Zuback tells them.
In English, then in Blackfoot. All morning long.
The district is seeing results in just the first months of this program. Attendance, something schools on the reservation often struggle with, is higher for the immersion class – at about 87 percent versus 81 percent for the rest of the school.
Based on math data the school collects, the immersion class is outperforming their counterparts. By last winter, 43 percent of students in the immersion class could identify numbers well. Outside the immersion class, that number is 20 percent of students. Fifty-seven percent of students do well at counting out loud for their age, compared to 33 percent schoolwide.
Kasen James, 6, said he likes the class "a lot." His parents speak some of the language at home. His Native name is Holy Singer, and his favorite part of class is when students gather to sing a weather song.
Crow Agency Public School in eastern Montana has received funding to start its own program in August. There's enough money for one more school to participate, state Director of Indian Education Mandy Smoker-Broaddus told a legislative interim committee last month, and she's gotten calls from interested educators in Poplar and other spots.
"Immersion is not easy," Smoker-Broaddus said. "To have a group of kindergartners that are spending half their day learning Blackfeet language and culture is remarkable."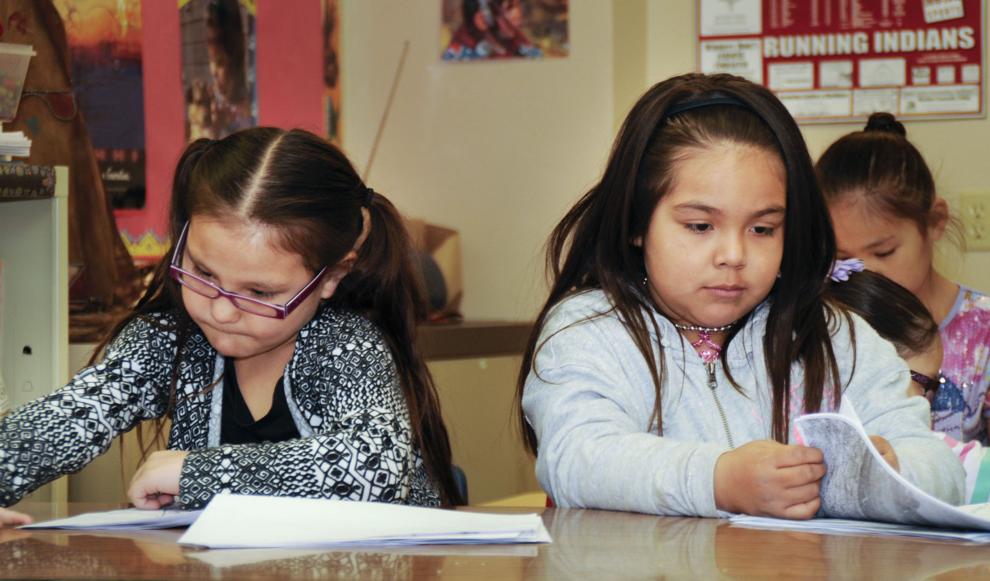 It's easy to tell the students aren't just hearing the Blackfoot language, but understanding it, too. They follow instructions, even when they can't see gestures from Zuback directing them to their desks.
Zuback has the students for 95 minutes in the morning. As much of the class as possible is in Blackfoot. Afternoons are spent with co-teacher Jessica Edwards, with Zuback often reinforcing the lessons of the day – counting, days of the week, seasons and weather – in Blackfoot.
"We wanted students that would be able to speak not only their native language but also have the academic skills to be successful," Zuback said of why they picked a model that splits the day between Blackfoot and English. "All of the stuff that you learn, we are still hitting the Common Core in terms of teaching our students those, but we are also teaching them their language."
For next year, the school is trying to find a teacher certified in the necessary content areas who also is a fluent speaker to avoid some of that duplication.
The district first learned about the program in June and was awarded the grant in August, the same month school started.
"It was a race to find teachers," said Billie Jo Juneau, director of Native American studies for Browning schools. The district picked Zuback for her classroom management skills and language abilities. She's a native speaker who grew up learning the language from her father.
"She has that presence in the classroom," Juneau said. Co-teacher Edwards had also taught at the private immersion school in Browning.
Because Blackfoot isn't a mainstream language like Spanish or German, there weren't lesson plans or textbooks when Zuback started. "I'm the curriculum," she laughs, and her ownership in the program is clear.
The district got $11,000 from the state for funding and will get the same next year. Crow Agency also will get $11,000.
Zuback said there are four components that make the Blackfeet people who they are – language, culture, spirituality and creation stories. "The spirituality is really hinged to our culture and our language. If we don't have those four components, what makes us indigenous?"
How much spirituality is tied to language is a balance the district is learning.
"You have to walk a fine line … some people say it's culture, some people say it's religion, and although it's an immersion class we have people who don't practice the same customs or rituals some other people do," Juneau said. "The majority of people just don't practice; they almost view certain ceremonies as taboo. You have to respect what they believe and how they were brought up."
The program also has struggled with getting parents involved. The expectation is parents would attend weekly meetings to learn what their students are taught. There aren't a lot of native speakers left on the reservation, and the hope is if parents know the language students will have someone to practice with.
About five parents come to the meetings, but Juneau and Zuback are working on ways to increase attendance.
"With parent involvement, we know it's an issue, and a little bit more prominent in Indian Country," Juneau said. "They don't like to go to school. Parental involvement is fairly limited on the reservation."
It hasn't been a surprise. "I knew eyes wide open we were going to have to deal with something like that," Juneau said. "When the parents are speaking the language at home they are reinforcing what the student is learning all day, but it's just not panning out."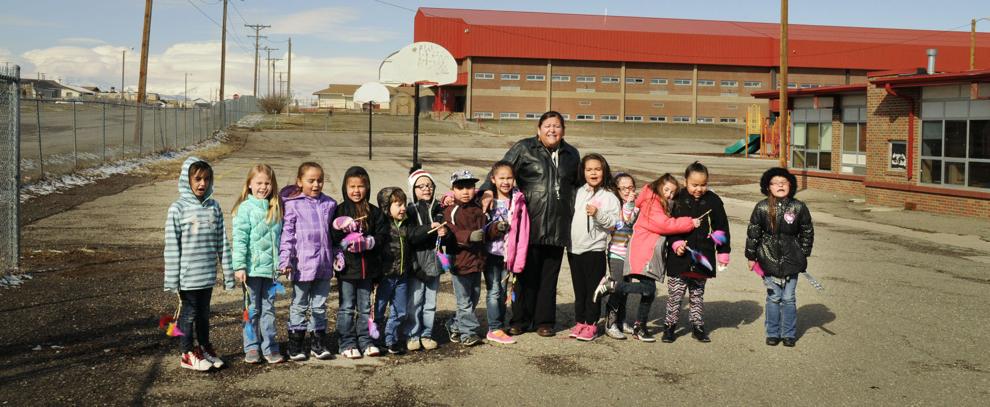 The immersion program is working to build a network across the tribe so Zuback can get access to other speakers who know words she might not know. Changes in dialect are hyper-local, something that's been both a surprise to Juneau and a bit of a challenge.
One girl in the class is from Heart Butte, and her grandparents are native speakers. They can understand what she's learning in class, though they say some words differently. Heart Butte is just a half-hour south of town. Starr School, just seven miles down the road, has its own dialect.
"We're on the same reservation but we don't speak the same language," Juneau said. "There's so much difference in such a small area. But at least they understand most of what she's saying."
Language can't be one of those things that's controversial, Juneau said. Over the winter, the reservation lost several of its native speakers, including two who worked at the Head Start program introducing young children to Blackfoot.
"It's important for us to all learn who we are, what identifies us, what makes us different from other tribes."
In Zuback's class, the students learn not just what to call a bear, but how Blackfeet treat the animal.
"That is one of the things we have respect for, because our people respected this animal because he was like our brother," she said. "We don't kill him. Maybe some tribes do, but we don't do that."
The students don't use their English names – everyone enrolled in the class is given Indian names at a naming ceremony in the tribal office conference room at the start of the year.
"That day our students walked a little prouder," Toni Tatsey, an assistant principal, told the legislative committee. "Their backs were a little straighter, their smiles were bigger. It's awesome to see our youth, our younger generation can carry this on when they become elders."