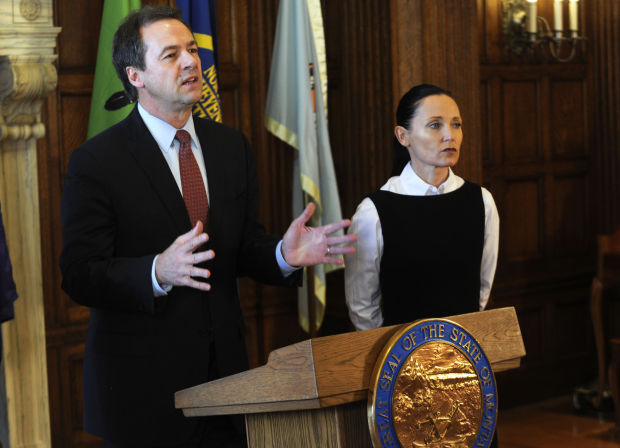 POLSON – Gov. Steve Bullock said Friday he still intends to name a new lieutenant governor before the end of this month.
Bullock is searching for the third lieutenant governor of his first term following Angela McLean's Nov. 30 announcement that she would be resigning the post to take a job with the Office of the Commissioner of Higher Education.
The governor, who was in Polson for the opening of a new psychiatric stabilization home called Lake House, said he and his senior staff are "literally reaching out across the state" to "find out who might have an interest."
The only candidate he will likely identify publicly will be the person he appoints, Bullock said.
"Some have said this should be a transparent process," Bullock said. "Some would be humbled and honored" to be considered, he added, but "likely not interested in having their name out there unless they are selected."
He's not interested in having qualified candidates remove themselves from consideration lest they risk being identified as someone who was once passed over for the lieutenant governor's job, Bullock suggested.
"We haven't crossed that road, but I'm unlikely to say, 'Here are the last 10,' " the governor said.
Bullock spokesman Tim Crowe said stories that the governor was blindsided by McLean's decision to accept a job as director of American Indian and minority achievement and K-12 partnerships weren't accurate.
"The governor knew she had an interest in other occupations, and this one in particular," Crowe said. "It was not necessarily a surprise, just a surprise that morning" when McLean called Bullock to tell him she had been offered, and accepted, the job.
McLean, a teacher at Anaconda High School who had served as chairwoman of the Montana Board of Regents, was something of a surprise choice when Bullock selected her in February 2014. She replaced his 2012 running mate, John Walsh, after Bullock appointed Walsh to an open U.S. Senate seat.
Walsh later dropped out of the 2014 race for the Senate after being accused of plagiarizing parts of a paper while attending the Army War College.
Be the first to know
Get local news delivered to your inbox!