Burden of funding Montana school facilities increasingly falls to local taxpayers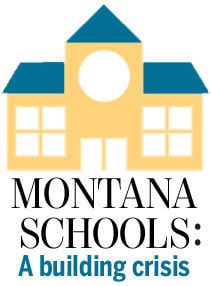 School districts across the state are trying to update their aging buildings and find room for rising enrollments – and worrying that almost all of the money they need to do so comes from local property taxes.
Since the Montana Legislature declined to appropriate money to the Quality Schools Grant Program in its 2015 session, the state's sole source of assistance with school buildings comes in the form of a program that attempts to help poorer districts that have passed bonds for capital expenditure projects.
But the program doesn't have the money to cover the amount of need, and before a school district can take advantage of the assistance, it must first convince local voters to pass a bond measure and raise property taxes.
The school facility reimbursement money is awarded using a formula that essentially calculates the amount of taxable value per student in a district. Districts with a valuation lower than the statewide standard are eligible to receive funding to help pay back bond debt, with a goal of trying to equalize the ability to bond for needs across the state.
The money comes from the state's school facility and technology account, which is funded from timber sales on school trust lands, and other land and riverbed income. The amount that reaches school districts is controlled both by how much money is deposited into the account and the total appropriation the Legislature sets for the debt servicing program.
Since 2011, and in a handful of earlier years, the money allocated has been less than what school districts deserve on paper based on the funding formula. When that situation occurs, the payouts are prorated, with districts receiving only a portion of what they are eligible for. In past years, that prorated percentage has ranged from as high as the mid-90s to slightly less than 63 percent in 2015.
This year, the problem will be further compounded by a dramatic reduction in the amount of available money because of lawsuits and falling commodities prices.
While the Legislature appropriated $8.586 million for school facility debt servicing reimbursements, an October estimate from the Legislative Fiscal Division of the amount of money that will be available in the account when it comes time to make the payments this spring is just $5.6 million, with only a little more than that likely to be available in 2017. That means the prorate will drop significantly and the percent of annual debt obligation picked up by the state will also fall, from the low- to mid-teens that it has been over the past few years toward the single digits.
Lance Melton, executive director of the Montana School Boards Association, said the state has a legal obligation to provide equity and adequacy in education in Montana, and that extends to capital expenditures like buildings. He said with a 2008 facility study showing more than $360 million in backlogged deferred maintenance, on top of necessary expansion, the state needs to address the issue.
"Right now, if we run out of money before we run out of eligible need, everybody gets pennies on the dollar. And if there are more districts that pass their bond issues, we continue to exceed the appropriation and they prorate the money down," he said.
The reduced amount of state assistance, and the unpredictability of how much they are going to receive, is worrisome to many superintendents in Montana, who are having to convince voters to shoulder the burden of paying to update schools.
In March, voters will decide a pair of bonds for Glendive Public Schools that would improve existing facilities and build a new elementary building. Superintendent Ross Farber said the pair of bonds, which will total more than $33 million, are important to making sure the district can provide a quality education for its roughly 1,250 students.
Farber said the district is seeing a large growth of students, pushed by the oilfields across the border in North Dakota. Even though the Bakken drilling has slowed down, the district is still predicting steady growth and needs places for students to learn.
"In our primary building right now, we're using every available space. In fact, our counselor operates out of a conference room because their office is being used," Farber said.
The state assistance that did help in Farber's district came in the form of a regulation change through House Bill 373, which was passed in the 2015 Legislature. The bill increased school districts' bonding capacity from 50 percent to 100 percent of the taxable value of the property in the district.
Without the law change, Farber said they wouldn't have been able to put together a bond large enough to meet their needs.
"We're trying to keep the taxpayers in mind no matter what we ask for, but it's also the responsibility of the sitting board and administration to plan for the future," he said. "Each year that we wait, the costs go up and the buildings get one year older."
Helena Public Schools is reworking its elementary bond request after voters rejected the measure last summer. Superintendent Kent Kultgen said the district has been talking with the community about the reasons why the bond didn't pass, and that while there are a variety of issues, the tax burden is one of them.
"Whenever you ask for a $70 million bond to raise taxes, you have to justify it," he said.
Kultgen said the district hasn't built a new building since 1977, and has deferred maintenance needs across town. With the future of state assistance up in the air, Helena Public Schools is planning to put a new bond issue on the ballot at some point this year.
"We always talk about waiting for someone else to solve our problems. We have to move forward at this point," Kultgen said.
In Kalispell, Superintendent Mark Flatau and his district are finishing up the details of an elementary bond they expect to have in front of voters in the fall. The district is running out of space for its students.
"Each of the five elementary schools is full. They are all bursting at the seams," Flatau said.
Of about 2,000 elementary district students, more than 140 are displaced, meaning they don't go to their closest school because there isn't enough space. Flatau said in some places, they have exceeded the class-size standards for state accreditation, and they have put paraprofessional assistants in classes to compensate. That's even after the district added four classrooms each to Edgerton and Peterson schools using a 2012 bond.
Part of the bond will be to build a new elementary school, but with the elementary district already more than 200 students over capacity, that new building will likely be almost half full right away. Flatau said his district and others around the state that are in a similar position would like to see Montana develop a system that provides more funding support for buildings.
"Montana has little to none in terms of support with regards to facilities," he said.
A school funding interim commission is tasked in part with trying to develop a solution to the issue of how the state can and should help fund school facilities, and where the money will come from.
State Sen. Tom Facey, the chairman of the commission, said facilities funding is his top priority, noting that districts need more assistance than the Legislature has appropriated in recent years.
"The problem is every time the amount of money from the state has stayed the same as the total value of bonds has increased by hundreds and millions of dollars. The relief back to the local taxpayers is quite small," he said.
Dianne Burke, executive director of the Montana Quality Education Coalition, spoke at the commission's meeting in January.
"We've talked about state and local contributions. If we have a cooperative approach, that's going to work well for both sides. Accountability from both sides. It will be easier to pass some bonds if we know there is a level of state support," she said.
Dave Lewis, a former state budget director, said the problem with finding a way to better help school districts improve facilities all comes back to money.
"I mean, they want the state to increase dramatically the state share of participation, so where's that money going to come from? The day of bond issues is over. I don't think that with the state's aging population it'll be possible to rely on those in the future," he said.
Lewis said local governments need more ways to raise money, and suggested options like a local sales tax that could replace bonds as the mechanism for raising school capital expenditure funding.
"I don't think there's anybody who says we don't need better school facilities. That's motherhood and apple pie. But we have to have some way to pay for it," he said.