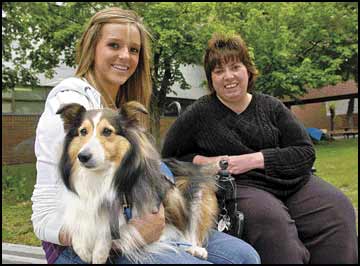 Editor's note: This week, the Missoulian salutes members of the Class of 2008 with a series of profiles of high school seniors.
Making friends might seem a normal part of high school - not the subject of a senior project.
Making a friend you can share with others, though, is much tougher than it seems. Especially if most people won't let your friend in the door.
Catelyn Lower conquered that challenge this year with Tye, her Shetland sheepdog. The fluffy family pet is now a certified therapy dog, and Catelyn is qualified to take him any public place he's needed.
In the process, she crossed one of those special thresholds of youth; the point when friendships no longer seem limited to people your own age. In studying to work with therapy animals, Catelyn forged a bond with LeAnne Beers, a service dog trainer who helped bring Tye into the pack.
Beers travels with two dogs. Patch, the black Lab, is 6 years old and retired, but he still gets a kick out of showing off his skills in public. Golden Lab Bailey is 3, and he's got full-time service duty.
They help Beers with a variety of tasks she finds difficult because of muscular dystrophy. Beers needs a wheelchair to get around, and has a hard time holding and opening things. Bailey can hand her his leash, find her car keys and turn doorknobs. He can even pick up spilled paper clips, Beers said, given a few tries. He's also good at helping her put on coats and socks.
"It all becomes second nature after you've been with them awhile," Beers said. "They just become part of your life."
The dogs and Beers put their combined experience at the disposal of Tye and Lower. The women and dogs spent months together grooming Tye into a talented morale-booster for the sick and shut-in.
"We've developed more of a friendship," Catelyn said. "It's really been a cool experience to see how, one-on-one, you can make such a difference."
"I could tell the growth in her through this whole year," Beers said. "At first, she was a little bit shy with strangers. By the end, she was willing to talk with people and initiate conversations. I think she's one of the most well-rounded students I've met. She shows true compassion for others."
At her senior project presentation May 20, Lower showed how Tye was ready to work in crowded situations and knew how to behave with young people and adults. He can also shake paws, give high-fives and dance.
While a therapy dog's main job is to be an instant pet to anyone in need of comfort, Lower has also trained Tye to do many of the more specialized service-dog tasks such as opening doors and cupboards.
Cathy Lower, Catelyn's mother, has trained many dogs for agility competition. So when it came time for Catelyn to choose a senior project, she decided to try her hand at dog handling.
"I absolutely love dogs, and everything just kind of fell into place," Lower said of 7-year-old Tye. "He's proof that old dogs can definitely learn new tricks."
Catelyn contacted Barbara Miller of Karousel Service Dogs. Miller gets many more requests for dog training than she has the ability to fill. But she was able to connect Catelyn with Beers, a longtime Karousel associate. Miller typically trains dogs in the skills they need to help their master, while Beers handles the "social skills" - getting the dogs accustomed to working in public places around strange people and sounds.
"Therapy dogs need to let people squeeze them," Beers explained. "They need to be used to slippery floors and people coming up behind them and touching them. They've got to be calm."
The training is as much for the master as the dog. Beers coached Catelyn in keeping Tye on task, and also in how to defend her own rights to work with a therapy dog in places where regular dogs are not allowed.
All this work came in addition to Catelyn's commitments to sports, academics and the Hellgate Halberd yearbook. She plays center midfield in soccer, point guard in basketball and runs hurdles and relays in track. She also belongs to the National Honor Society and is vice president of Hellgate's Key Club.
Tye has added his master to his personal therapy duties. Catelyn said he gets her up in the mornings before school, and is a regular mood-booster when she can bring him to class for training.
This fall, she plans to go to Montana Tech in Butte on a basketball scholarship. She is seeking an applied health major, with career plans to become a physician assistant or physical therapist. But before that, Catelyn plans to adopt an area rest home for Tye to visit, along with his rounds at Community Medical Center.
"It was so cool to see how dogs affect people and patients," she said. "It just brightened their day, and made them feel like everything was going to be OK."