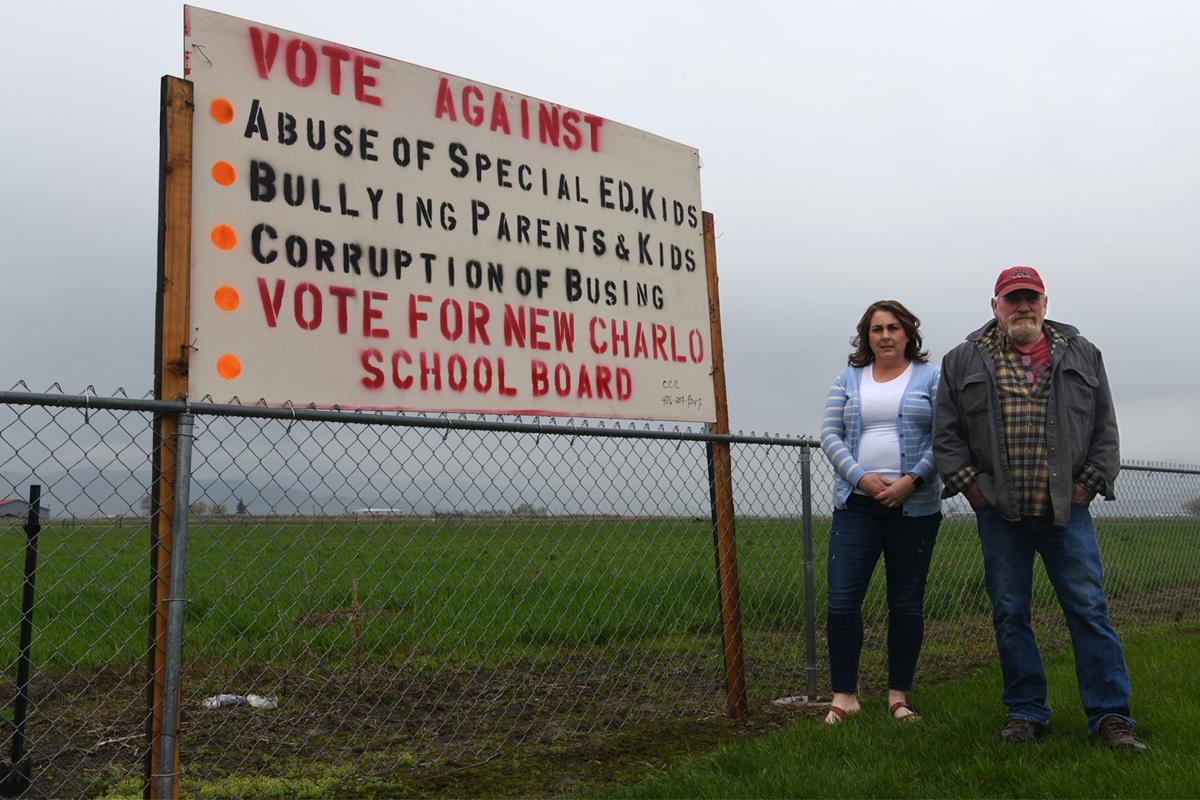 CHARLO — The school board election under way in this town is small, but ugly.
Charlo School District 7J serves fewer than 300 students, and three of its nine Board of Trustee seats are contested this year. In recent weeks, residents have seen signs and received flyers urging them, in all-capitals, boldface font, to "VOTE AGAINST: ABUSE OF SPECIAL EDUCATION CHILDREN; BULLYING OF STUDENTS & PARENTS; CORRUPTION OF SCHOOL TRANSPORTATION DEPARTMENT; VIOLATION OF OUR CHILDREN'S RIGHT TO PRIVACY."
Cari Rosenbaum, one of the residents pushing this message, centers her critique on how she says the district treats students with special needs. Principal Bonnie Perry, Superintendent Steve Love and the Board of Trustees all have a hand in these policies. Rosenbaum and her relatives have spent years fighting them, and said they've often felt stymied.
For his part, Love says "I would totally disagree with that characterization," and that the district takes those children's needs "very seriously."
Nonetheless, Rosenbaum said, "our choice was to try and get new people on the board, in the hope that they would possibly be more interested in listening."
Special-education complaints
Both Rosenbaum and her brother-in-law Terry — now seeking a seat on the board — allege that the district mishandled the medical and educational plans prepared for their respective children. Terry and Kasey Rosenbaum claimed that these missteps were nearly fatal.
A lawsuit they filed last February in Lake County District Court explains that their 11-year-old, mostly nonverbal son is prone to rapid-onset, life-threatening medical conditions. Under plans signed by school administrators, staff were to administer an emergency "stress dose" of hydrocortisone if they noticed any one of several symptoms.
But on Feb. 4, 2016, their complaint alleged, staff let these symptoms persist for more than three hours before finally contacting Terry, who directed them to administer the dose.
The district's subsequent actions aggrieved the parents further. According to court documents, the principal and superintendent failed to reform their response procedures, and denied any wrongdoing when the parents filed a complaint. Terry and Kasey Rosenbaum next went to the Board of Trustees, but that group declined to hear their appeal.
The couple allege that after two years of working to craft new medical plans, the district informed them it would not abide by those plans.
"As a result of the District's refusal, parents determined that allowing [their son] to continue to attend Charlo public school posed an untenable risk to his health and life," wrote their attorneys, Andree Larose and Matthew O'Neill.
The Rosenbaums sued in Lake County and also sought an administrative hearing before the Montana Office of Public Instruction. Both cases were dismissed after they settled last month. The settlement agreement, provided by school district attorney Megan Morris, required Charlo Schools to pay $52,500 in damages and legal fees, set up a $15,000 fund to pay for their son's educational needs and implement an Individualized Educational Program and health care plan.
Morris, an attorney with Missoula's Kaleva Law Offices, stated in an email that the school district "does not admit fault or liability, but determined that resolution of the outstanding litigation was in the best interests of the District, its students, and staff."
As Terry and Kasey Rosenbaum fought this battle, Cari Rosenbaum was also exhausting her options.
She and her husband spent the 2013-2014 and 2015-16 school years working their way through the district's complaint process, moving from principal to superintendent to Board of Trustees, alleging that the district failed to rectify severe bullying against her son, all while trying to create an individualized education program that met his needs.
None of it was settled to their satisfaction. At the end, she remembers deciding, "We won't be sending him back.'"
"He was expendable … that's how it felt to us, he was expendable because he wouldn't be of any value."
Rosenbaum says that her son now attends a private school, and that she still receives two to three phone calls per year from parents requesting help with district complaints.
The Missoulian has received allegations of special-education mismanagement from six different Charlo parents and former employees, and has filed a public-records request with the Montana Office of Public Instruction for reports of violations of disability guidelines.
Among those who came forward, Cari Rosenbaum and Polson special-education teacher Angie Mock shared documents.
In April 2016, Mock was assisting a Charlo family with an individualized-education plan, and alerted district and Lake County leaders about a lack of necessary data in the process. Three years later, she remains skeptical.
"The problem I keep seeing is that the law is not followed, the parents are not given information, the students are not served as law is required, and there's no advocacy," Mock said.
Love, superintendent since 2015, differs. He signs off on the district's individualized educational programs and says staff take seriously the mandate to follow them.
"There is an avenue for parents to voice concerns, but at the end it's a team decision," he said.
In his wood-paneled, certificate-lined office, Love declined to comment on students' specific cases, citing privacy concerns. But he and other district staff did discuss their work to provide Special Olympics and other programming to students with disabilities, and to strengthen these plans' implementation
Love estimates that, of approximately 260 students, about 15 percent receive some kind of special-education services."I feel like there's probably a lot of parents who are the silent majority (who) are plumb-tickled with how their students have been treated and what their kids are getting out of it," he said.
Love was hired by the Board of Trustees, and shared its annual evaluations of his performance. The members gave the superintendent mostly high marks and favorable comments for his handling of the district.
But one anonymous remark, from last school year, echoed the special-education parents' experiences. "More than once I have seen parents come in to a meeting with a complaint. The administration just turns their back and passes it off as no big deal."
Now, that sentiment has crept into the election.
In recent weeks, a few residents calling themselves the "Concerned Charlo Citizens" have put up four large, stenciled signs and mailed out hundreds of flyers, calling on residents to vote in new board members and accusing the existing board of grave misconduct.
"We can't do anything about any of it until we get more board members," said Randy Doty, a parent, grandparent and great-grandparent of Charlo students who's been working with Cari and Andrew Rosenbaum to get the message out.
Three of the nine board members' terms are expiring this year. In one race, incumbent Tracy Olsen faces Dion Carey for a two year-term. The other is for two three-year terms. Board member Dave DeGrandpre is stepping down, while Adrian Roylance is seeking another term, and three challengers have entered the race, resulting in a four-way contest where voters will pick two board members.
One of the challengers is Terry Rosenbaum. While he and the district have settled, he now wants to have a hand in changing its course.
"I thought I could be one of these community members, which there are several of them, which keep complaining about how the school is run … or I could be one of those people who does something about it," said Rosenbaum, a Montana Highway Patrol trooper.
He stopped short of specifying changes he would pursue if elected, saying he would have to do more research. But he said that "obviously, if there's people who want new school board members in there … that should tell you the community is wanting answers."
Two of his opponents, Roylance and Stephanie Smith, said they supported the administration and voiced confidence in the district's special education programs. The other candidate in this race, Jake Wadsworth, did not reply to a request for comment.
Meanwhile, Rosenbaum's former classmate Dion Carey is challenging Tracy Olsen, who did not reply to a request for comment, for a two-year term. "Maybe there's right and wrong on both sides" of the controversies, Carey said, but "it doesn't appear to me that the administration wants to acknowledge any of these problems." 
The call for change has been loudest from the Concerned Charlo Citizens. Cari Rosenbaum, Terry Rosenbaum and Randy Doty all agree that the signs and flyers are separate from Terry's campaign.
But after her frustrations with the Board of Trustees and administration, Cari Rosenbaum is pinning her hopes for change on this vote. "I have to, just a little bit, go on faith that (by) getting three candidates in there with a new perspective, that they will do a good job," she said. "I haven't had a whole lot of good interactions with the current board."
Ballots were mailed out April 17 and are due back May 7. As that date ticks closer, the campaign is heating up. And some of the tactics may have strayed into a legal gray area.
"There is no political group called the Charlo Concerned Citizens registered anywhere," Love said, "and so I think it's hypocritical for them to accuse the school, accuse its administration, its staff and its trustees of being corrupt and breaking rules, and yet here they are blatantly ignoring the election laws."
Montana law requires that most political committees file information with the Commissioner of Political Practices' office, and that election-related communications include the statement "Paid for by," followed by the financier's name and address.
The group "Concerned Charlo Citizens" has no documents on file with the Commissioner of Political Practices, and neither the flyers nor the signs included the "paid for by" message. The former attributed it to "Concerned Charlo Citizens" and included Doty's address.
A provision in the state's election laws exempts certain classes of small school districts from registration requirements, Commissioner of Political Practices Jeff Mangan explained in an email.
"If the school district falls into one of those categories (which it does), they (Concerned Charlo Citizens) would not have to file or report its activity regarding that school election," he wrote. "They should, however, attribute any election communications. It appears they have CCC and address but not 'paid for by'" on the flyer.
"I don't understand what difference it makes who pays for it," Doty said. He did include his address on the flyer, and produced receipts showing about $125 in mailing costs. He also wrote "CCC" and his phone number on the signs.
"I put my phone number on the signs, I don't know what more I can do," he said. "Anytime they want to call me, they can call me."
Cari Rosenbaum, too, took steps to explain her actions.
"My husband and I helped Randy Doty with the signs you see around Charlo," she posted on her Facebook page last Thursday. "I want to be very clear so that no one misunderstands, I believe everything on those signs to be truth!"
Addressing fellow Charlo parents in the post, she continued, "I am very glad that some of you have had wonderful experiences at Charlo Schools. … I am so grateful that your child won't have long lasting effects from their treatment by Charlo Schools."