A Louisiana trucking company believed to have illegally dumped radioactive waste in an Eastern Montana landfill for nearly two years has been ordered to stop by state officials.
Dual Trucking and Transport, of Houma, La., has been ordered by the Department of Environmental Quality to cease all operations near the Bakken community of Bainville.
DEQ officials, who began inspecting more than a year ago, say that as early as July 2012, and without a permit, Dual Trucking and Transport began accumulating mildly radioactive soil and oil filter socks, as well as other Bakken waste at the site.
The waste site is a couple hundred yards upwind from a housing development in a sandy-soiled region where the water the table is high enough to produce wetlands.
Dual was warned in Sept. 2012 to stop operations until it was licensed by DEQ's Solid Waste Program. At that time, it also ordered to hire a qualified consultant to develop a cleanup plan and begin removing waste.
Dual eventually started the permit process, but then declined state requests for further information, later informing DEQ the company was no longer processing oilfield waste and didn't need a permit.
However, earlier this month, DEQ inspected the site again and found Dual still managing solid waste without a permit.
Contacted by the Gazette, Dual did not respond to questions about the closure.
The DEQ action comes amid rising reports of illegally disposed Bakken oilfield waste, namely filter socks, used to trap naturally occurring radioactive silt driven above ground during hydraulic fracturing. Garbage bags full of the filters have been discovered abandoned in a shuttered North Dakota gas station and on a flatbed trailer near a landfill in that state.
North Dakota doesn't have a facility that handles radioactive waste. In Montana, where the tolerance for radioactive waste is higher, four waste handlers have applied for permits, including one landfill near Glendive that's already operational.
You have free articles remaining.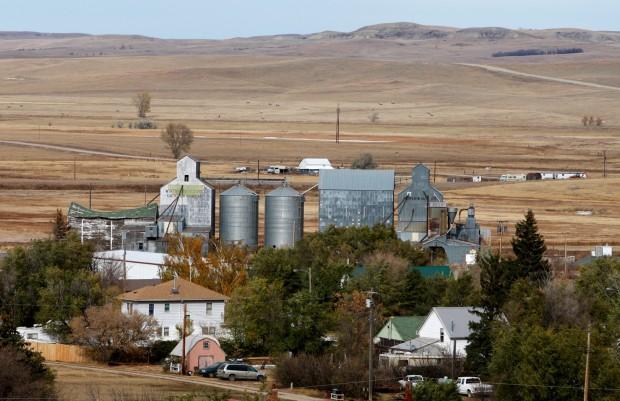 In Culbertson, a few miles west of Bainville, Mayor Gordon Oelkers is concerned about a private permit application to accept radioactive material on 160 acres seven miles north of town.
"We have no authority over squat. I think DEQ will approve it," Oelkers said. "It's just the location of it. Within a mile of that facility there are 12 residences. It's just a terrible location for people."
There's no doubt, facilities will pop up in North Dakota to handle radioactive waste, Oelkers said, but what concerns the mayor is that Montana's threshold for radioactive waste is twice what North Dakota regulators allow. That means the worst of the waste will likely be shipped to Montana.
People shouldn't be alarmed by the radiation levels in the waste, said Ron Smith, Roosevelt County sanitarian. The radiation is naturally occurring in the earth. Most of the waste is mildly radioactive soil pulled to the surface during the drilling process.
But what concerns Oelkers are the drilling chemicals that are mixed into the soil during the drilling process.
Technically, facilities that accept earth only aren't landfills, said Smith, they're land farms. The sanitarian sees a big difference.
But at the Dual Trucking and Transportation site, there are signs of both contaminated soil and other oilfield waste. A long-line of heavy steel containers lines the south and west sides of the property. DEQ reports indicate that some of the containers were full of filter socks during a previous inspection. Dual also had a tank of fluid waste to dispose of, which couldn't be dealt with because it froze solid over the winter.
Dual informed DEQ that the waste would be moved to Canada, but did not indicate where.
Tuesday morning, five days after being told to stop operations in Bainville, Dual crews were still excavating the site. As the sun rose, the arms and legs of yellow hazardous materials suits could be seen blowing out of a red steel container that had been left open.