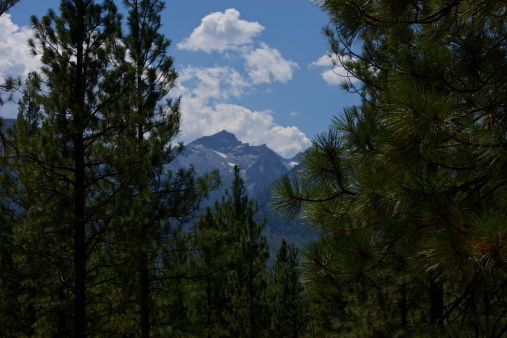 HAMILTON – A coalition of hunters, anglers, horse packers, hikers and conservationists has asked to intervene in a lawsuit challenging the Bitterroot National Forest's 2016 travel plan.
In December, seven multiple-use recreation groups filed suit seeking to force the Bitterroot Forest to redo its travel plan, which shut off thousands of acres classified as Wilderness Study Areas and areas recommended as wilderness to snowmobilers, ATV riders and mountain bikers.
The groups that sued said Bitterroot Forest officials ignored key input from the public and violated existing laws and policies to develop the plan establishing where motorized use is allowed.
The coalition seeking to intervene says the agency did the right thing by protecting the wild character of the Blue Joint Wilderness Study Area, Sapphire Wilderness Study Area and Selway-Bitterroot Recommended Wilderness Area against increased motorized and mechanized use.
The 101,974 acres encompassed by the Sapphire Range and Blue Joint WSAs were set aside by Congress in the Montana Wilderness Study Act of 1977. At the time, Congress ordered the two areas to be managed "so as to maintain their presently existing wilderness character and potential for including in the National Wilderness Preservation System."
At the time, Congress suggested it would make its determination on the future of the areas within five years. That has yet to happen.
In 2011, a 9th U.S. Circuit Court of Appeals' ruling ordered national forests to manage Wilderness Study Areas in accordance with the kinds of recreational use those areas experienced in 1977.
The groups say the recommended wilderness areas and wilderness study areas include landscapes that are prized for backcountry hiking, skiing, hunting, fishing and camping.
In particular, the Sapphire WSA protects the Sapphire Range biological corridor that provides an important north-south wildlife migration pathway.
"Friends of the Bitterroot has worked hard for over 20 years through field monitoring and litigation to ensure enforcement of the Montana Wilderness Study Act," said Larry Campbell of Friends of the Bitterroot. "We are pleased that the Bitterroot Travel Plan finally resolved to stop the ever-increasing recreational vehicle damage to our shared public wild land and wildlife legacy."
"Sportsmen understand the value of intact, secure wildlife habitat, and know that without these areas, our game populations would suffer," said Kit Fischer of Hellgate Hunters and Anglers. "We believe the Forest Service's travel plan is the right step to ensure our big game and other wildlife populations remain healthy for future generations."
Selway-Pintler Wilderness Backcountry Horsemen's state director Kathy Hundley of Darby said protection of habitat and wildlife is crucial to those seeking a wilderness experience.
"Our mountain trails were carved by humans, horses, mules and wildlife over the last several hundred years," Hundley said. "Riding these trails and experiencing the hush of the backcountry and wilderness brings a traditional sense and a spiritual rebuilding that is important to me and to other riders in this fast-paced, loud and high-tech world we live in today. The travel plan will preserve this experience for future generations."
Earthjustice represents those three organizations plus Missoula Back Country Horsemen, Montana Wilderness Association, WildEarth Guardians and Winter Wildlands Alliance in the intervention request.
Bitterroot Forest officials spent more than nine years developing the travel plan after considering a record 13,400 comments. It was the first update to the plan in 40 years.
The groups that sued the Bitterroot Forest include the Bitterroot Ridge Runners Snowmobile Club, Ravalli County Off-Road User Association, Bitterroot Backcountry Cyclists, Montana Trail Vehicle Riders Association, Montana Snowmobile Association, Citizens for Balanced Use and Backcountry Sled Patriots.
At the time the lawsuit was filed, longtime member of the Bitterroot Ridge Runners and Ravalli County Off-Road User Association Dan Thompson said those groups believed the Forest Service focused on the premise that there were widespread conflicts between motorized and non-motorized recreation groups, a theme that "dominated the travel plan."
"The Forest Service addressed those alleged conflicts by creating additional areas of quiet space,'' Thompson said. "We don't see those conflicts. The data said there weren't any conflicts."
More than half of the Bitterroot National Forest is already in wilderness, he said.
"When you consider that half is reserved for quiet users, how can you make the case for a need for more of it?" Thompson said.