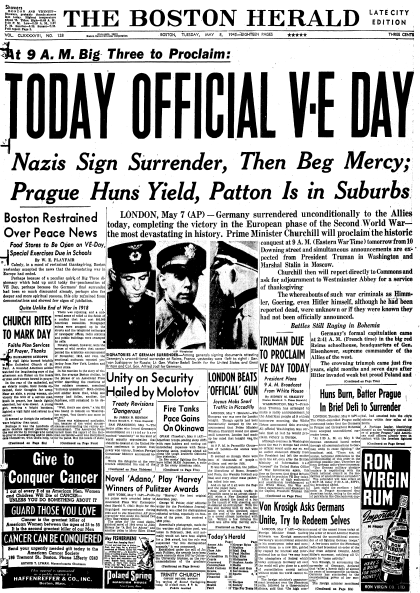 The Missoulian this week is counting down the final days before the Allies declared victory in Europe in World War II.
Saturday, May 5
Missoula and the rest of the world waited impatiently for final word of an Allied victory in Europe in World War II.
"It may never be V-E day at all, rather V-E week or month," a Missoulian editorial said. "The ending of the war in Europe already is an accomplished fact, to a considerable degree at least.
"The Master Race is throwing in the sponge. Even the most fanatical of the Nazis have ceased forcing the rank and file of the Herrenvolk armies to keep on fighting and are leading the stampede into the stockades."
Meanwhile, good news came from the Pacific front, where the Battle of Okinawa was being waged. Navy Lt. Thomas Mulroney arrived home in Missoula's University District for a reunion with wife Olive (McLeod), his young daughter Mary Sharon and his parents Edward and Mary.
Mulroney, a Missoula attorney as was his father, said it took him just 14 hours to fly from Honolulu to San Francisco, but 24 hours to get out of San Francisco.
"He did not explain whether the international conference in progress in the coast metropolis had anything to do with the delay. As such things go nowadays, the trip home from the Hawaiians was a relatively slow journey, many planes making the hop in a much shorter time, he said," the Missoulian reported.