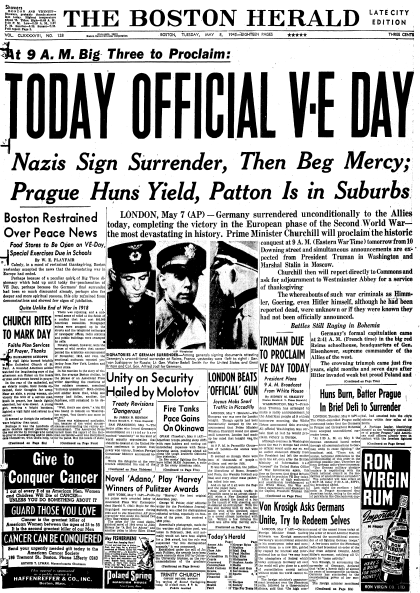 The Missoulian is counting down the final days to V-E Day on May 8, which marks victory for Allied forces in the European theater in World War II. 
Headlines in the first edition of the Daily Missoulian were of normal size, but oozed of optimism as Germany's surrender appeared imminent.
Then Ed Kennedy got involved. An American correspondent for the Associated Press, Kennedy broke a military embargo by reporting that German chief of staff Gustaf Jodl had signed surrender papers in Reims, France, at 6:41 p.m. Sunday, Montana time.
Kennedy's story, which ultimately cost him his job, was datelined "London, May 7" and began: "The greatest war in history ended today with the unconditional surrender of Germany."
The Missoulian joined papers across the world by printing an extra edition headlined in giant type: GERMANY GIVES UP! Unconditional Surrender!
Morning assemblies were hastily called at the Student Union auditorium on campus, where some 1,400 university and county high school students and instructors gathered, and at Sacred Heart Academy. Patriotic and religious numbers were sung at both venues.
"Only the first successful phase of the war is over with Germany's surrender," University president E.O. Melby said. "Even the fall of Japan will mark the beginning of our battle for human freedom."
Hellgate American Legion Post No. 27 issued a statement along a similar vein.
"We should redouble our efforts and work all the harder so that our vicious enemies in the Pacific may be conquered with greater speed," it said.
A similar message came from state and local employment bureaus.
"We are now at the halfway station with continuing, imperative need for full protection of Montana's war products," said O.C. Lamport, Montana's manpower director. "Copper, lumber, coal, lead, petroleum, food, transportation, mechanical repair ... must all be supplied in growing volume during the second half."
C.E. June, director of Missoula employment services, said it was essential to maintain a full pace of production.
"We of the employment service recognize that conversion to peace-time pursuits, or transfer to postwar jobs, looks tempting," June said. "But we can't risk another 'Belgium bulge' swinging at us from the Pacific."