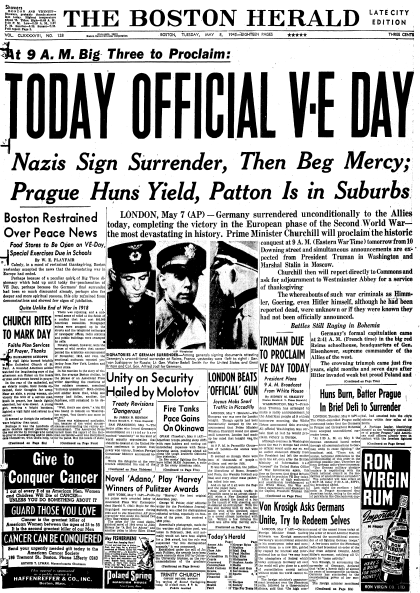 The Missoulian has been counting down the final days to May 8, the 70th anniversary of V-E Day, marking Germany's surrender in the European theater in World War II in 1945.
As Germany's final articles of capitulation were signed in Berlin, the day of victory in Europe passed as most weekdays did in Missoula.
The focus switched from Monday's school assemblies downtown to Fort Missoula, where many veterans of the European battlefields were among enlisted personnel back in the states on limited service.
A hastily arranged program on the parade grounds included numbers by the prisoners band, which played martial music as soldiers and civilians gathered and dispersed.
Post commandant Col. A.M. Weyand emphasized the significance of the day and paid tribute to the forces of victory. First Sgt. D.W. Johnson sang "I Was There" and Lt. Col. J.M. Jones sang "Thank God I Was Able to Come Back."
The Daily Missoulian received the full dispatch written May 7 by Edward Kennedy, chief of the Associated Press staff on the Western front, detailing the surrender scene in Reims, France. Only 300 words had been transmitted from Paris before his communications were broken.
"The death sentence of Germany's Third Reich and Europe's charter for a new era of peace were signed in the prosaic brick school house of Reims before dawn today by the enemy high command," Kennedy's report began.
"And now comes Japan," the Missoulian opinion editor wrote for Wednesday's paper. "Germany attended to, the United States will move six million soldiers, great fleets, uncountable airplanes to the Far East. ... The doom of Japan is as certain as if Nippon were to disappear under the sea tomorrow.
"The greatest military force of all time ... will be thrown against a single power that already has taken serious loss, that is by no means so strong as at the time of the treachery of Pearl Harbor."
V-J Day was three months and one week away.