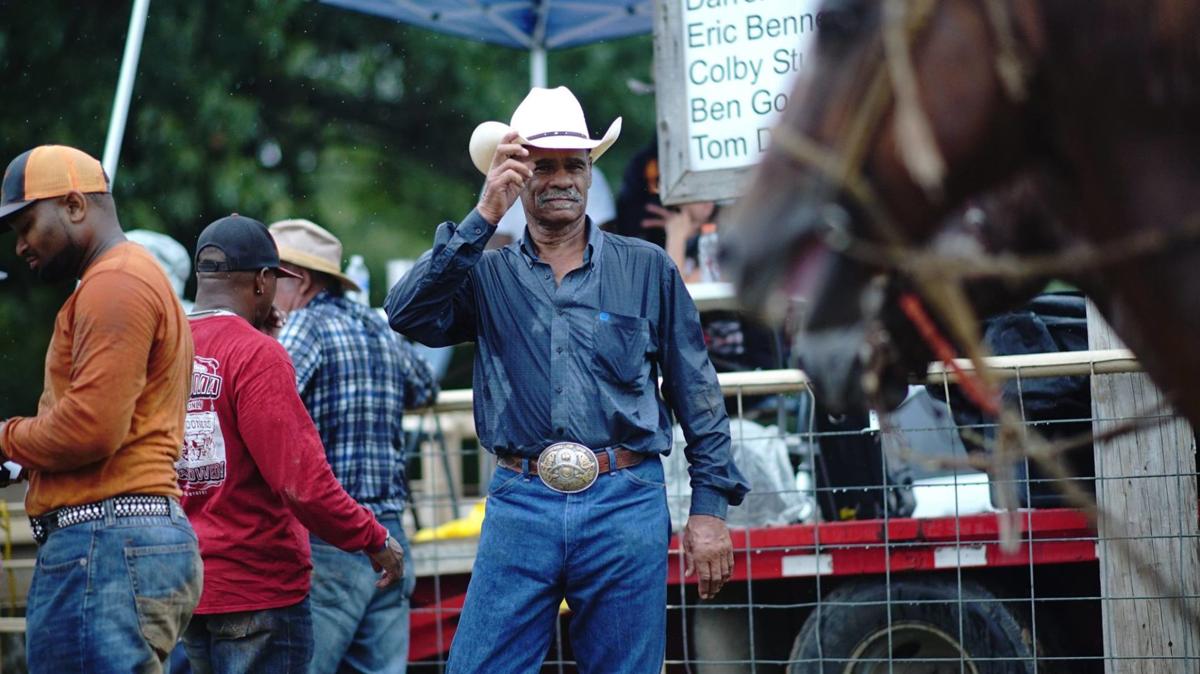 Covellite International Film Festival alumnus Charles Perry aims to shed light on African American rodeo culture through his upcoming documentary "The Black Cowboy" — and now, thanks to a grant from the Montana Film Office, part of that story will be told in Montana.
Perry first hit the Butte scene when he attended the film festival in 2016, and since then he's become a familiar face in the Mining City, spending several weeks in Butte each year and even spending a winter in a cabin near Philipsburg.
In October, he received $20,000 from the state's Big Sky Film Grant to shoot scenes in Montana for "The Black Cowboy," a project through which he aims to shine a spotlight on what for some is a little-known figure: the black cowboy.
Since 2015, Perry has been traveling throughout the western United States interviewing African-American athletes immersed in the rough-and-tumble world of rodeo. He's made multiple trips to Oklahoma, where he's shot scenes in historically black communities and attended all-black rodeos. He hopes to soon enter post-production on the project.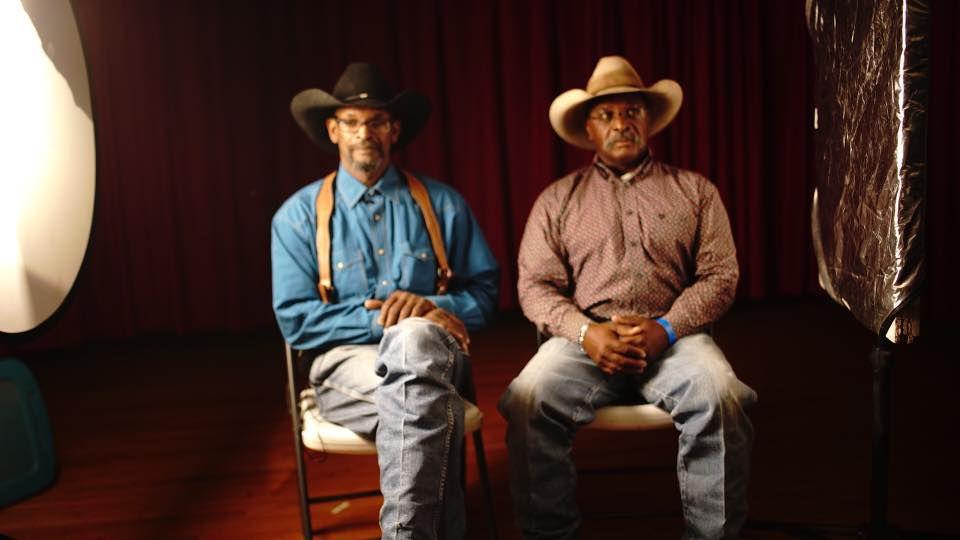 Originally from the suburbs of Los Angeles, Perry got his first taste of cowboy culture while attending Northwest College in Powell, Wyoming, where he played basketball on scholarship.
"I've always been into the outdoors," said Perry recalling his decision to forgo metropolitan life. "So when I got a chance to get away while I was 18, I didn't want to go to school in the city."
Perry soon struck up friendships with his classmates, several of whom were cowboys, and he later found himself attending a rodeo in eastern Montana, where he was surprised to see that one of the competitors was a young African American cowboy.
"I automatically thought in my mind that he was adopted," said Perry. "I couldn't fathom that he came from a black cowboy family. That wasn't a part of my imagination."
Little did Perry know that what he saw that day would plant a seed in his head that would later become the film, and through the film he would discover that his initial impression was wrong — there are indeed many black cowboys.
In the years that followed, Perry worked at a ski resort, spent time in Montana and traveled to Europe to try out for a basketball team, among other adventures.
Eventually he landed in Portland, where he worked in sales and marketing for a local hotel.
However, he began to feel like something was missing from his life, so he picked up a camera and started to pursue a career as a filmmaker, landing gigs with the Portland Trail Blazers and Portland Timbers, a Major League Soccer club, as a videographer.
While in Portland, he met Covellite organizers Don Andrews and Brian Boyd.
Andrews is serving as producer of marketing and distribution for "The Black Cowboy." Other talent on the film includes Perry's brother Marcus Perry, who's serving as a writer and marketer, author Art T. Burton and photographer Ivan McClellan, among others.
While Perry was busy building his experience as a filmmaker, the image of the black cowboy at the Montana rodeo never quite left him. The image was something that resonated with Perry, something that was "loud" in the back of his mind.
The resonance of that moment would re-emerge in 2014 while Perry was making a cross-country trip.
While driving through Oklahoma, he saw a billboard for the Roy LeBlanc Okmulgee Invitational Rodeo — an African-American rodeo that now bears the name of one of its founders, Roy LeBlanc.
Established in 1956, the rodeo bills itself as the oldest black rodeo in the U.S., one of the longest-running rodeos in Oklahoma and one of the largest African-American sporting events in the nation.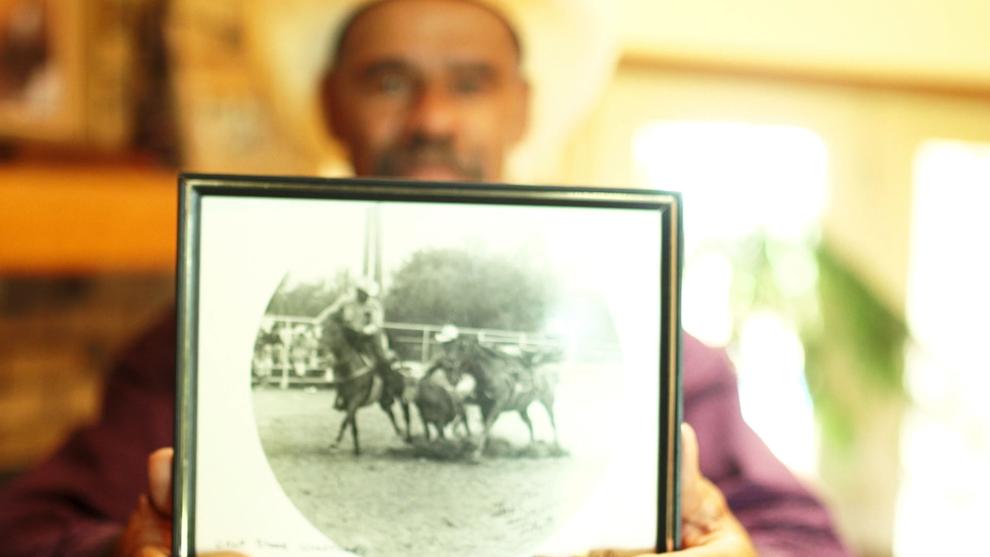 After spotting the roadside ad, Perry decided to make a stop, and the scale of what he saw surprised him. It was a crowd of well over a thousand consisting of black faces clad in cowboy hats, gritty, salt-of-the-earth steer wrestlers wearing shiny, oversized belt buckles, and children taking on youth events as moms cheered them on — just about all the trappings of rodeo life that one would expect.
A year later, Perry came back to Okmulgee.
He went to the mayor's office to talk about his idea for the project, where he met Della Higgs, a city employee who told him about Clarence LeBlanc, son of Roy LeBlanc and a well-respected figure in the rodeo world. Clarence has become one of the main figures in the documentary, Perry said.
Throughout the making of "The Black Cowboy," Perry often found himself encountering the same question: "Why don't I know this?"
According to an article from Smithsonian Magazine, one in four cowboys was black during the period known as Westward Expansion.
Perry, who described himself as a good history student, said one of the things he didn't know was that many of the first non-native people to settle in Oklahoma (originally set up as an Indian territory when native people were forcibly removed from their lands during the Trail of Tears) were African Americans.
According to an official tourism site for the state, "cheap land in Indian Territory coupled with the repression brought on by racism led many African Americans to settle in all-black towns."
"Black community leaders began recruiting freed slaves after the Civil War to these all-black settlements by advertising a promised land of business opportunity, wealth and safety. Between 1865 and 1920, approximately 50 all-black towns were settled in Oklahoma."
Things in Oklahoma weren't always the way they were in the musical. In 1921, a black business district in Tulsa was besieged by a mob that left 300 African-Americans dead.
"More than 10,000 black people were left homeless, and 40 blocks were left smoldering," the Washington Post reports. "Survivors recounted black bodies loaded on trains and dumped off bridges into the Arkansas River and, most frequently, tossed into mass graves."
Perry pointed out that the image of the cowboy is a powerful romantic symbol of the American West.
What he says he aims to do through "The Black Cowboy" is restore that image by making it more complete.
"The film is called 'The Black Cowboy' but really it's about the westward expansion of African Americans," the filmmaker said.
Perry said he sees American history as "contributions on all sides." He says he doesn't want his documentary to be divisive but hopes instead it will bring people together and paint a more complete picture.
Meanwhile, as a person with a case of the wanderlust, Perry said he identifies with the subjects of his film.
For several years he's been traveling the country shooting scenes for the film and interviewing key figures.
He's paid for much of the film himself.
It's been a slow process, but it's been worth it.
"Everybody romanticizes people who go out into the unknown," said Perry of the symbol of the cowboy.
"You've got to have some strength to you and some grit," he said.