One man died after an officer-involved shooting Monday on North 2nd and A Street, according to an announcement Tuesday from the Montana Department of Justice.
"A confrontation ensued when (Missoula Police Department) officers attempted to speak with Mr. Steven Gill, a 35-year-old male. Shots were fired and Mr. Gill was struck. After being transported to St. Patrick Hospital, Mr. Gill died of his wounds," said a news release from Department of Justice spokesman John Barnes.
"No officers were injured during the confrontation. By request of Missoula Police Chief Mike Brady, the Montana Department of Justice's Division of Criminal Investigation is investigating the incident."
The incident took place at the intersection of North 2nd and A Street just off Interstate 90.
Two officers have been placed on administrative leave following the incident, according to Sgt. Travis Welsh of the Missoula Police Department.
In the email from the DOJ, Barnes noted the department will give the case file to the Missoula County Attorney's Office for review once the investigation is complete. No additional information was available Tuesday.
Tuesday morning, police tape encircled a recreational vehicle, van, sedan and a Missoula Police Department patrol car, marking the scene of the shooting that took place Monday afternoon.
Lee Paganini, who lives in a house across the parking lot from the dirt field adjacent to the railroad tracks where the shooting took place, said the RV involved has been rife with traffic that points to drug dealing. He said the occupant of the RV appeared to be a relatively young man. 
"I've yelled at them, and I'm lucky I didn't get shot," Paganini said Tuesday morning. 
The van and the sedan police had taped off both bore Missoula County license plates; the RV had a non-descript Montana license plate.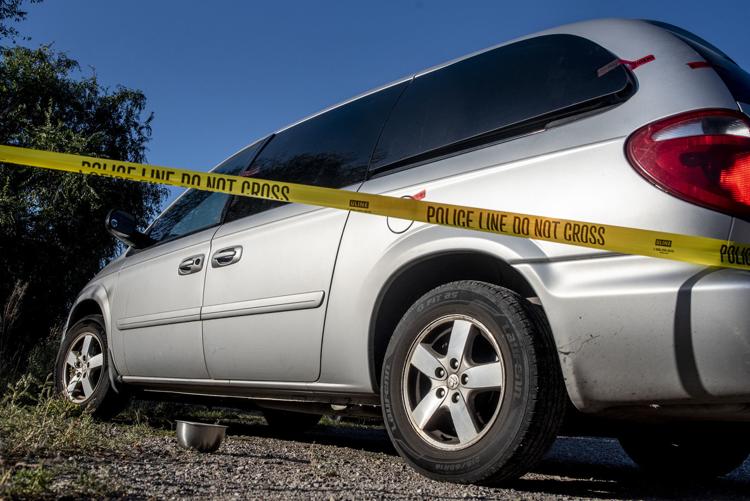 Paganini's house, near the corner of North Second and A Street just below Interstate 90, and the house next door were also cordoned off by yellow police tape set up on Monday. Officers on the scene Tuesday morning said they did not know why the second area had been taped off. 
Paganini said the RV had been parked there about a month and a half by his recollection, but he said that site had been home to several recreational vehicles in recent years that he perceived to be involved in drug dealing. Indeed, a street-view of the property captured by Google Maps in October 2015 shows a different RV parked in the same place.
Paganini was frustrated Monday morning with what he said was a lack of enforcement on the property, although he said another neighbor's call to police sparked the response from law enforcement. The owner of the property where the shooting took place, essentially a parking lot, is not listed on Montana Cadastral, an online database showing property records. The surrounding parcel is owned by Montana Rail Link.
As of Tuesday morning, no one had been booked into jail on charges resembling assault on an officer, according to Missoula County Detention Center records. 
Missoula police officers responded at 4:40 p.m. Monday to a report of suspicious activity in the dirt lot at the intersection of North Second and A Street just off Interstate 90, according to a release from the Missoula Police Department.
The caller reported suspected drug activity occurring in or near a recreational vehicle parked there.
Sign up for our Crime & Courts newsletter
Get the latest in local public safety news with this weekly email.