Steven Cole Gill died at a Missoula hospital from gunshot wounds suffered during a confrontation with police who were dispatched to his recreational vehicle on the Northside for reports of drug activity, Montana Department of Justice said Tuesday.
No officers were hurt in the shooting and two officers have been placed on administrative leave, Missoula Police Sgt. Travis Welsh said. 
Gill's convictions in Missoula District Court include assault on a police officer in 2004 and a string of subsequent drug-related probation violations, according to court documents.
Agents with the DOJ's Division of Criminal Investigation on Tuesday combed the scene that encircled an RV, a van, a white sedan and a Missoula police patrol car near North 2nd and A St. on Missoula's north side.
Monday's shooting was sparked by a resident's 911 call at 4:40 p.m. reporting suspicious drug activity at the RV in a parking lot there. The fatal confrontation took place as responding officers were attempting to speak with Gill, according to the Montana Department of Justice.
No one else was shot during the incident, DOJ spokesman John Barnes said.
"Among other things, our investigators seek to determine who saw what precisely, when, where, etc.," Barnes said in an email. "That's in addition to examining the scene, gathering forensic evidence, examining the body, testing blood, etc."
Lee Paganini, who lives in a house across the parking lot from the dirt field adjacent to the railroad tracks where the shooting took place, said the RV involved had been rife with traffic that points to drug dealing.
"I've yelled at them, and I'm lucky I didn't get shot," Paganini said Tuesday morning.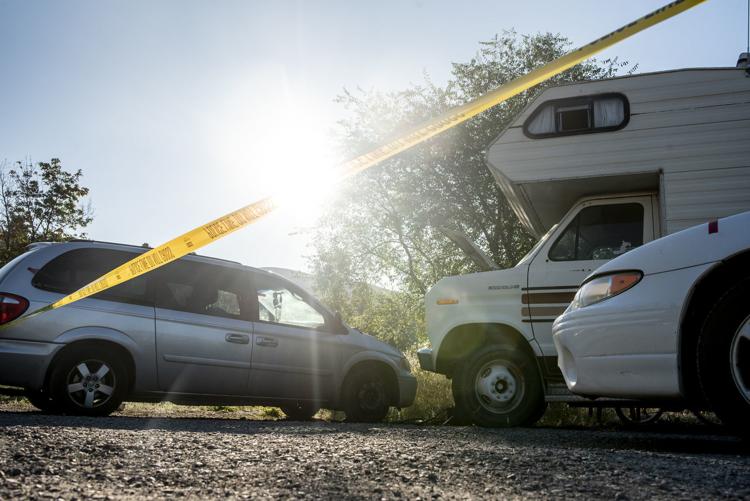 Search warrant records filed in Missoula District Court in June show Missoula police had investigated Gill for criminal possession of dangerous drugs and paraphernalia in recent months.
You have free articles remaining.
According to the search warrant filings, Gill and a woman were sitting outside a business on North Reserve after closing time on May 7 when police approached them. Police noticed components of a hypodermic syringe in the white 1998 Pontiac Grand Prix when they asked Gill to step out of the car. A return receipt of what was collected after the search warrant was executed listed three syringes loaded with an unknown substance, over 100 unused syringes, 14 Tramadol Hydrochloride pills (painkillers), a small amount of methamphetamine, and a spoon with drug residue on it.
The same white Pontiac Grand Prix was encircled into the crime scene by yellow police tape at the scene of the officer-involved shooting on Tuesday.
Fifteen years ago, when Gill would have been roughly 20 years old, he was arrested on multiple charges, including assault on a peace officer for biting a Missoula police officer during an encounter in 2004. He pleaded guilty to several charges, including the assault on an officer charge and two disorderly conduct charges, stemming from that incident.
In 2007, his probation officer filed a report with the court listing a number of violations since his 2004 case. In the filing, Officer Richard Miller said Gill "is not acceptable for placement in the community and will benefit from the structured environment provided at the Montana State Prison." Gill's suspended sentence in that case was revoked, but he took a plea agreement that sentenced him to five years with the Department of Corrections in exchange for admitting his probation violations. However, it was unclear if Gill actually spent time in prison.
Gill had no open cases related to the May drug inspection of his white Pontiac. The only ongoing case found in court records on Tuesday was an open theft case filed against him in Missoula Municipal Court in April. 
Gill died from his gunshot wounds after he was transported to St. Patrick Hospital, according to Barnes. When the Department of Justice's Division of Criminal Investigation concludes its probe into the shooting, its findings will be turned over to the Missoula County Attorney's Office for review, Barnes said. 
If the review finds officers killed Gill and used reasonable force, a panel of jurors will have to confirm that finding through a coroner's inquest. The Billings Gazette reported in July that 39 people had been shot and killed by law enforcement across the state since 2012, according to the Gazette's review of public records and past news reports. In each coroner's inquest for those 39 fatal officer-involved shootings, all officers have been found to have deployed justified use of force.
The last fatal officer-involved shooting in Missoula took place at a home near Memorial Rose Garden last November. At the end of the coroner's inquest in March, the jury found Officer Joseph Burger had used justifiable force when he shot and killed Jenessa Cooper, 49. Friends of Cooper testified at the inquest that she had planned to commit "suicide by cop" when she brandished a firearm toward Burger.
Paganini said Tuesday the RV had been parked across the lot from his home for about a month and a half by his recollection, but he said that site had been home to several recreational vehicles in recent years that he suspected to be involved in drug dealing. Indeed, a street-view of the property captured by Google Maps in October 2015 shows a different RV parked in the same place.
Paganini was frustrated Tuesday morning with what he said was a lack of enforcement on the property, which appears to be in something of a gray area in terms of ownership, although he said another neighbor's call to police sparked Monday's response from law enforcement.
The lot itself is city property, although the RV involved in Monday's shooting appears to fall on the Montana Rail Link side of the property line. Missoula's mechanism in city code for removing such a vehicle from the neighborhood would require a notarized signature from the property owner.