A Missoula man who was driving when his pickup struck and killed 22-year-old Rebecca Romero was sentenced Tuesday to 10 years in prison.
Daniel Grady, 26 years old when he was arrested in June 2018, will also be on probation for 20 years following his prison term. He pleaded guilty in August to negligent homicide and failure to remain at the scene of an accident where a person has died.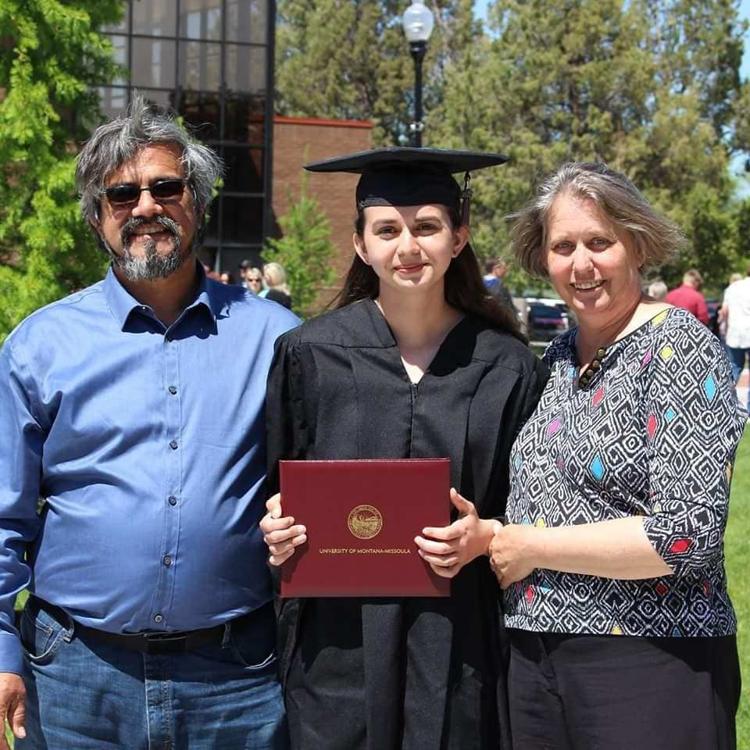 Emotions were vivid in Missoula District Court on Tuesday as Romero's family gave heart-wrenching statements to the courtroom, drawing tears from Grady's family and even Judge Leslie Halligan as she addressed the victim's family. 
"Certainly you have heard the heartbreak of the Romero family," Halligan told Grady after handing down the sentence. "Certainly, the love that they have shared with their daughter, I think, speaks to the profound sadness that they also feel."
Police found Romero's body on Phillips Street near Lowell School at 2:26 a.m. on June 17, about a month after she graduated with a degree in wildlife biology from the University of Montana. Soon, investigators traced debris in the roadway to Grady's vehicle. Evidence uncovered later found Grady had been drinking at several bars before driving home with three others in his pickup; none called police after the crash. 
"How scared she must have been as she died alone," said Romero's sister, Selena Romero-Allen. "I hate that Mr. Grady has made me afraid of memories of my sister. … I want to make clear though, I do not want to hate Daniel Grady himself. I do not want his family to suffer as my family has suffered. I am truly sorry for his siblings who are, in a way, losing their brother."
Grady wept at the defendant's table throughout the hearing, with family members in the gallery behind him. Bryan Tipp, Grady's defense attorney, told the court that Grady had accepted responsibility and held himself accountable for the crimes. Before even signing a plea agreement, Grady was released from jail in order to check into and complete an alcohol dependency treatment program. 
But Romero's family made clear their daughter's absence from their home, holidays and lives is more devastating than the acts that killed her. 
"I worry that her face is just going to slowly fade and I can't recall her voice," said Merced Romero, her father, as he fought through tears. "I really don't think of Daniel Grady all that often, I try not to. I think of Becca every day. I try not to hate you, but I don't forgive you."
You have free articles remaining.
Halligan took note during Tuesday's hearing that Grady had taken responsibility and said she hoped he would live his life to honor Romero's death. In addition to prison time and probation, she also ordered he complete 100 hours of community service teaching others about his fatal mistakes.
"This is a senseless event," Halligan went on. "The fact that you left the scene of an accident without stopping, there is really no reason, no explanation that's appropriate."
Grady, in his own statement, apologized to the Romero family and said his actions that night constituted "the worst decision of my life."
"I don't expect your forgiveness," Grady told the family. "I've tried to imagine if the roles had been reversed and if my brothers had been killed, I can't imagine what you've gone through. … Please know I've been sober since this happened and I've committed to being sober the rest of my life."
He was sentenced to 20 years with 11 suspended on the negligent homicide charge and 10 years with nine suspended for failure to remain at the scene, with the terms to be served consecutively. Both of Romero's parents said in their statements that they were not entirely satisfied with the recommended sentence, but said they "could live" with it.
Paul Ryan, a Missoula attorney representing the Romero family, provided the Missoulian with a statement from the family after the hearing:
"They appreciate the work that the county attorney did in this case with some of the limitations they had and that they believe the justice system worked as well as it can under the facts and circumstances in this case," Ryan said. "They appreciate the judge's thoughtful and compassionate consideration for the life of their daughter and the impact it had on their family.
"They will never condone this type of irresponsible behavior and hope that this can be a lesson to many in this community in their capacity when they choose to drink and drive."
According to the National Highway Traffic Safety Administration, there were 0.35 alcohol-impaired driving fatalities across the country per 100 million vehicle miles traveled in 2016. That same year, Montana saw 0.67 alcohol-impaired driving fatalities per 100 million vehicle miles traveled, nearly double the national rate.