The Missoula Police Department said it has received no reports that support the allegations of a social media post that a "gang" has been assaulting minorities on the California Street footbridge.
The post, which has been frequently reposted on Facebook and Instagram, purports there have been a series of assaults on the footbridge, with an alleged victim telling the poster that they were attacked by a group of adult white men.
The post calls the group an "active gang" and says that in a series of alleged attacks, none of the victims has been white.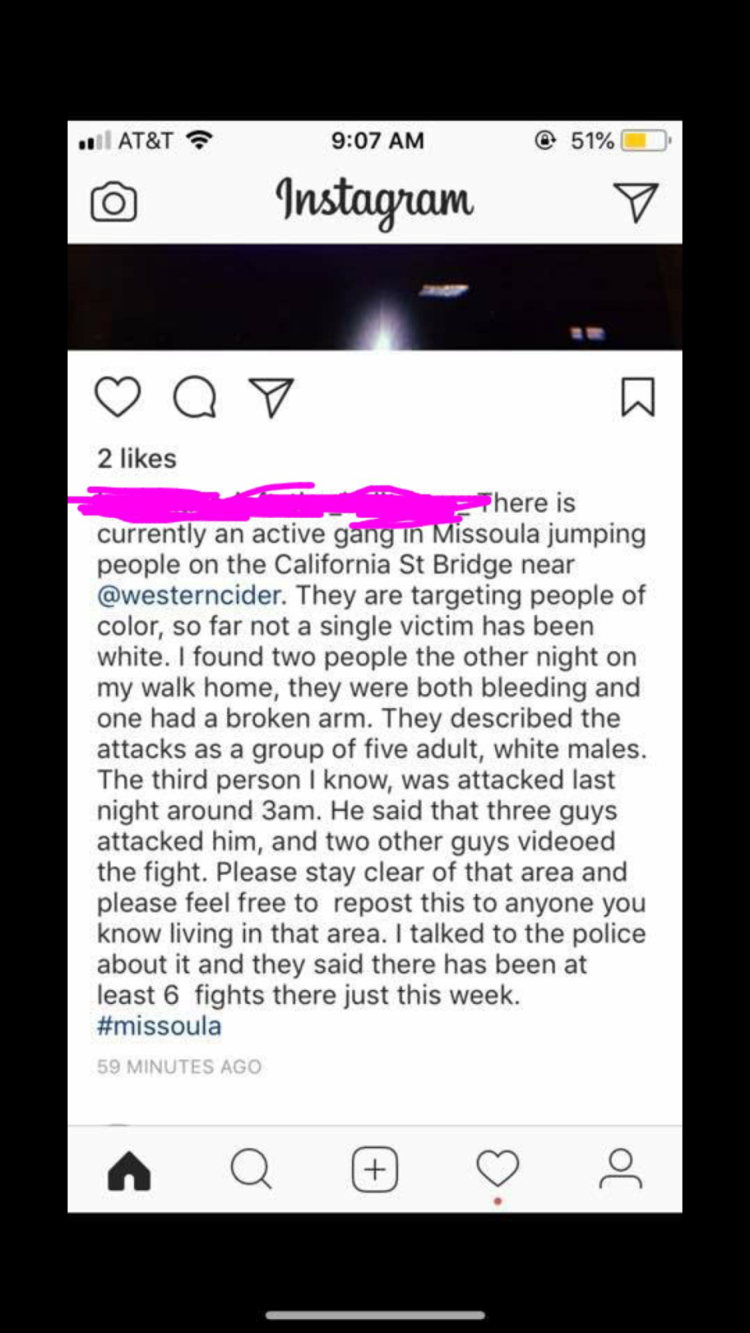 Sgt. Travis Welsh said while there have been reports of violent incidents at or near the bridge — which are being investigated by police — not one of them matches up with what the social media post is alleging.
"We do have reports from the footbridge, make no mistake, but we have no reports of a group targeting people of color," he said.
In the past week, Welsh said police have spoken with a man who was stabbed on the bridge during a fight with a woman, but that the man did not want to pursue the matter as a criminal investigation.
Another man who investigators have spoken to attempted to break up a fight between two men on the bridge and was cut by a knife in the ensuing struggle. That case is under investigation.
Police are also looking into a report of two men who got into a fight in the park near the north side of the footbridge, where one man's arm was injured. Welsh said reports indicate that two of the victims in the cases being investigated were minorities, but the third was a white male.
The only case remotely close to the idea of a "gang" attack that has come to police attention is a call from a man who told officers that he was attacked by a group of men three weeks ago. But that alleged incident took place on the 200 block of Orange Street, a significant distance from the California Street footbridge. In that case, the reporting victim was also a white man.
"We have had no reports of an active gang targeting persons of color," Welsh said.
He said the incidents near the footbridge appear to have taken place at night, and most have involved members of the transient community. Police will be conducting additional patrols in the area, with bicycle officers concentrating on that area and the department's Street Crimes Unit also working that area over the weekend.