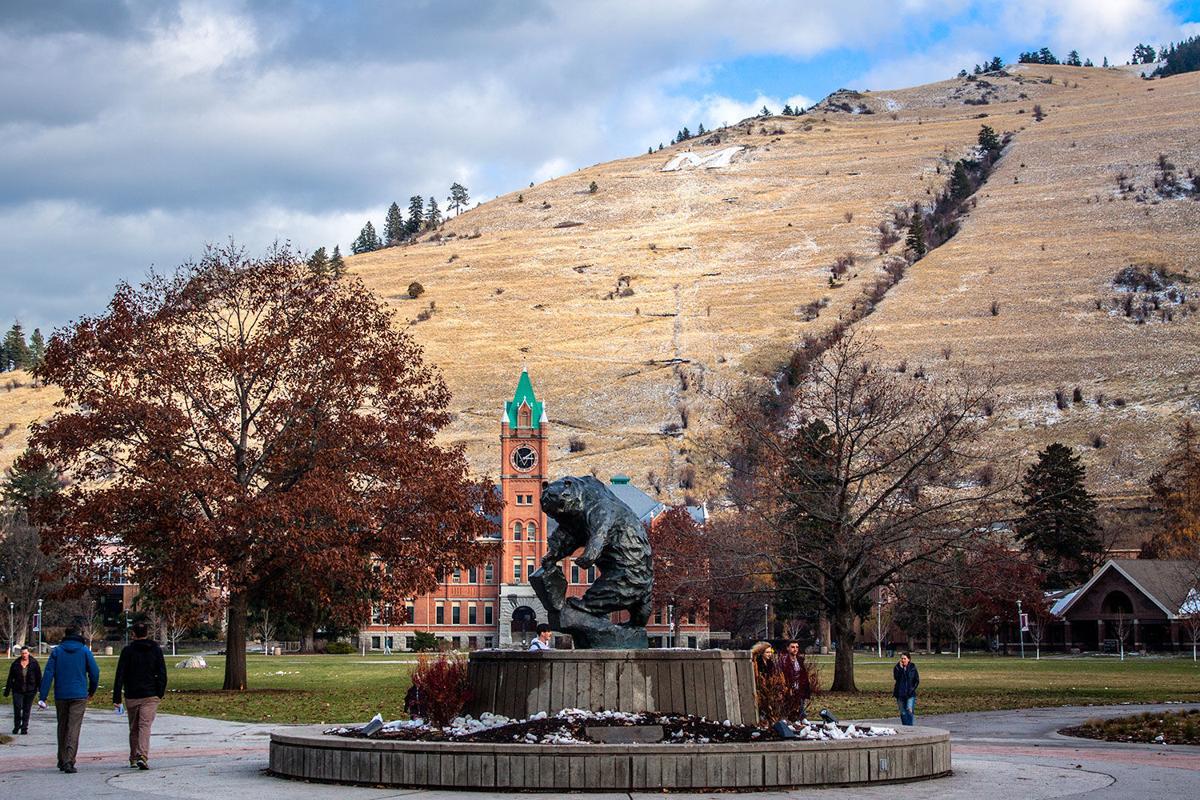 A Missoula resident who was punched in the face by a Griz football player at a house party last year is suing the player, UM, head football coach Bobby Hauck and Athletic Director Kent Haslam.
Griz defensive end Lorenzo Brown pleaded guilty in January to assaulting Noah Willison, breaking his upper jaw and causing other facial injuries. Now, as the medical bills pile up, Willison is seeking damages.
"I think a lawsuit is necessary in order for me to get my tooth fixed," he said.
In an emailed statement, Griz athletics spokesperson Eric Taber wrote, "The University of Montana and Grizzly Athletics are aware of an incident regarding student-athlete Lorenzo Brown, which was addressed at the time via the student-athlete code of conduct." Haslam had no further comment; Hauck did not respond to an inquiry from the Missoulian.
Brown attended an alcohol-fueled gathering hosted by Willison's roommate last November, according to court documents.
When Willison returned home that night and attempted to shut the party down, Brown, "who was visibly intoxicated … stood on a table and removed a lightbulb from a light fixture to darken the House (sic) while loudly and vociferously proclaiming that the social gathering at the House would continue," according to the documents.
A tussle ensued when Willison tried to force Brown from the table, but people kept the two apart, the suit said. Brown then left, but returned and "without warning, punched Noah in the face, dislodging one of Noah's teeth, loosening several other of Noah's teeth, and fracturing Noah's maxilla," the upper jaw.
He didn't have dental insurance at the time, but has needed a steady stream of surgeries and other procedures in the year since. "At this point I've spent at least $5,000, and there's more to come," he said in an interview. "My other (front) tooth is wiggly as well."
Brown pleaded guilty to misdemeanor assault in January. Missoula Municipal Court Judge Sam Warren ordered Brown to pay Willison more than $27,000 in restitution in $100 monthly increments. At that rate, it will take more than 22 years to pay the full amount.
"Noah owes the money, he owes it now, and at this rate the restitution will trickle in," said his attorney, Tim Bechtold with Missoula-based Bechtold Law Firm.
He's spent much of the past year determining the extent of Willison's injuries and filing a claim with the Montana Department of Administration. Special Assistant Attorney General Courtney Cosgrove confirmed the claim was denied. And so, on Sept. 13, Willison filed suit. "The idea (with a lawsuit) is to get those bills paid now," Bechtold said.
The suit alleges that UM, Haslam and Hauck violated a "duty to use ordinary care in the recruitment, training, and supervision of (their) scholarship athletes."
It also alleges that "Defendant Hauck and Defendant Haslam created an atmosphere at the University of Montana in which it was deemed acceptable for underage scholarship athletes to consume alcoholic beverages, become intoxicated, and engage in violent physical altercations."
Under state law UM, as a public employer, will have to indemnify Hauck and Haslam for any damages and pay the legal costs they incur in a civil lawsuit. While the university will pay their costs in this lawsuit, Berthold wrote that "Noah sued these individuals with the hope that they would take some personal responsibility for the actions of the students they bring to the University of Montana, and take steps to assure that incidents like the one at issue in this lawsuit do not happen again."
Hauck's first stint as UM football coach, from 2003 to 2009, saw a string of misconduct allegations and criminal charges against UM football players. His rehiring in December 2017 drew opposition, but Haslam and other UM leaders said they felt confident in Hauck's ability to handle player conduct issues.
None of the defendants had filed responses to the complaints as of Thursday afternoon.
Sign up for our Crime & Courts newsletter
Get the latest in local public safety news with this weekly email.