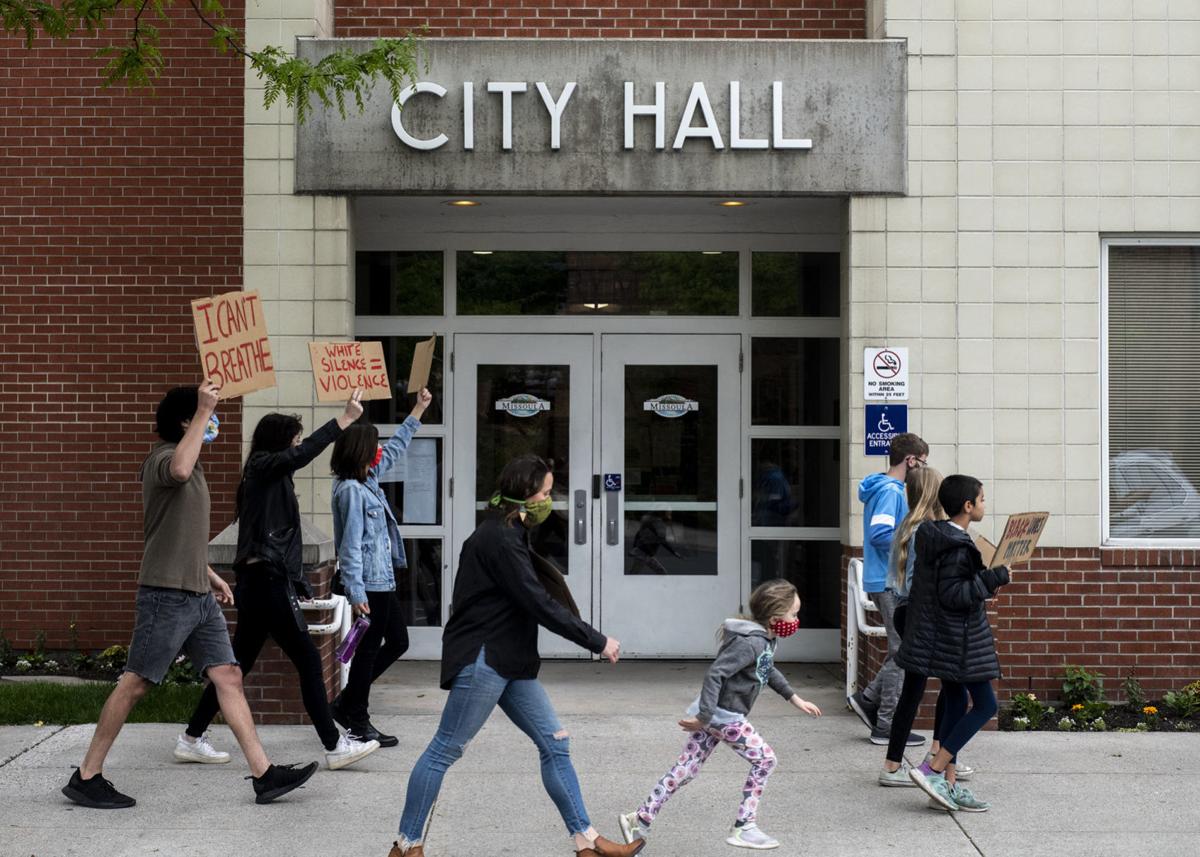 Law enforcement leaders across Montana in recent days have spoken out against the acts of the white Minneapolis police officer charged in the killing of George Floyd, a black man who died after pleading for air as the officer knelt on his neck.
"Many of you watched in horror and disbelief of an unanswerable action by a police officer in Minneapolis, Minnesota, a few days ago," Lewis and Clark County Sheriff Leo Dutton wrote in a Facebook post on Saturday. "Early indications from the video are that George Floyd died at the hands of a police officer whose actions have no excuse or explanation."
Many have condemned the officers involved in Floyd's death, but few leaders, elected or otherwise, have gone as far as to say plainly that the officer's actions killed Floyd. 
The United States is still grappling this week with days of protests and destruction after recent killings of Floyd, Ahmaud Arbery (a black jogger chased and shot by armed white men) in February in Georgia, and Breonna Taylor (a black woman shot by police during a "no-knock" raid at her house) in March in Louisville. In Montana, rallies have so far remained peaceful. 
Law enforcement leaders in Montana who spoke with the Lee Newspapers on Monday were quick to denounce the knee-to-neck hold Derek Chauvin, the Minneapolis police officer who was fired before being charged with third-degree murder, used to hold Floyd to the ground.
"Based on what I've seen on that video, I condemn that behavior by officers," Missoula Police Chief Jaeson White said Monday, who said the move would be a "deviation" from the Missoula Police Department's use-of-force policy. 
"That was a clear deviation of our oath, our professionalism and is a clear breach of trust that the public places in law enforcement," White said. 
White said the killing caused concern for law enforcement, which needs the public buy-in to effectively police. The entire Missoula Police Department will take a refresher course on its use-of-force policy, something the new chief already had in the works. He is now looking to enhance existing training with "implicit bias procedural justice training," which focuses on "a fair and equitable application of the law," White said. 
To bolster these efforts, White has been in communication with diversity-focused programs at the University of Montana. 
"It's what we do as a result that matters," White said. 
Cascade County Sheriff Jesse Slaughter said what he saw in the video of Floyd being pinned down by the officer would "absolutely not" pass a use-of-force review in his department. 
"It appears from the way his (Floyd's) arms look that he's in handcuffs," Slaughter said in a phone interview. "They're in custody when they're in handcuffs. Can you get hurt by people in handcuffs? Of course. But we are required to use more care (once someone is in custody) because they are now in our, literally, care and custody."
Slaughter said the video was doubly troubling as he knew what kind of backlash would blanket law enforcement as a result of Chauvin's actions caught on camera. 
"Obviously my first concerns and condolences go to the family of George Floyd, but the second thing is, this isn't good for our profession, either," Slaughter said.
During a press conference on Monday, Gov. Steve Bullock came to the defense of the broader law enforcement community, saying "I've worked with some incredible peace officers that go to work every day for the betterment of their communities and state. We know across the country not every peace officer holds up that standard and George Floyd is one more reminder that there are issues in this country that need to be addressed."
Gallatin County Sheriff Brian Gootkin said in a phone interview with Lee Newspapers on Monday that he had no thoughts to share on Floyd's death, but was confident in the department's hiring process to root out any problematic officers.
"We spend a lot of time and effort hiring the right people," Gootkin said, adding that process includes a psychological test and training. "We're not changing anything."
Bozeman Police Chief Steve Crawford on Monday decried not only Chauvin's actions but those of the three officers who stood by while Floyd was pinned down. 
"There is no justification for the actions of the now-former officer, nor for the failure of the other officers at the scene to intervene, that resulted in Mr. Floyd's tragic death," Crawford said in an emailed statement to the Missoulian. "Our organization values the sanctity of human life and the importance of treating all persons with dignity and respect and this act was none of that."
At a press conference on Monday, Yellowstone County Sheriff Mike Linder said Floyd's death "should not have happened" and acknowledged the public's right to protest was "encouraged." But Linder condemned the destruction that's ripped through major cities across the United States.
"Our concern, especially in law enforcement is what's going on, the devastation, the destruction and the crimes and criminal activity that's going on right now that's just totally unacceptable," Linder said. "I think for the most part those of us in law enforcement, you know, the way that officer, or even those other officers acted, is not what we are, especially here in Montana, you know, let alone Yellowstone County or Billings. I think that that's very, very clear."
Linder said the Saturday demonstration in front of Billings Police Department "went very well. I think everybody was mindful and respectful of everybody else's space, so to speak. And they did a great job. I think the message was sent."
On Saturday, Missoula leadership — Police Chief White, Sheriff T.J. McDermott, University of Montana Police Chief Marty Ludemann, Mayor John Engen and University of Montana President Seth Bodnar — issued a joint statement through the university acknowledging their role in exterminating racism, discrimination and injustice. 
"We recognize that as leaders in law enforcement, government and higher education, we have a particular responsibility to foster a welcoming and inclusive community," the statement reads. "And so, as we have witnessed troubling events and racial injustice in Minneapolis and across the country, we reaffirm our shared commitment to an inclusive, welcoming and supportive Missoula community that values and promotes diversity in all its forms. We each have an important role to play as advocates for justice and equity, and we as leaders commit to acting in solidarity against racism and acts of discrimination, injustice and violence. During this challenging time for our society, let this be an opportunity for our community to come together to speak and act in ways that make Missoula a place worthy of all people."
Reporter Phoebe Tollefson of the Billings Gazette contributed to this story.
Sign up for our Crime & Courts newsletter
Get the latest in local public safety news with this weekly email.