A new report touting the effectiveness of drug treatment courts said most Montanans with a drug conviction don't have access to one of the courts.
The report, commissioned by the Montana Healthcare Foundation, calls for an expansion of the state's treatment court programs. It also calls for an extension of the state's Medicaid Expansion to continue funding the programs, and other investments by the state such as the hiring of a grant writer to help courts access federal dollars.
"Treatment courts are the most researched and effective criminal justice intervention we have for defendants with substance use disorders," said Beth McLaughlin, the Montana Supreme Court Administrator, in a press release announcing the report. "However, many people in Montana that need these services still do not have access to them."
Treatment courts typically combine regular check-ins with a judge, probation or parole monitoring, and substance abuse treatment services to help treat substance abuse problems and steer people away from criminal behavior. Participants live in the community, rather than in custody, and proponents of the courts tout their low cost relative to incarceration.
There are 36 treatment courts in Montana, including state courts and tribal courts.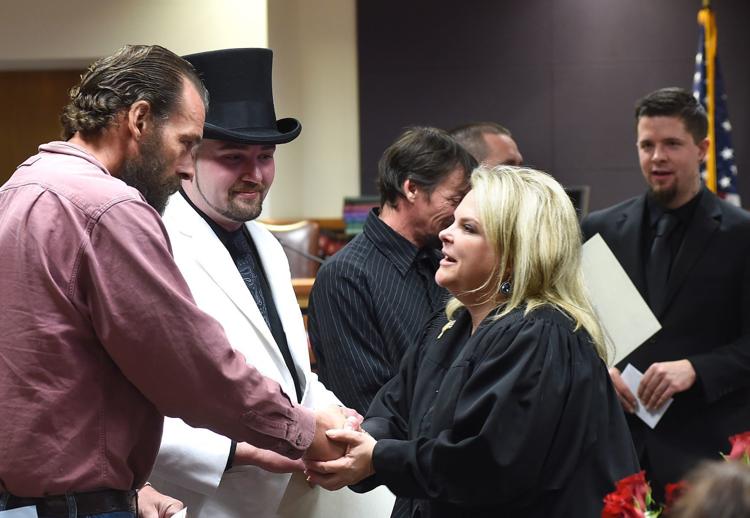 But while roughly 1,600 Montanans are eligible for a treatment court each year, current capacity in the 28 non-tribal courts is limited to 564 participants, according to the report. Participation numbers for the eight tribal courts were not provided.
The report, written by Oregon-based NPC Research, stressed the need for additional state funding. 
"There are demonstrated resource needs and people who could be served," the report reads. "If the state wants to benefit fully from the potential treatment courts could offer, it needs to provide additional funding to expand existing programs and support additional ones."
The state provides $1.3 million a year to fund treatment courts, but that could change.
Rep. Zach Brown, D-Bozeman, plans to carry a bill sponsored by Attorney General Tim Fox in the Montana Legislature to enact a wholesale tax on opioids. While the proceeds would fund treatment courts in the state, initial revenue projections were not immediately available.
Brown did say the bill would contain a provision prohibiting drug manufacturers from passing along any costs of complying with the bill to consumers in the form of a price increase.
"Obviously I'm sure the drug companies will come in with guns blazing, but that's to be excepted," he said. "And my sense is there's not a lot of sympathy for opioid manufacturers in Montana at the moment."