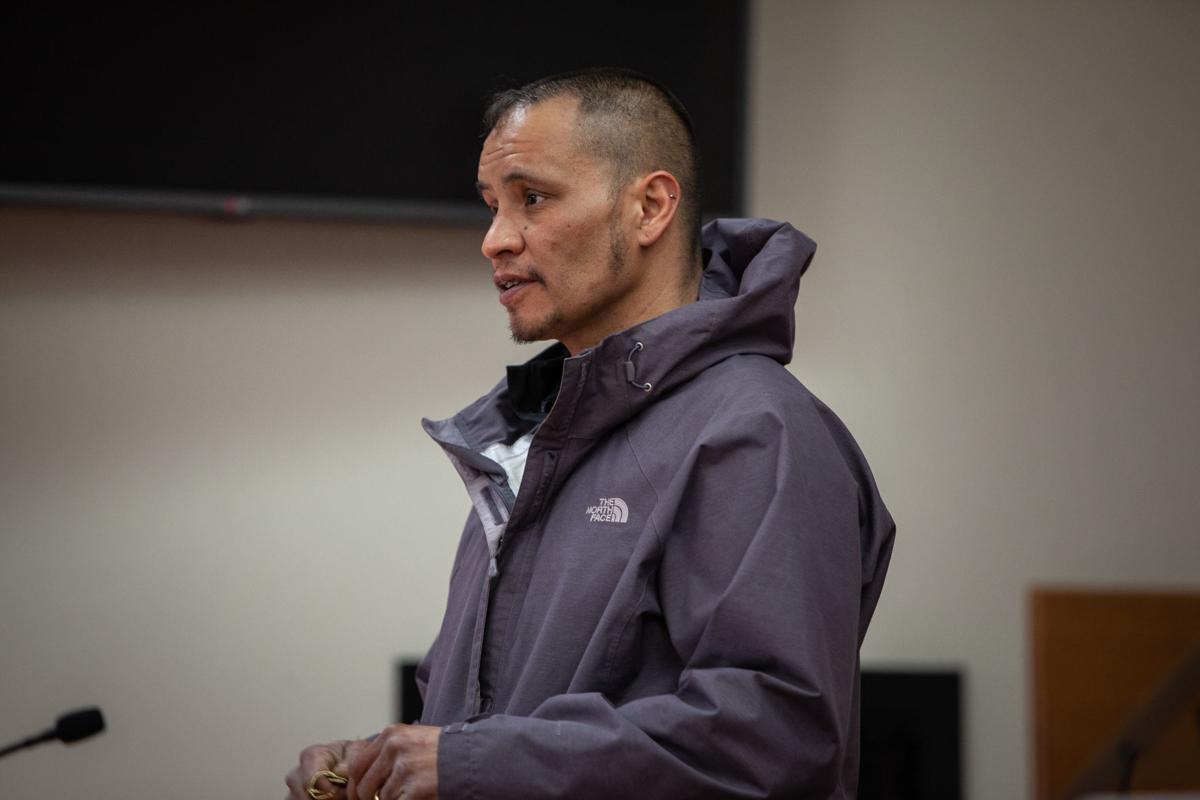 A Missoula man on Wednesday lost his hunting and trapping privileges for the next 10 years due to an illegal trap that killed a dog earlier this month.
In Missoula Justice Court, Jaymz Partida swore off trapping to the judge and pet owners: "I'll never trap again. I don't need to."
Partida, 45, was cited by the state on Dec. 2 for setting traps within city limits, without tags and without proper placement. He and his 35-year-old nephew, Michael Bruno, were both cited by the city; trapping is illegal in city limits.
One of the traps, a conibear, killed an 18-month-old dog on Dec. 1.
Bryan Dalpes, whose pet died in the trap, described the incident Wednesday in a statement to the court. The trap had been set about a block from Hawthorne Elementary School, in a high-traffic recreation area. Dalpes was unfamiliar with the type of trap that clamped on his dog's neck and couldn't remove it fast enough, he said. She died within minutes.
"I struggle to articulate how Betsy's death has affected us," Dalpes said. "It is profound."
Along with the 10-year suspension of Partida's hunting, fishing and trapping privileges, Missoula County Justice of the Peace Landee Holloway sentenced him to six months in the Missoula County Detention Center, with all suspended but five days. Those five days can be served in jail or through a work release program. 
In addition, Partida was ordered to pay $395 in restitution and complete a trapping class through Montana Fish, Wildlife and Parks. Failure to complete the trapping course could trigger the six-month jail sentence into effect.
As the sun sets on Jaymz Partida's criminal case, a civil action is in the works, according to the attorney representing the Missoula dog owners. 
Partida last week pleaded guilty at his initial appearance, without an attorney, as a good faith sign of accountability, he told the Missoulian. On Wednesday, Partida told Holloway he had already signed up for the trapping classes after the incident, but had decided to never trap again in light of the dog's death. 
"I've had some explaining to do with my kids as well — they're not too happy because they're animal lovers," he told Holloway before turning to Dalpes and his wife, Rachel Luger, in the gallery. 
After the hearing, Luger said she hopes the incident brings more awareness to residents and trappers. 
"It has affected us in the fact that every trail here reminds us of Betsy," she told the Missoulian. "We really fell in love with Missoula through her eyes, taking her on all the peaks and trails around here. It's going to be a tough transition to learn to be around here without her."
Luger encouraged dog owners to attend a trap-release workshop hosted by the Human Society of Western Montana and presented by Footloose Montana next month. The workshop is set for Jan. 5 and Jan. 21.
Stephen Capra, executive director of Footloose Montana, said after the hearing he believes the 10-year license suspension was the most important part of Partida's sentence. He called on Montana Fish, Wildlife and Parks to enforce a larger divide between areas where trapping is allowed and where people recreate on the urban-wildlife interface. 
"This was right near a school," he said. "Today we are here to mourn Betsy being killed. Tomorrow it could be a child. There is no reason to have these traps in an urban interface. They've got to go."
Missoula attorney William Rideg told the Missoulian after the hearing he believed the sentence "sends a clear message" to trappers who engage in illegal conduct. Rideg also said he will represent Luger and Dalpes as they pursue a civil action, wrongful death among the claims, against Partida.
"Trappers are on notice," Rideg said.
The Missoulian was unable to determine by press time if the Municipal Court citations against Partida and Bruno for trapping in city limits had been resolved by Wednesday.