Scores of officers from every layer of law enforcement lined the exit from the Neptune Aviation tarmac Wednesday afternoon, waiting to join the caravan carrying Wade Palmer, the Montana Highway Patrol trooper grievously wounded in a March shooting.
Two months ago, they had been on a nearby runway to send Palmer off on a plane to Utah, with the possibility that Palmer might have succumbed to his wounds seeming as plausible as his homecoming.
"I haven't seen this type of thing in my whole career," Missoula County Sheriff's Capt. Anthony Rio said. "It's a miracle, a true miracle."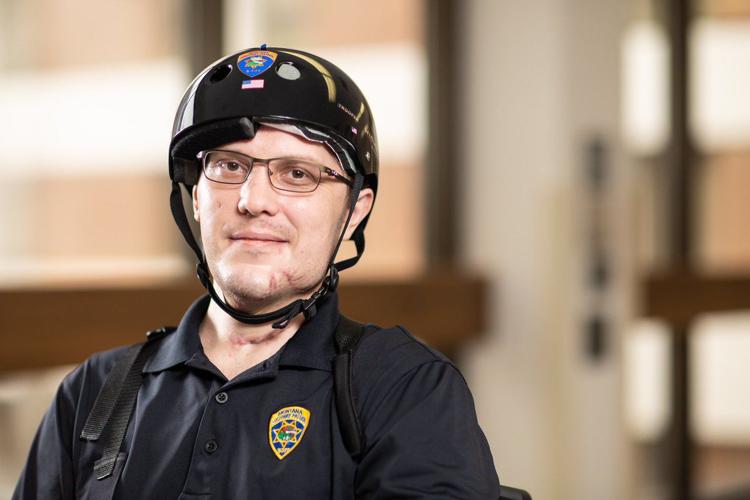 Trooper Billy Munoz, who took a few ride-alongs with Palmer before he had joined the patrol unit, said he had "mixed emotions" about the day; the circumstances are tragic, but Palmer pulled through.
"To have a member of law enforcement come back the way he's come back, it's outstanding," he said.
The rollout from Neptune Aviation was swift and orderly. Law enforcement officers and first responders who stood at attention at the tarmac filed in behind the motorcade as it headed into Missoula, passing hundreds of people waving signs and enough American flags to rival a Fourth of July parade.
"It's really nice we can group together" for Wednesday's motorcade, said University of Montana Police Sgt. Ward Dewitt. "We all ultimately have the same job."
Palmer did not regain consciousness until two weeks after the shooting, and began interacting with hand gestures another two weeks later. Earlier Wednesday, Palmer's wife Lindsey said the two months since her husband was wounded in one of two midnight shootings outside Missoula have "been a marathon."
Lindsey Palmer, who was first to take the mic at a Wednesday morning news conference in Utah that served as a prelude to the trooper's return to Montana, thanked those whose medical care has gotten Palmer over the initial hurdles and ready for the road ahead.
"You gave us the fighting chance we needed to get through this," she said. "The future is brighter today than when we first landed in Utah."
Palmer's wounds included a penetrating traumatic brain injury to the left side of the brain, said Dr. Ramesh Grandhi, University of Utah Health neurosurgeon, one member of the team of medical staff attending to Palmer in recent weeks.
"For right-handed people, your speech comes from the left side of your brain," Grandhi said during the press conference. "By the time he came to Utah, he had suffered a brain injury. Our job was to ensure that he was treated in a timely fashion to prevent further brain injury."
Palmer is not currently able to speak, but Grandhi said he appears to be able to understand what he is told, and recognize people in the room around him.
Later on Wednesday, Montana Attorney General Tim Fox described at a second press conference the non-verbal communication from Palmer that morning.
"When we walked in that hospital room today, Wade was smiling ear to ear," Fox said, holding down tears during a long pause. "He knew he was going to be reunited with his girls, that he was going to be home, that he was going to see his trooper colleagues and his friends."
You have free articles remaining.
In the Wednesday-morning news conference in Utah, Dr. John Speed said after weeks of intensive care, Palmer will now be able to continue his rehabilitation at home.
"Trooper Palmer has made remarkable progress," he said. "I'm just very happy to see this day come and look forward to seeing the progress he continues to make with support at home."
Palmer's trip home garnered a statement from Montana Gov. Steve Bullock. 
"Trooper Wade Palmer is an inspiration," Bullock said in a written statement Wednesday. "His courage and that of his family, community and fellow troopers is why we welcome him home today. All Montanans, from every corner of this state, have Trooper Palmer and his family's back on the continued road to recovery and will forever be grateful for their service to our state."
Utah law enforcement, who have stood guard over Palmer's room and provided support to the Palmer family since their stay in Utah began, received a healthy helping of praise from Lindsey Palmer and Montana brass, Attorney General Fox and MHP Col. Tom Butler.
Butler later said the weeks following the shooting were devastating to Palmer's partners, and troopers from surrounding districts were brought in to replenish the manpower needed in the Missoula district.
"We had other districts come in and fill the spots, just to get the local guys back in the right frame of mind," Butler said. "When this happened it was devastating not only to the community but to his partners and for them to function at a level we expect."
The human cost of the March 15 shootings has been easier to tally than the financial cost of propping up the Palmer family and the Missoula district. Fox said Wednesday the cost of that support system has not been measured, but added that number was not a priority.
"Frankly, through it all we don't worry about that, and I suspect the taxpayers don't either," said Fox. "They want us to take care of our people, particularly when it's someone like Wade who puts his life on the line for our benefit. We don't budget for tragedy, but we plan for it."
Fox said that support system was also extended to Casey Blanchard, who was shot eight times in the spree and also transported to the Utah hospital.
Palmer had located the suspect's vehicle on Highway 93 North shortly after midnight on March 15 when gunfire opened on his patrol vehicle. An hour earlier, three people had been shot — one man, 28-year-old Shelley Hays, was killed, and Blanchard and his mother Julie wounded — on Expressway west of Missoula, sending law enforcement scrambling into the county in search of the shooter.
Johnathan Bertsch, the 28-year-old Arlee man charged with the shootings, faces one count of deliberate homicide and three counts of attempted deliberate homicide. Court filings state he had two AR-15-style rifles and a handgun in his vehicle when he was apprehended by the Missoula County Sheriff's Office near Evaro. He remains in Missoula County Detention Facility on $2 million bail.
Enormous flags could be seen waving in the wind from atop maxed-out crane rigs along West Broadway Street Wednesday as Palmer's motorcade escorted him to Providence St. Patrick Hospital. From there, Palmer was whisked down to the Bitterroot Valley, where another couple hundred faithful supporters were waiting (see accompanying story) to usher him home, two months after such a homecoming appeared to be against great odds. 
"Today is a great day, as far as I'm concerned," Butler said. "A little over nine weeks ago I was standing out on the tarmac at Missoula airport and it was a sad day. I really had doubts about what the outcome of that was going to be at that time. I can't tell you how heartwarming it is to me to see him get off that plane. It's been a hole in our agency since he's been gone."
---
Missoula welcomes trooper Palmer
Convoy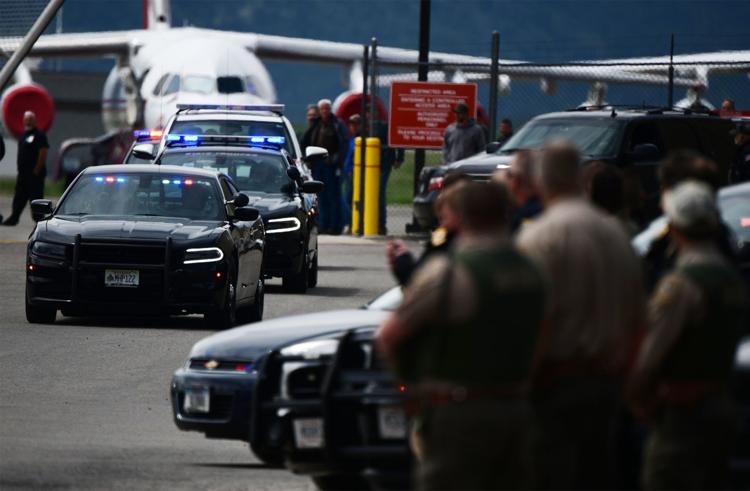 Hospital staff forms a line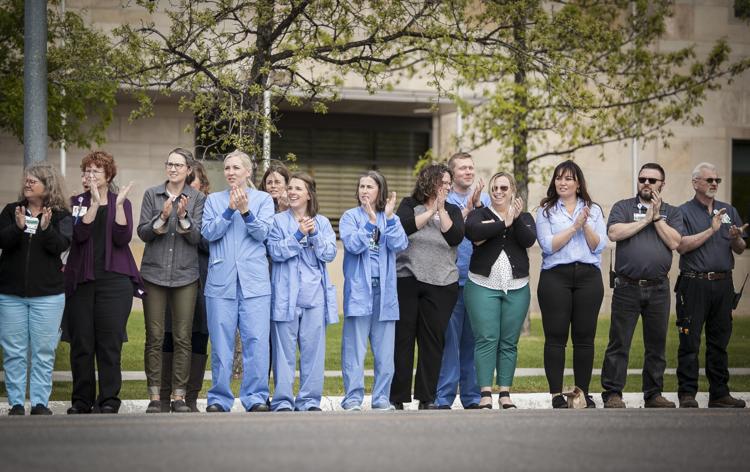 UM police car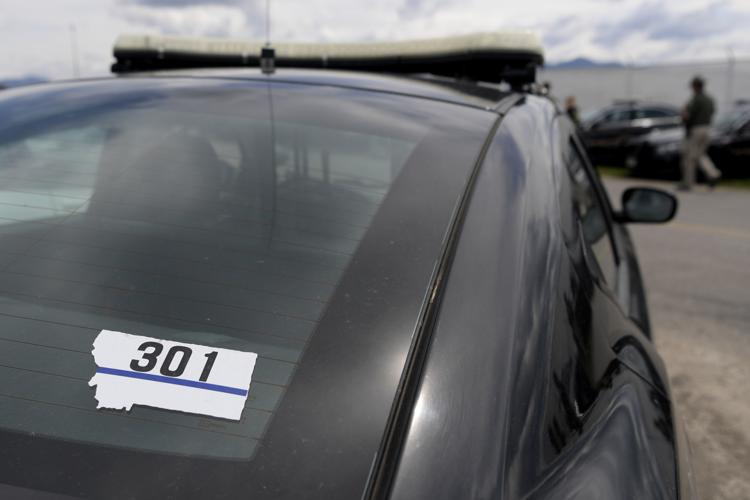 Jet carrying Palmer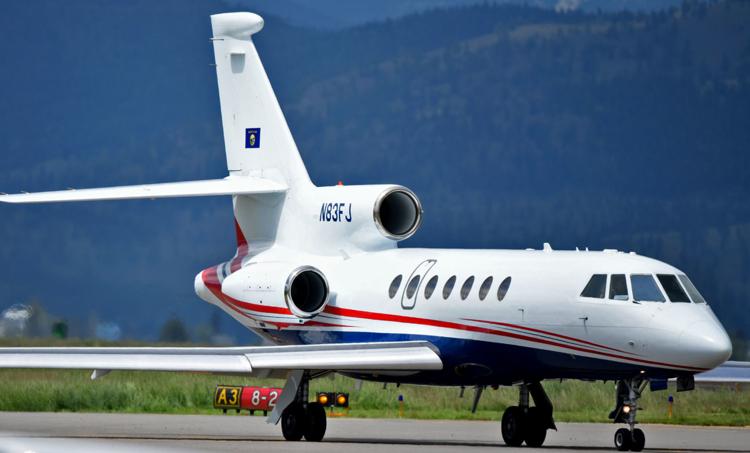 Law enforcement personnel and others line the road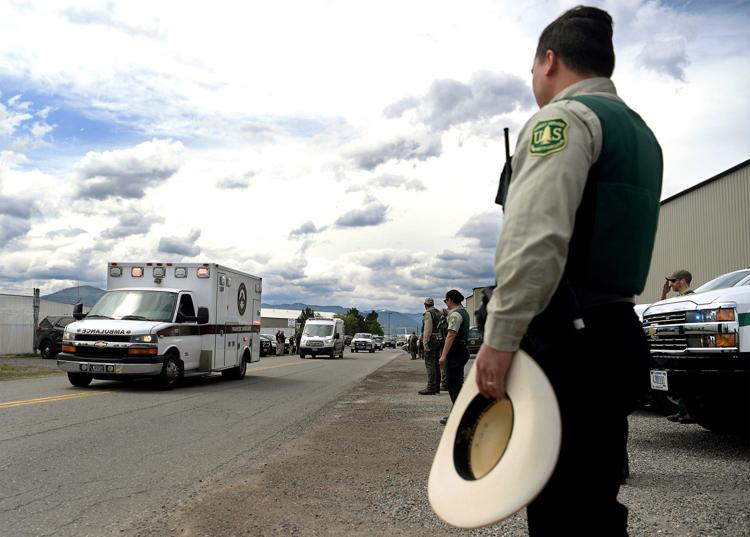 Marjorie Sonneborn films the motorcade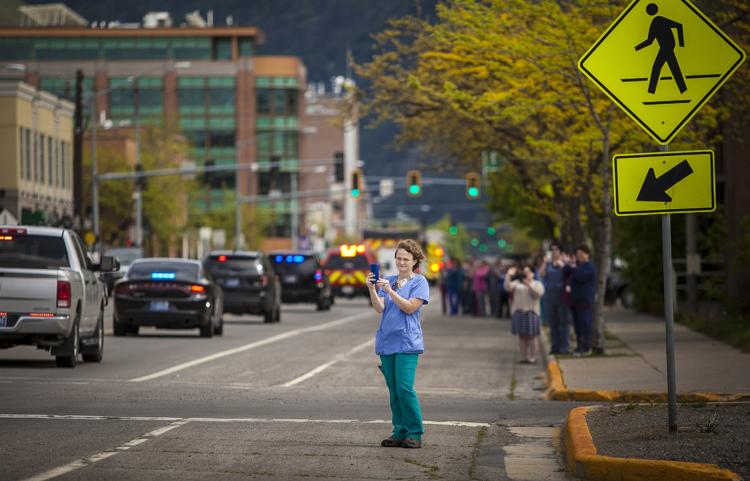 Patrons wave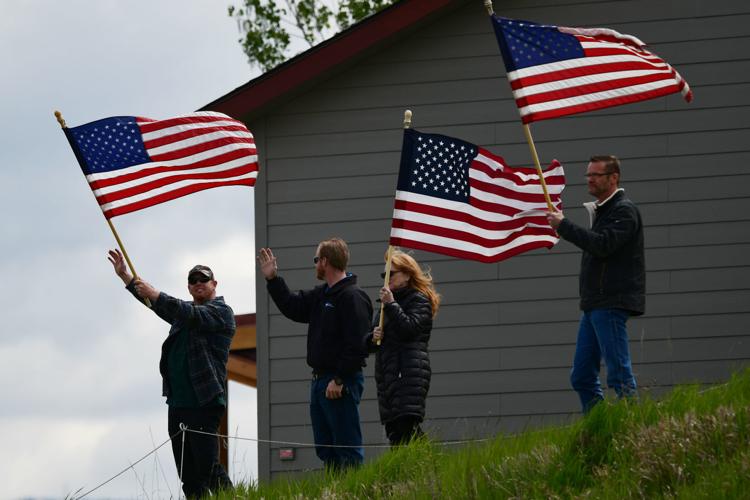 Kids unload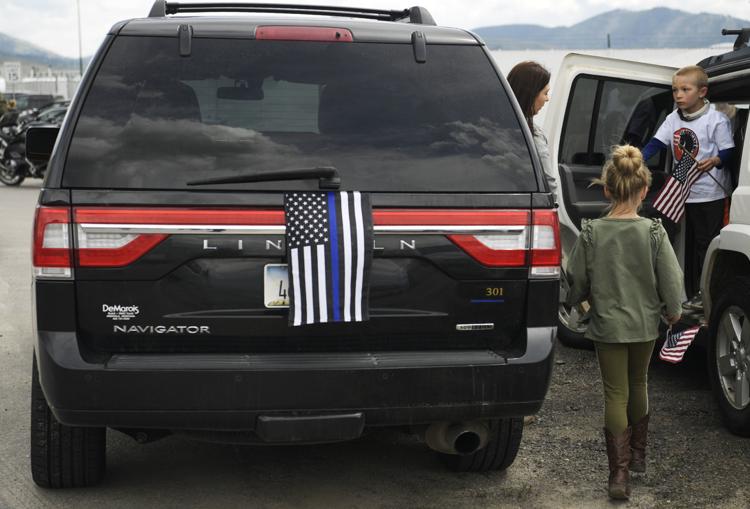 Hospital staff welcomes Palmer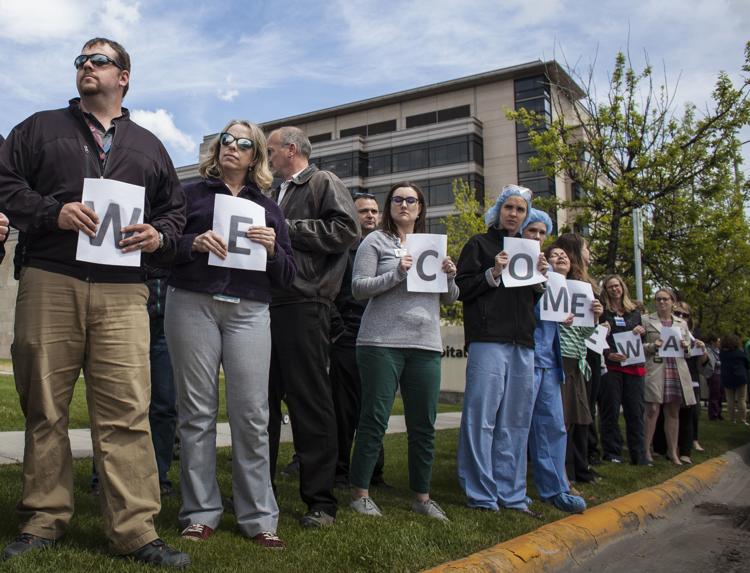 Supporters cheer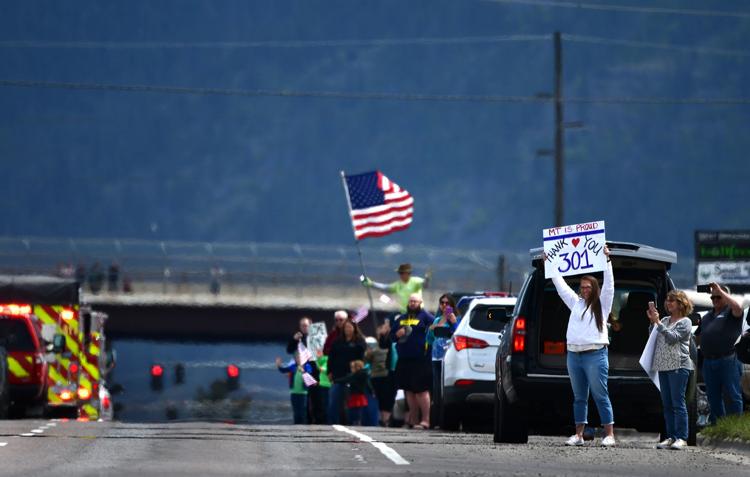 Officer looks on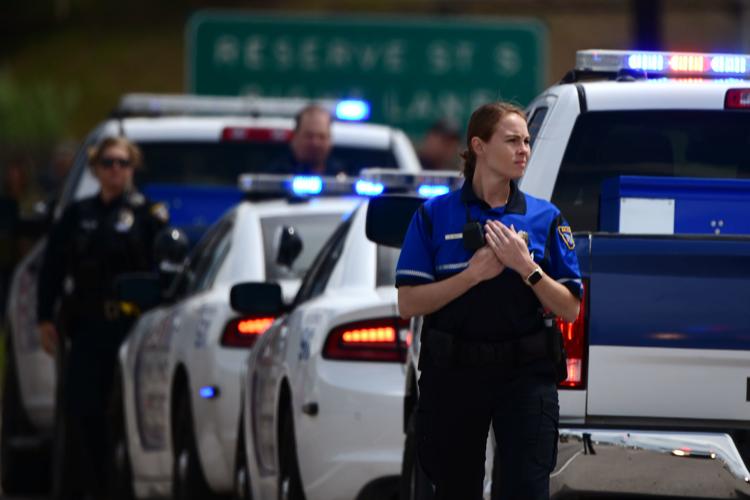 Welcome sign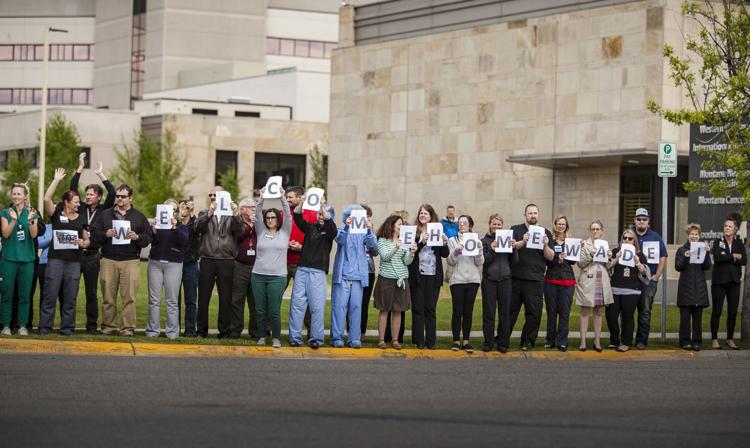 Trooper Palmer's motorcade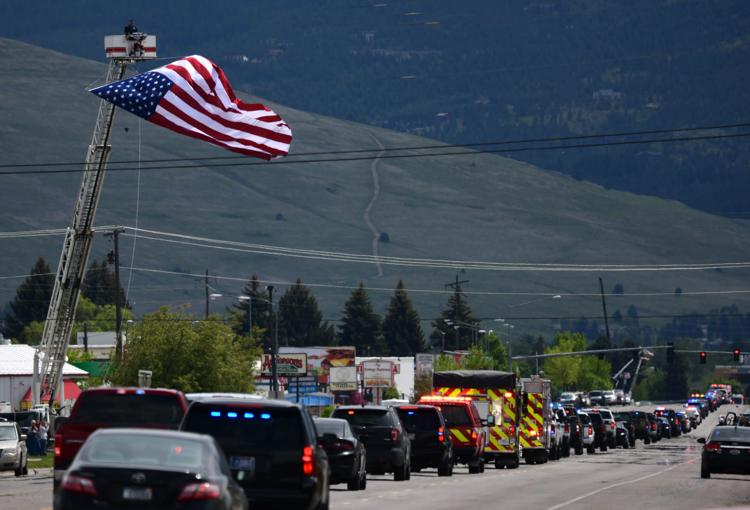 American flags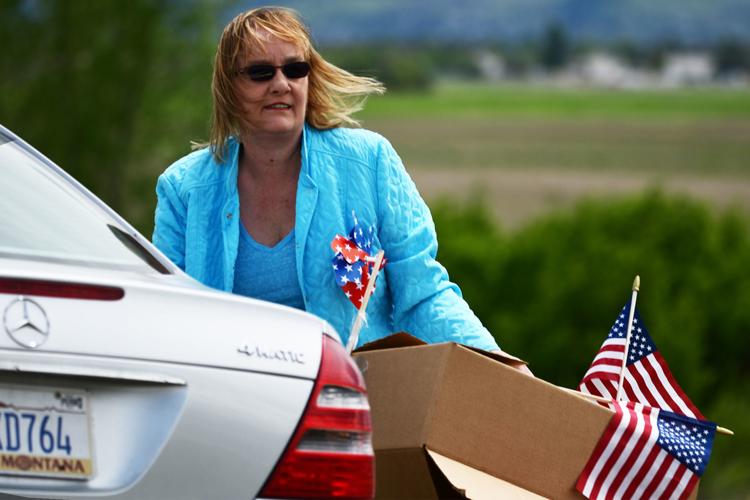 Palmer - Stevi