A Montana Highway Patrol car is a black box most of the time. But on Twitter, the black box can be quite chatty.
As part of the "Tweeting Troopers" program implemented in early 2018, six MHP officers have taken to Twitter as a way to better connect with the people they serve. MHP public information officer Kristin Banchero came up with the idea following a 2016 conference where representatives of the Kansas Highway Patrol presented on how they use Twitter to interact with the public.
"It was letting people doing the job speak for themselves," Banchero said. "They could reach more people across the state; reach out and interact about communities across districts."
Communication is key in a world driven more and more by online interactions, and MHP decided that having troopers chirping online would be a good way to open the black box to the world at large.
For the six troopers involved in the program, a consistent online presence has reaped a combined 6,000 followers so far. Trooper Noah Pesola of Polson currently has the most followers, 2,300, and his Twitter bio shows he has a sense of humor. 
"Yes, I am old enough to drive," his bio quips.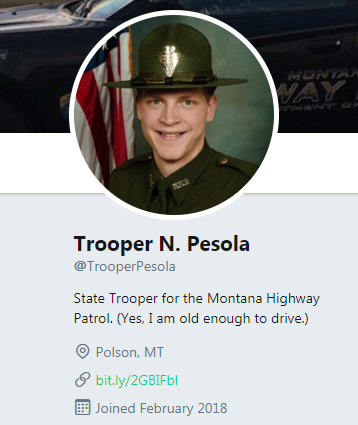 Why did Pesola volunteer? 
And he quickly warmed up to the task of keeping Montanans updated about the shenanigans MHP troopers regularly encounter. 
Pesola attempts to tweet at least once per day when he's on duty, but isn't "running to my phone" if he thinks of something funny to say on his days off. "A lot of them are seat belts, driving safe, DUIs," Pesola said. "I tweet about funny situations and small encounters as well."
Sgt. Patrick McLaughlin, the Bozeman-area Tweeting Trooper, said he focuses on tweeting about major events, hazardous conditions and other parts of driving on Montana highways all year long. "I try to tell people about the weird stuff, people behaving in strange ways," McLaughlin said. 
"One guy was going 42 in a 15 zone and asked, 'Can I have a break?'" McLaughlin said with a laugh. He said other troopers are "more social media savvy," but he finds the program helps break the stereotype of law enforcement officers being "really dry, with no sense of humor."
McLaughlin also loves the online community he has cultivated in his time on Twitter. "I follow people all over the world," McLaughlin said. "Constables, Mounties, New Zealand police, different areas run into the same issues and same interactions we have in our communities."
Whitney Bermes, a former crime reporter for the Bozeman Daily Chronicle, said that having troopers such as McLaughlin on Twitter made her job run more smoothly. "He puts stuff on the radar," Bermes said. "He's an accessible trooper, always answers his phone and he's happy to give information."
Bermes said that following his Twitter account helped her keep an eye on stories as they happened, and provided "pertinent information" when it came to major incidents or safety announcements about traffic.
But there is a dark side to the the levity. 
I held my phone next to the bleeding ears of of an unconscious daughter last night so her dad could tell her he loved her. She was ejected from a vehicle in a rollover crash and sustained substantial head trauma. Not even sure she could hear him. #heartbreaking #wearyourseatbelt

— Trooper TJ Templeton (@Trooper_TJ) November 21, 2018
Trooper TJ Templeton operates out of Missoula and describes himself as a "longtime Twitter user." Templeton keeps plenty of comical commentary in his Twitter feed, but he also touches on the difficulties and wrenching emotional moments that come with the job. 
"It exposes that we're human," Templeton said. "I don't want to make anyone sick or terrified ... but there are feelings that get stuck with us."
"It gives some exposure to the human side of it," Templeton said. 
The complications of being a law enforcement officer, and especially a law enforcement officer in a state that sees a lot of death on the road, is part of a Tweeting Trooper's life and experience online. Templeton knows that balance can rest on a knife's edge much of the time.
"There's stuff I'm still chewing on," Templeton said. "I'm wrestling with this stuff, and if it becomes detrimental to my family, I'll look at doing something else."
Helena-area Trooper Amanda Villa's Twitter presence is GIF-heavy and focused on the real weirdness that pops up on her shifts.
But she finds that people tend to be "responsive to weather updates and conditions." "We're the first to put it out there," Villa said. But she also noted that in Montana, people aren't as likely to be on Twitter.
Villa and Pesola agree that the real point of the program is to "show there's someone behind the badge," as Pesola put it.
"It's positive," Villa said. "It humanizes what we're doing."