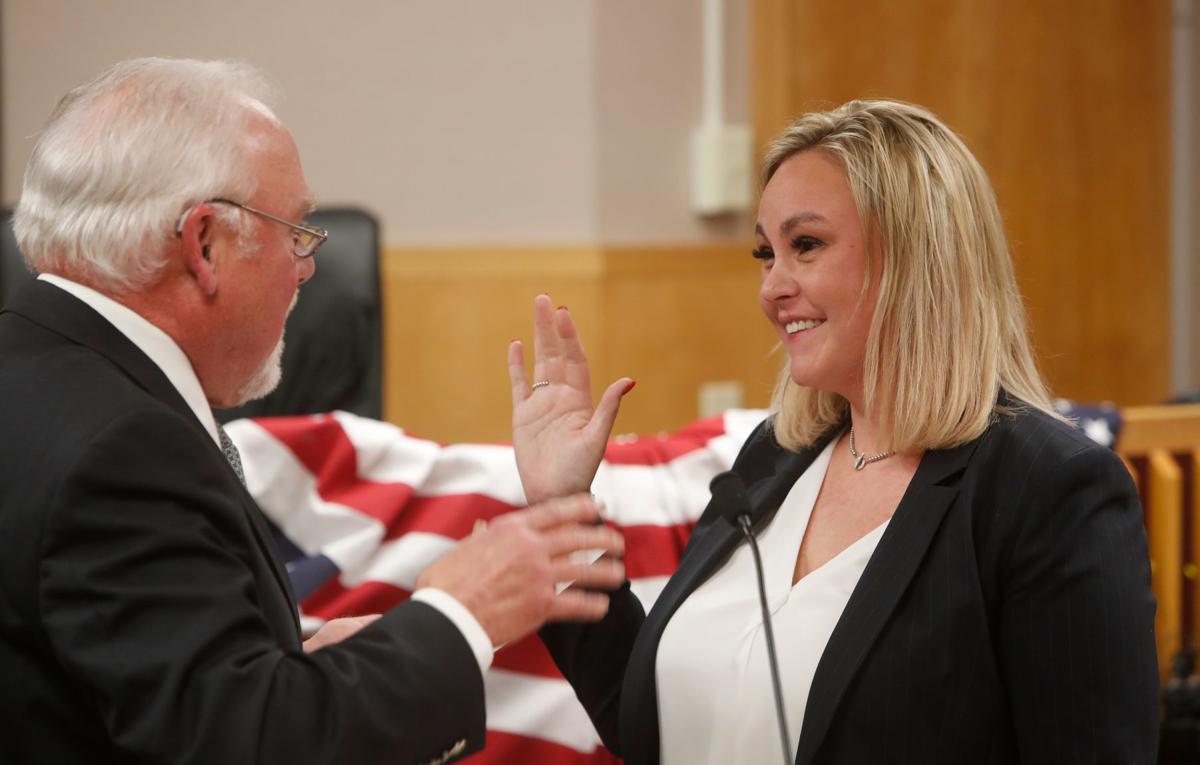 A Yellowstone County District Court judge has admitted to all of the allegations against her in a professional misconduct complaint.
District Judge Ashley Harada has also agreed to a public censure, as the Judicial Standards Commission is recommending. The case now goes to the Montana Supreme Court for consideration. 
In admitting the counts, Harada acknowledges she made a misstatement while under oath, made a false or misleading statement about a law school applicant because of a personal grievance, and inflated her legal credentials, among other allegations.
Harada also agreed in a joint filing with the commission not to engage in any retribution or retaliation, even indirectly, in connection with the complaint. And she agreed that the complainants who initiated the case against her followed the professional conduct rules for Montana in the process of filing the complaints. 
Harada also signed off on a clause to immediately recuse herself from any matter in which anyone involved in the complaint against her appears. That includes witnesses and complainants' family members, and it has no time limit, pertaining to any point while Harada is in office. 
Retired Yellowstone County District Judge Russ Fagg has been serving as Harada's attorney for the complaint.
"I feel like the important thing is we all make mistakes," Fagg said. "She owned up to her mistakes. And she is looking forward to serving the people that elected her."
Harada is the eighth judge in Montana to face a formal misconduct complaint since 1990, which is as far back as the commission's records date in full. Of those, four ended their judicial service afterward, either by choice, removal or losing re-election. Three others continued serving.
The complaint against Harada is the result of four individual complaints that were investigated and substantiated by retired District Judge Ed McLean, on behalf of the Judicial Standards Commission.
There were additional complaints against Harada that remained confidential and did not reach the formal complaint stage, Fagg said, "Because I think Judge McLean determined that they were without merit."
McLean has not responded to multiple requests for comment or clarification. 
Harada's misstatement came while she was being deposed in an investigation into the allegations against her, after being sworn into office. A deposition requires testimony under oath. She said that a woman who worked for her in the past as a nanny, an office worker and in other capacities was not her employee. She had not paid federal or state taxes on the woman, Hanna Walter.
In her admission, Harada said that she wrongly stated that Walter was not an employee because she was acting on guidance from her accountant, who advised that the babysitting, pet sitting and other household work Walter performed did not qualify her as a household employee for tax purposes. A letter from Harada's accountant that said as much was filed along with her admission.
However, the accountant's letter did not reference Walter's office work or any questions or disputes regarding her tax status in that capacity.
In an email to The Billings Gazette, an attorney representing Walter said that Walter's status as an office employee should not have been in dispute. The attorney, Katie Berst, said Walter worked as a legal assistant at the Harada Law Firm from 2014-2017, that her duties included proofing legal documents and other administrative support, and that she had her own email address with the firm's email extension.  
Harada did not respond to a request for clarification. Fagg had nothing to add beyond the information in the case filings. 
Walter is the same person in whose application to the University of Montana Law School Harada attempted to intervene. The count she admitted to said that she made false or misleading statements about Walter to the school in an attempt to preclude her admission because of a personal grievance.
Harada has been instructed not to contact Walter or her family, according to the accountant's letter.
Fagg said that instruction came from McLean, whom the Judicial Standards Commission has relied on to investigate and handle the Harada complaints. Fagg said McLean was trying to protect Walter from "any pushback."
Harada admitted to overstating her legal credentials when she gave herself two years of legal experience while practicing as a law student.
The complaint said she also claimed credit for approximately 80 jury trials while she was on inactive status as a federal law clerk. 
Fagg said the jury trial experience was "a pretty big gray area" because she did gain legal knowledge from the experience. He said Harada ultimately concluded it was inappropriate to have claimed credit for the trials, and that was why she admitted to that portion of the complaint. 
Harada also admitted to letting partisan endorsements that others posted to her campaign Facebook page remain on the page, despite judicial campaign rules prohibiting political activity. In her admission, Harada said she had attempted to contact the Judicial Standards Commission about one of the endorsements — from the Yellowstone County Republican Party — but that she did not hear back.
Shelly Smith, office administrator for the Judicial Standards Commission, said Harada did contact her asking about the party endorsement back in October 2018, the month before the election. Smith said she presented Harada's questions and concern to the commission, but that the commission provided Harada nothing in response because it is not an advisory body. 
Harada admitted to making her own endorsement of certain Republican candidates that she posted on her personal Facebook page.
In her response, Harada said that she changed her privacy settings to ensure that her personal views were not made public, although The Billings Gazette was able to view the postings through a reporter's Facebook account.
Harada did not respond to a request for clarification.
Fagg, who served as a judge for 20 years, said Harada was looking forward to continuing her work.
"And I believe she'll be an excellent judge," he said. "I think she has been a good judge and I think she'll grow to become an excellent judge."
Sign up for our Crime & Courts newsletter
Get the latest in local public safety news with this weekly email.