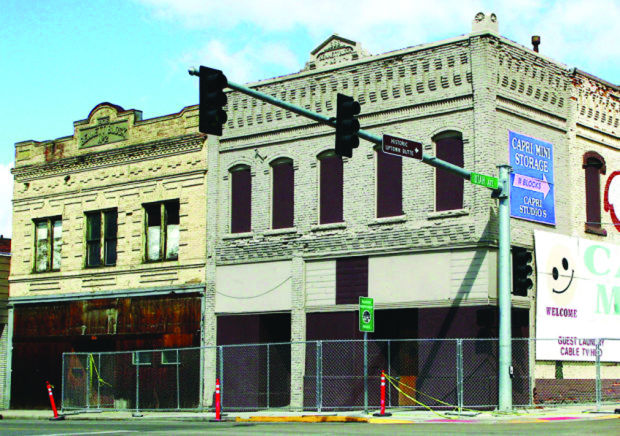 Demolition of the Brinck's and Deluxe buildings could begin within days, bringing a long and sometimes bitter saga over their fate to an end.
Chief Executive Matt Vincent is asking Butte-Silver Bow commissioners to sign off on a demolition plan that could cost about $58,000. If the council OKs the use of a private contractor for part of the work at its meeting Wednesday, demolition could begin the week of Feb. 24.
The council voted in October to have the crumbling buildings torn down, despite pleas by some residents to save them because they were historic structures at an entry point to Butte's famed Uptown at Front and Utah streets.
The Brinck's building was built in 1888 and the fate of it and the adjacent Deluxe building have been points of contention since 2009. They share a common wall.
Under the demolition plan, a private company would be paid up to $13,800 to provide a spotter and a crane capable of reaching the top portion of the buildings at 28 feet high.
The county's equipment reaches only 22 feet high, so the private one will be used to remove the top 10 feet of the buildings.
"That will allow us to be safe about it for the public and for the adjacent business owners and will allow us to salvage some historic pieces off the building such as the cast-iron cornices and the name blocks," Vincent said.
After the top portions are removed, county crews would do the rest of the demolition and hauling work.
A private firm could be paid up to $10,000 for asbestos removal, but Vincent said an employee with the county's Public Works Department has recently been certified in asbestos abatement and could help, so that cost could be cut in half.
Other costs have been penciled in for plywood and fuel for an excavator and loader and five trucks that would be used to haul material away. Fuel costs alone could top $23,000.
Despite pleas by some to save the buildings, the council voted 10-2 to have them torn down after no suitable plans by private developers to save and use them surfaced.
The council had rejected a proposal by Brian McGregor, owner of the Silver Dollar Saloon, saying it was incomplete. McGregor, during Wednesday's council meeting, said again that the buildings should be saved.
Jim Jarvis, Butte-Silver Bow's historic preservation officer, "reluctantly" recommended last fall that the buildings be demolished, saying Butte was home to buildings of greater importance.