On the west lawn of the Capitol building in Helena on Friday, a group calling itself Montanans for Freedom began a two-day rally protesting what they perceive to be violations of their Constitutional rights.
Some of the attendees came from as far away as Sidney for the first night of the "Montana Patriot Day" events. 
Local conservative activist Tim Ravndal, who unsuccessfully ran against Rep. Julie Dooling in this year's Republican primary for House District 70, served as a de facto master of ceremonies for the event.
"We're standing for our rights. You can join us," he said in an interview. "We're using the Constitution to our favor."
A George Washington look-a-like scheduled to address the crowd in character was unable to attend due to "an outbreak of smallpox" in "Valley Forge" but did deliver his performance over a phone speaker.
The presidential impersonator warned the crowd that unpatriotic individuals "live among us."
"It may be your neighbor. It may be those in power over you," he said.
Joel Tuttle of Sidney is a representative of the Citizens' General Congress. Tuttle read to the crowd a declaration and list of grievances he wrote. His grievances included taxes, the national debt, media conglomerates and the military.
"They have built up a large standing military while reducing the power and reputation of the people's militia," he said, adding, "I would say thank you to every soldier that has served ... it's unfortunate that politicians were put in charge of them."
The document containing Tuttle's words was signed by attendees and walked to the governor's office.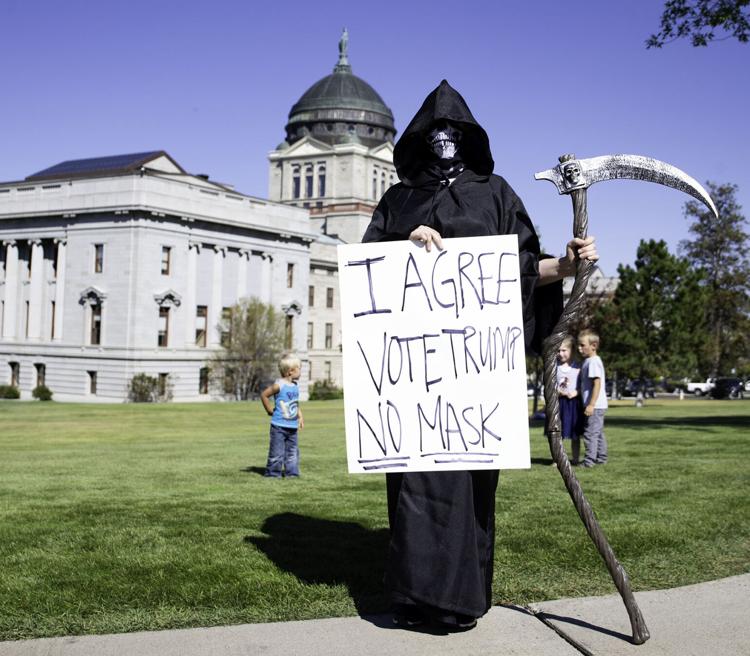 Helena resident Debra Brown said the event was important to her.
"We want to stand for freedom. We feel our freedoms are being trampled on," Brown said. "And we want to show the BLM what a peaceful protest looks like."
She said the order mandating the use of face coverings in public is only one of many oversteps by local, state and federal governments.
Brown said she is concerned about taxes, reparations for Black Americans, abortions, sex traffickers and the implementation of Sharia, an Islamic form of law, in Montana.
Rep. Theresa Manzella, R-Hamilton, also spoke to the protesters, warning them during an impassioned speech that other politicians are "stealing a whole bunch of our rights."
"The globalists who want to take us to Communism, that's what this is about," she said.
A barbecue was hosted at the intersection of Byron Road and Valley Drive for attendees.
"At the risk of getting in trouble with Helena health department (Lewis and Clark Public Health), I gotta say masks aren't required," Ravndal said.
The events continue with the screening of a movie titled "No Time to Run" about a woman who uses a Ben Franklin-made device to travel through time, become mayor of her small town and overthrow the federal government's plot to void the Constitution.
On Saturday, the group intends to host another rally at 9 a.m. at Memorial Park. Former Arizona sheriff Richard Mack, who heads the Constitutional Sheriffs and Peace Officers Association, was scheduled to be the keynote speaker. Organizers announced Friday that Mack would not be able to travel to Helena due to an injury but planned to deliver his remarks via a recorded message instead. 
The Montana Human Rights Network issued a statement labeling Mack as a "hero to the militia movement" and the weekend rally as an attempt to "ratchet up attacks on public health."
"The Montana Human Rights Network encourages community members to avoid the 'Patriot Days' events. With Montana's COVID-19 numbers continuing to rise, the last thing we need are events featuring speakers railing against public health measures as affronts to freedom," the statement says. "We should be raging against the spread of the virus, not heeding empty calls to patriotism that put more people in jeopardy."