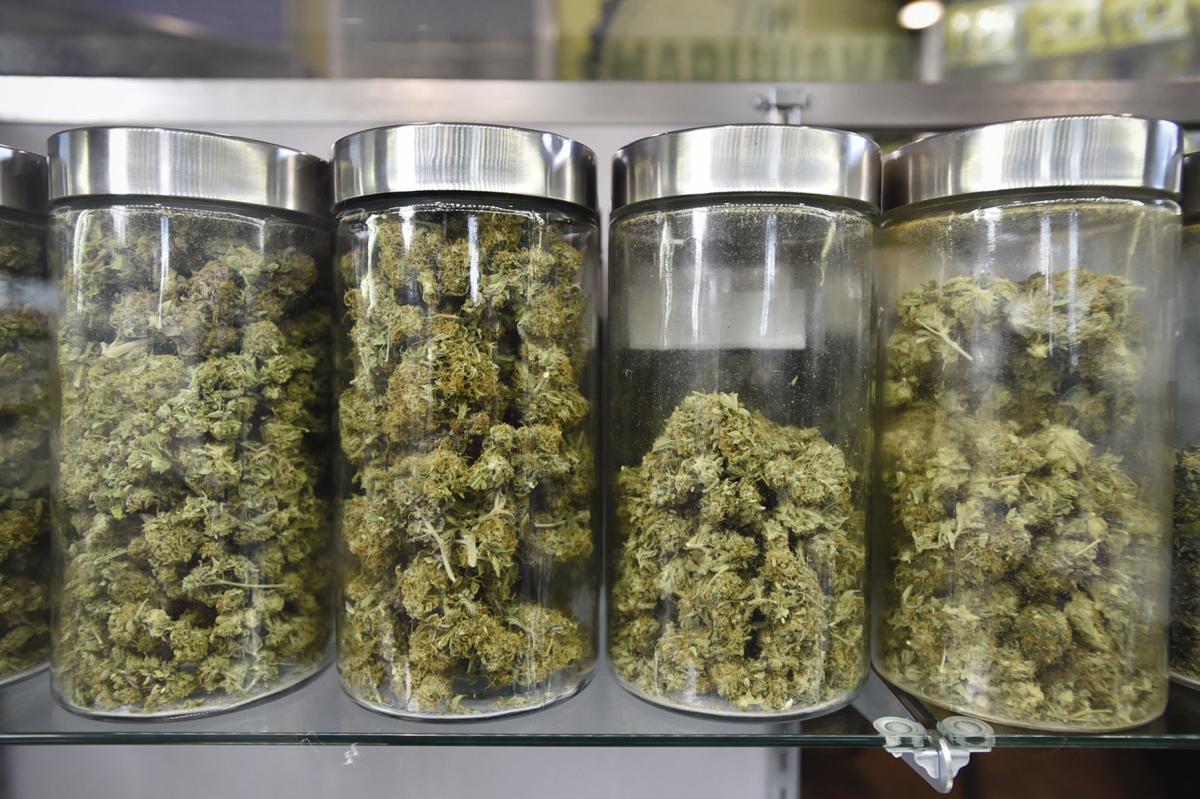 As expected by Montana lawmakers and medical industry players, a recreational marijuana ballot initiative has been submitted to state election officials for the 2020 ballot.
But whether voters will see a unified effort or dueling initiatives remains to be seen.
The first ballot initiative was submitted to the Montana Secretary of State on June 28 by MontanaCan. The Marijuana Regulation Act, or Ballot Issue No. 5, as it is currently titled with the Secretary of State's Office, would legalize recreational marijuana use, establish the state's duties in facilitating the industry, and establish tax revenue policies. The measure is now being reviewed by the state's Legislative Services Division.
Erica Siate, who heads up MontanaCan, told the Missoulian last week she submitted the draft at 4:20 p.m., although she said the timing was purely coincidental. She's worked for a number of medical marijuana providers in Montana. Her company, SD Consultants, hired a lobbyist to be on the ground during the 2019 for all marijuana-related bills.
MontanaCan believes it can gather the 25,000 signatures to get it there on a $500,000 budget raised within the Treasure State. 
"We're going to try to raise this money here in Montana," she said, "to make sure that Montana businesses that have worked really hard to stay in this industry (get a fair shot)."
Financing is arguably the biggest difference between MontanaCan and Coalition 406, another group aiming at recreational reefer in 2020. While Siate wants to home-grow the initiative, Coalition 406 has opened its arms to national groups with deep pockets.
"You look across all the states" that have passed recreational measures, said Pepper Peterson of Coalition 406. "Those who are willing to work with the national groups are usually the ones who rise to the top."
Peterson said "from Day 1," his outfit was in contact with the Marijuana Policy Project, a national advocacy group that spearheads such measures at the state level, and claims on its website to have played a leading role in legalizing marijuana in 11 states with drafting, funding and staffing.
Peterson is also a representative for the National Mining Association of Montana, and says he has deep experience working in the capital in Helena. He said Coalition 406 is still six to eight weeks from rolling out the language for its own measure, but he believes getting it on the ballot, with a communications office, field staff and fundraising events, will cost closer to $3.5 million. 
So while Coalition 406 will seek out donors from Montana, "every state in the union that has had a major marijuana legalization initiative, it has happened because the national groups have brought in the money needed," Peterson said.
Boiled down to their basics, both groups' measures have similarities: tax recreational marijuana about 15%, and lower or eliminate the tax on medicinal marijuana; build from the medical marijuana program and protect those providers from the large-scale retail shops that would flood the state if recreational passed; and maintain the state's tracking system to ensure weed isn't flowing in from or out to the black market. 
Things start to stem with each group's premier planks. Coalition 406 wants to make the initiative a veterans' issue. In a guest column published in the Missoulian last month, state Rep. Jacob Bachmeier, D-Havre, praised Coalition 406 for putting veterans' needs up front. Former military members are currently denied medical marijuana because of the Veterans Administration affiliation. With marijuana considered a controlled substance by the federal government, VA doctors are not allowed to prescribe it to veterans.
Coalition 406 has put out surveys and held focus groups "around the state" to get input on developing their measure, Peterson said, although those were held in four major cities: Billings, Bozeman, Helena and Missoula. 
MontanaCan, on the other hand, which has been holding weekly conference calls with stakeholders, is pushing recreational marijuana as a proponent of health and safety; a way to ensure marijuana is tested and approved in ways that the black market, and even states with recreational measures, can't or haven't offered before. 
As an advocate reaching out to experts in other states, "You hear horror stories," Siate said.
Siate identified Montana State University experts as some of the best in the country on research for both pesticides and hemp. She believes MontanaCan's measure could build on that momentum to make Montana a leader in safe testing protocols, starting with conducting blind tests of product.
"I believe in Montana agriculture and in Montana, and I think we've got a lot of really smart people in this business," she said. 
Whether recreational marijuana is even going to pass seems like a foregone question to both Siate and Peterson. A University of Montana study found 50.5% of the 293 responses supported legalization, while 37.4 opposed it. The study had 80% of Democrats in favor of legalization, as well as 33% of Republicans.
Sen. Diane Sands, a Missoula Democrat, put forth a bill this session to study recreational marijuana ahead of the expected 2020 ballot measures. That proposal died in committee. 
"There's a train coming down the tracks, but I want to be able to say, 'I told you so' (if marijuana is legalized)," Sands said in March. 
Another pro-marijuana committee, Montanans for Sensible Drug Policy, has registered for 2020 with the office of the Montana Commissioner of Political Practices. Anthony Varriano, the group's treasurer, put forth a recreational measure in 2016 but fell about 10,000 signatures short of the required number to reach the ballot. Varriano did not return a phone call Friday seeking comment on any upcoming efforts.
Opposition in place
Safe Montana, a group headed up by Billings businessman Steve Zabawa, led a charge in 2016 against an initiative to revive the state's medical marijuana program with a counter-initiative to allow voters to appeal the medical program. His initiative failed to gather enough votes to reach the ballot then, and it's unclear if he will take a stance on the recreational issues in 2020.
Zabawa did not return calls by the Missoulian last week; his voicemail was full so a reporter could not leave a message seeking comment. 
"If we increase the number of people that are driving impaired on the roads in the state of Montana, we are going to increase homicide," MHP Sgt. Kurt Sager told the legislative committee.
Changing landscape
Peterson said, in part, Coalition 406 is taking its time crafting its message to prepare for new faces at the Capitol after the 2020 elections, from the governor's office to the legislative leaders who would be charged with implementing a ballot initiative if it passed.
"We're going to have a new governor, he's going to have a say in that process," Peterson said.
It could all go up in smoke, however, if two ballot initiatives split voters into a fatal fracture. For now, neither MontanaCan or Coalition 406 sounded willing to give up ground on their own proposals, but each said it would welcome the other aboard.
"We're always hopeful people will coalesce, and that other activists will come on board," Peterson said.
"Nobody wants competing initiatives," Siate said. "It doesn't really seem as if they wanted to cooperate yet, but we hope they will."