Hundreds of people gathered in Missoula's Kiwanis Park on Monday as the moon ate 92 percent of the sun, chilling the smoke-filled air. It was a scene repeated around the region, at the Ewam Garden of 1,000 Buddhas in Arlee, outside the North Lake County Public Library in Polson, at Bitterroot College in Hamilton — anywhere that offered a glimpse of sky.
Solar eclipses are slowly majestic. In Kiwanis Park, people came prepared for the 2 1/2-hour event with snacks, coffee and blankets laid out on the wet grass. The sky was filled with smoke that nearly obscured the peak of Mount Sentinel as the sun disappeared into a small crescent.
Stefanie Henry, meteorologist at the Missoula National Weather service said Missoula saw a drop of about 2 degrees Fahrenheit during the eclipse, not a staggering amount but enough that it felt cooler while the eclipse was reaching its greatest coverage.
A line for the last remaining pairs of eclipse glasses was up to several hundred people at 10 a.m. with some arriving at the Missoula Public Library by 9 to get a pair.
Ira Sather-Olson, the senior Maker Space associate at the library, was shocked at the length of the line. "We did not expect it to be this crazy," Sather-Olson said as the library ran out of eclipse glasses with a few hundred people left in line.
"I wish we had more, and we've given out, like, 1,500 glasses since Aug. 1," Sather-Olson said. "We were definitely not expecting this (event) to be this well attended."
Kim and Phat Hoang were on the way to Coeur d'Alene from Calgary and decided to spend the morning watching the eclipse in Missoula with their family. "We knew about the eclipse, and we were excited to see the library putting on this event," Kim said.
Andrea Rogalski rush-ordered eclipse glasses from Amazon to watch the eclipse with her family. "If I hadn't, they would have come in tomorrow," she said.
Marc Binney, vice president of the Western Montana Astronomic Association, was doing outreach at the park during the eclipse. The rest of the association was out in the path of totality, leaving Binney in Missoula handling a specially filtered telescope that drew another large line as the eclipse began.
"The smoke won't affect the view," Binney said. "The smudgy look you see is all refracted light," which means the glasses will offer an even clearer view because that much more light is being stopped before it hits the glasses.
Buddhism doesn't ascribe particular qualities to a solar eclipse, but it does provide a great place to watch one take place over Montana.
At the Ewam Garden of 1,000 Buddhas just north of Arlee, about 20 Buddhist practitioners gathered for a feast and ceremony with Namchak Khen Rinpoche, the resident abbot of the garden. After sharing food and prayers in the garden's gompa, or ceremonial room, they walked to the top of a low hill in the middle of the Jocko Valley.
"The Buddha said during an eclipse there are two ways to go — it can be a good or bad sign," Khen Rinpoche said through translator Kelsang Dorje. "During an eclipse, if you cultivate positive merits they will multiply. But negative merits will multiply, too. So it's a very good time to pray."
Khen Rinpoche recalled his parents telling him about an eclipse that took place over Tibet, where he was born. He said it got so dark there, birds thought it was night and stopped singing, while stars came out in the daytime sky. He also told of a Hindu story where the demigod Rahula swallowed the sun, and Shiva took a sword and cut Rahula's throat to restore it to the sky.
The mountains of the Rattlesnake Wilderness didn't dim, but the temperature on the hilltop noticeably dropped as people congregated around the "lungtha" prayer flags at the summit. Viewers shared looks through their glasses and filters, as well as a couple of peephole camera boxes. At the beginning of the totality, Khen Rinpoche led about 20 people in the Prayer of Kuntuzangpo, which calls on practitioners to open their awareness and seek improvement for all:
"During a solar or lunar eclipse
During an earthquake, or when the earth rumbles,
At the solstices or the new year,
You should visualize Samantabhadra (the primordial Buddha).
And if you pray loudly so all can hear,
Then beings of the three realms will
Gradually be liberated from suffering."
"I really wanted to do something special for the eclipse, and this was about as special as it comes," Kris Henderson said as she walked up the Ewam Garden's "lungtha hill," toward a set of four statues memorialized Buddhist master teachers. "There's nothing like coming out of this side of darkness with a little more love and kindness."
Afterward on her way down from the hilltop, Henderson found an orange-winged dragonfly looking dead on a stalk of grass. She picked it up and held it in the palm of her hand, thinking she would release it at the gompa's garden. As the moonshadow receded, the air began to warm up again.
"I could feel him buzzing around in my hand," Henderson said. "He came back to life."
You have free articles remaining.
In Polson, the North Lake County Public Library in Polson had 875 pairs of eclipse glasses specially delivered from NASA to hand out Monday morning.
It took about 15 minutes for all of them to be claimed.
Hundreds started lining up at 8 a.m. to get their pair of glasses needed to watch the moon cover about 90 percent of the sun in a once-in-a-lifetime event.
"It was a much bigger success that we ever anticipated," said the library's assistant director, Abbi Dooley, who organized the event.
The library received a NASA grant that included 1,285 pair of eclipse-viewing glasses and a variety of other educational materials. They gave out 400 pairs a couple of weeks early and saved the remainder for Monday's block party.
"I thought if we could get 500 people to come here for our block party, it would be really, really nice," Dooley said. "As it turned out, people really wanted these glasses. For the last week, our phone was ringing off the hook from people asking if they could get their glasses early. Some weren't very happy that they had to wait."
Chuck and Dee Adams of Polson shared the spot of number four in line after arriving at about 8.
"We wanted to be sure that we weren't going to miss out," said Dee Adams, as she leaned back in her chair and looked skyward. "You know, it's already started. There's a lot of excitement here. People are really enjoying this."
A smiling Chuck Adams said his wife was a little upset with his lack of urgency this morning.
"She kept telling me that we have to hurry," he said. "I was in the service. I know what lines are."
The library had the street blocked off for the event. Several hundred gathered there to share the experience as the sky darkened and temperatures dropped.
Nine-year-old Indica Moens had been looking forward to this day for weeks.
"I wanted to make sure that she didn't miss it," said her great-grandmother, Mary Parsons. "We got here at 10:30. They were already out of glasses. I wasn't quite sure what we were going to do."
Inside the library, they met a mother with a group of young children who happened to have an extra pair.
"They were sharing and so they gave us a pair," Parsons said with a smile as she looked over at her granddaughter staring into the sun. "It all worked out just perfectly."
Standing at the back of the crowd under a wide-brimmed hat, Sharon St. Lawrence patiently watched as the moon slid over the sun and day turned to dusk as temperatures dropped 5 to 10 degrees.
"I don't know really what it is, but it does feel both emotional and spiritual and just amazing at the same time," she said. "I read somewhere that it was a good to be just in the moment and not worry about getting a picture or anything like that. That's exactly what I'm trying to do."
Despite smoky skies, Bitterroot College drew 800 people for its NASA-sanctioned eclipse viewing party Monday. And the smoke didn't interfere with with intersection of sun and moon seen through telescopes and special eclipse glasses.
"We are so happy," said Jennifer Johnson, the event's safety officer. "The scopes are working and everyone is really enjoying themselves. We have a lot of people that are … interested in space and science today."
With 550 registered curious viewers and more than 200 people dropping by the event, it was an organized and calm and celebration.
With Star Wars music blasting, Johnson counted down the apex of the eclipse.
"If you want to kiss your neighbor that's fine," she said.
"You're looking at your star in one of its rarest forms," Johnson said. "This is a wonderful event that you'll talk about for the rest of your life. Woo hoo!"
Namchak Khen Rinpoche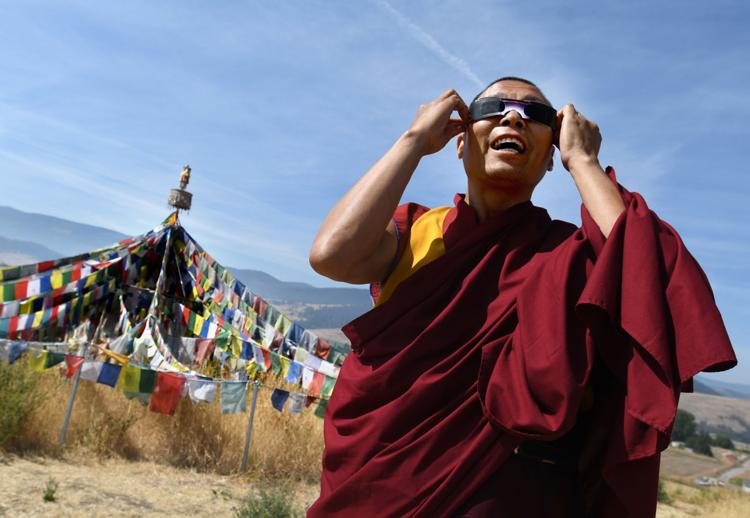 Solar eclipse in Jocko Valley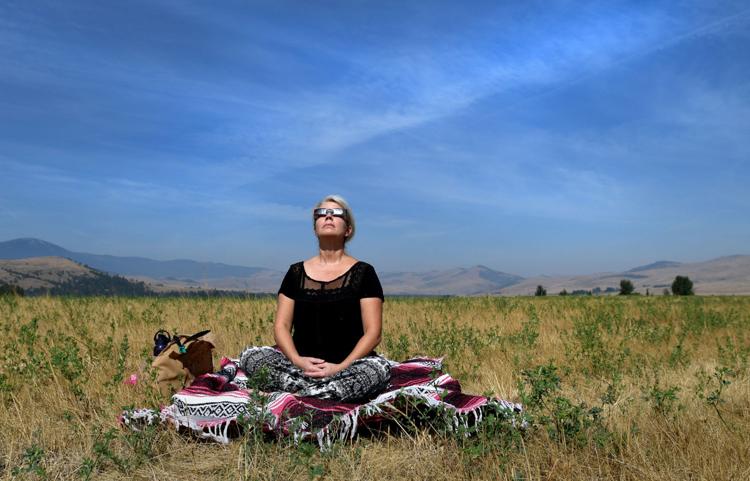 missoula eclipse viewing 01.jpg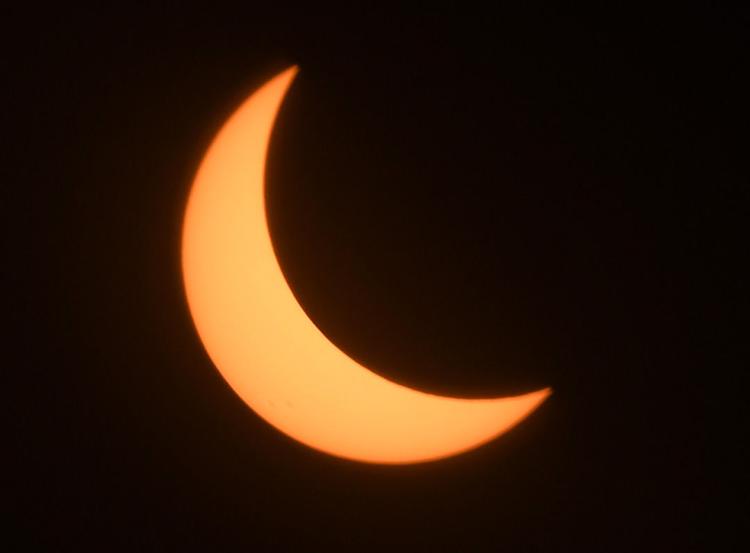 missoula eclipse viewing 03.jpg
missoula eclipse viewing 04.jpg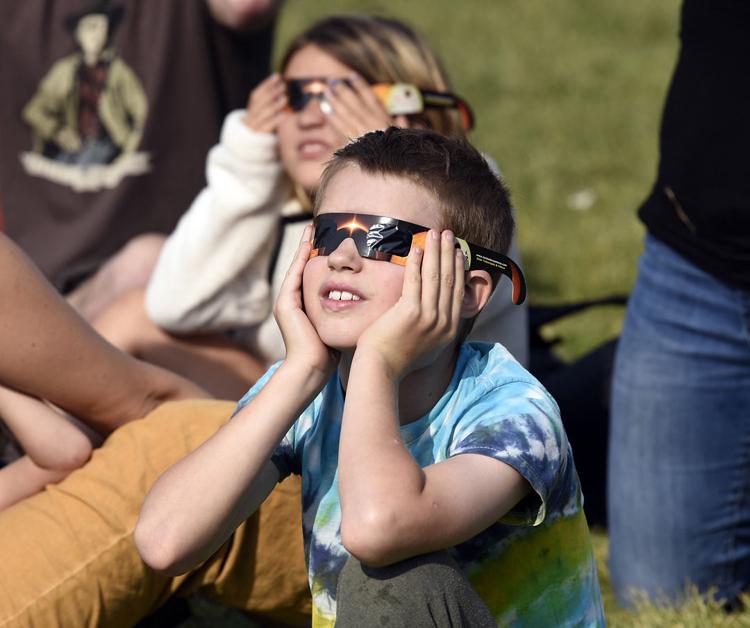 missoula eclipse viewing 05.jpg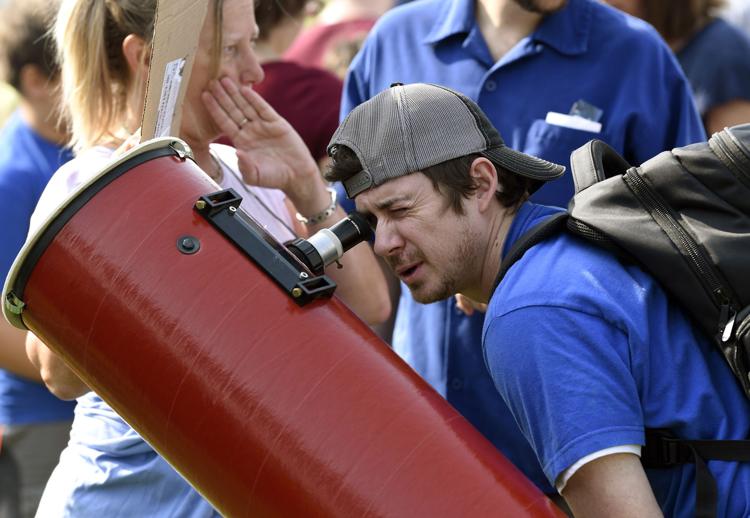 missoula eclipse viewing 02.jpg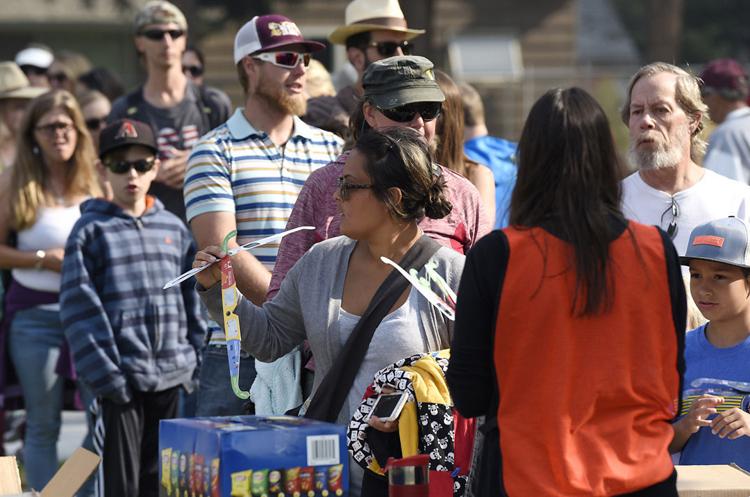 missoula eclipse viewing 06.jpg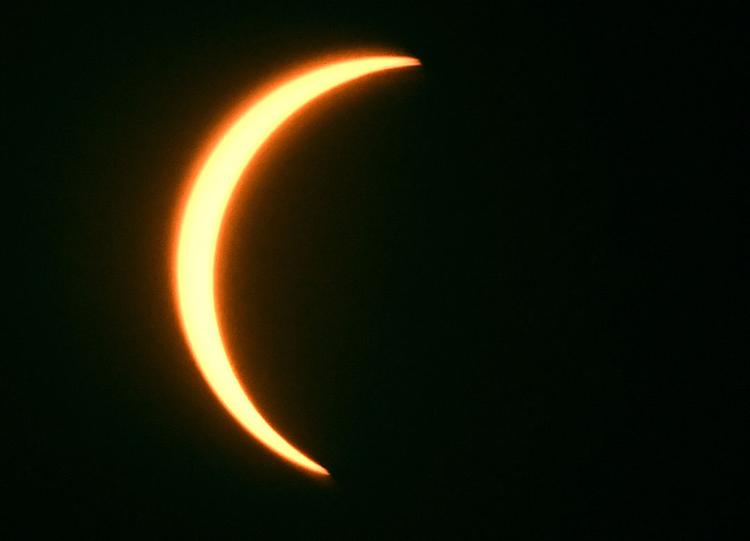 082217 eclipse buddhists4 kw.jpg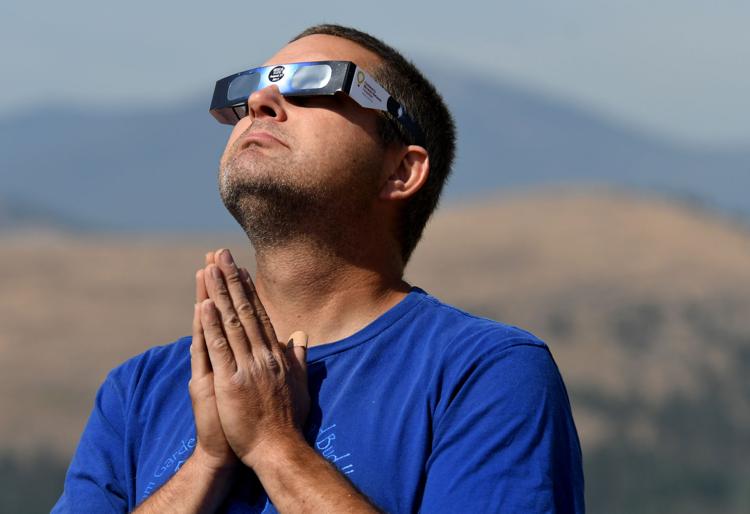 missoula eclipse viewing 07.jpg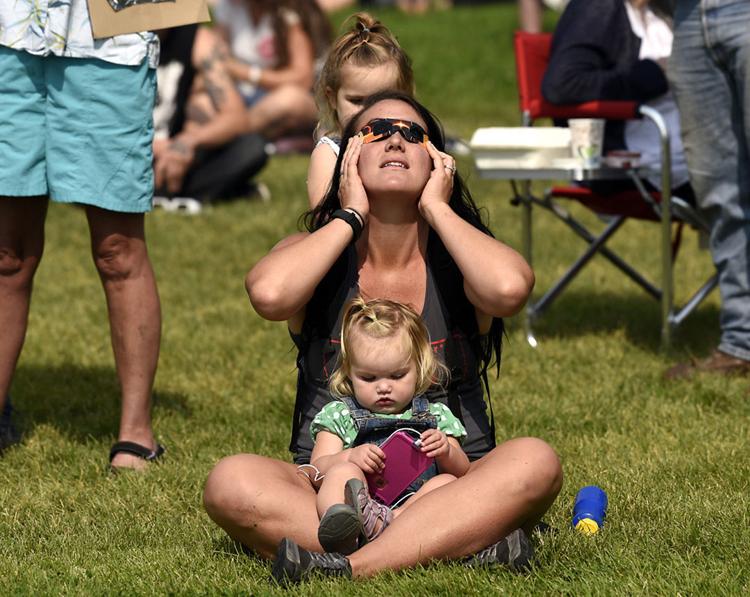 082217 eclipse buddhist3 kw.jpg
missoula eclipse viewing 08.jpg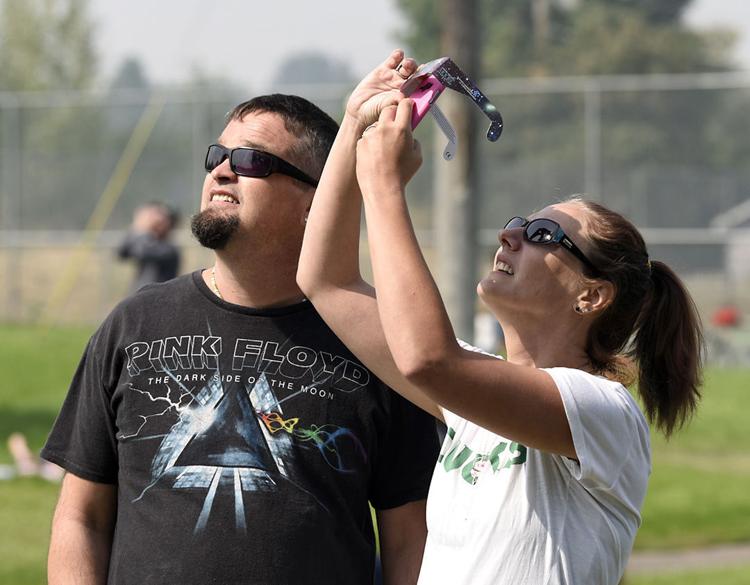 missoula eclipse viewing 09.jpg
missoula eclipse viewing 10.jpg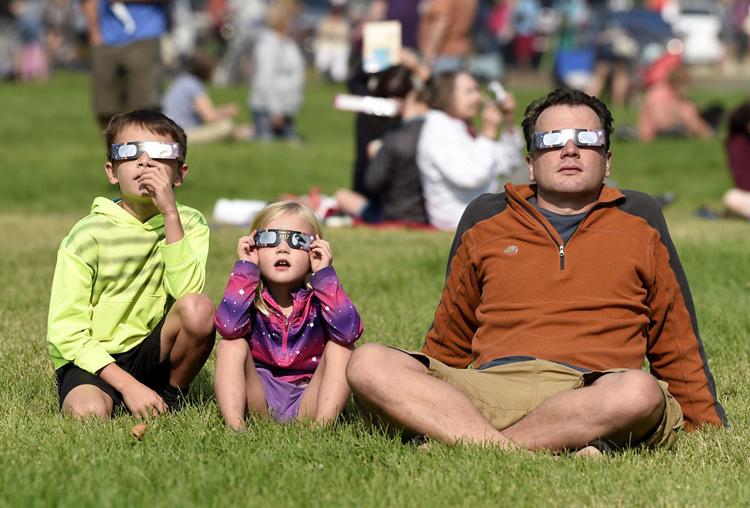 missoula eclipse viewing 11.jpg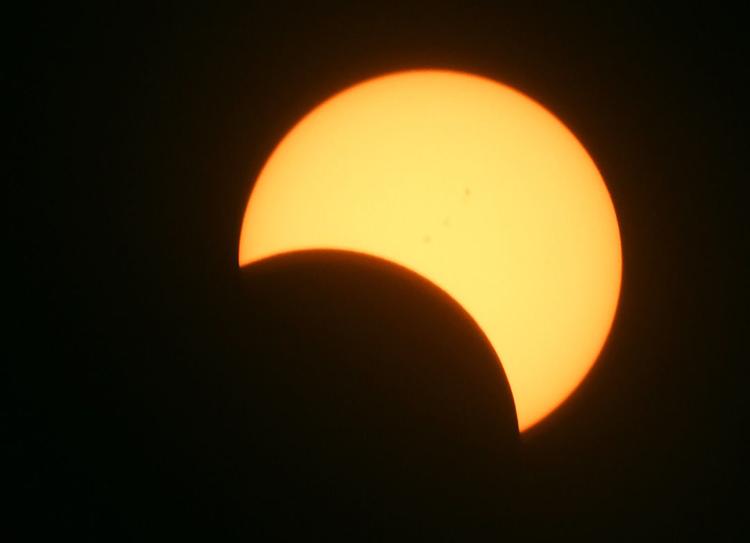 Shadow of the moon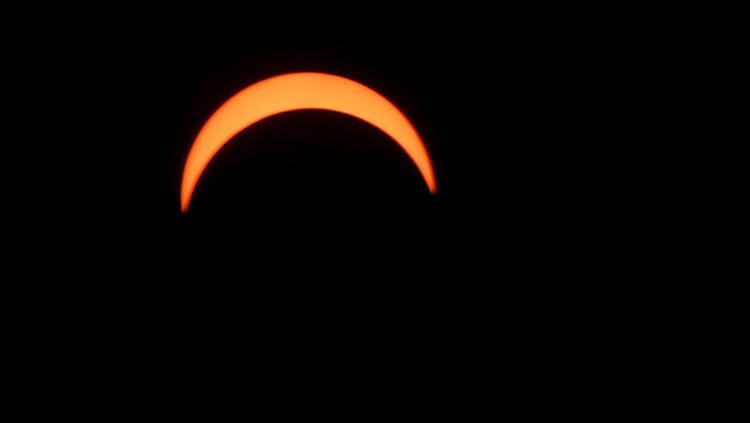 bitterroot college eclipse 01.jpg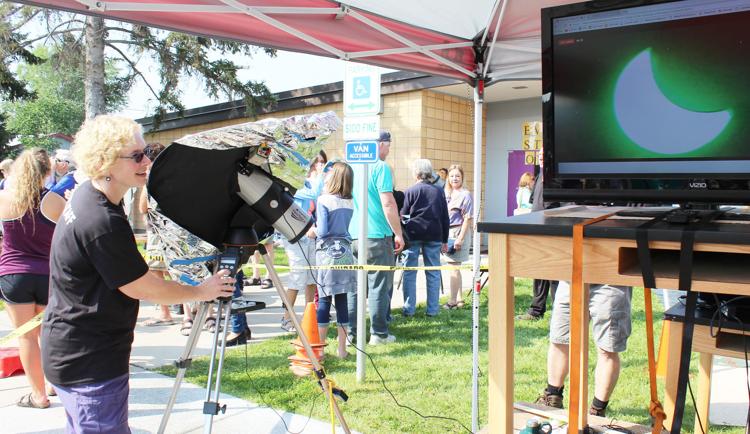 bitterroot college eclipse 02.jpg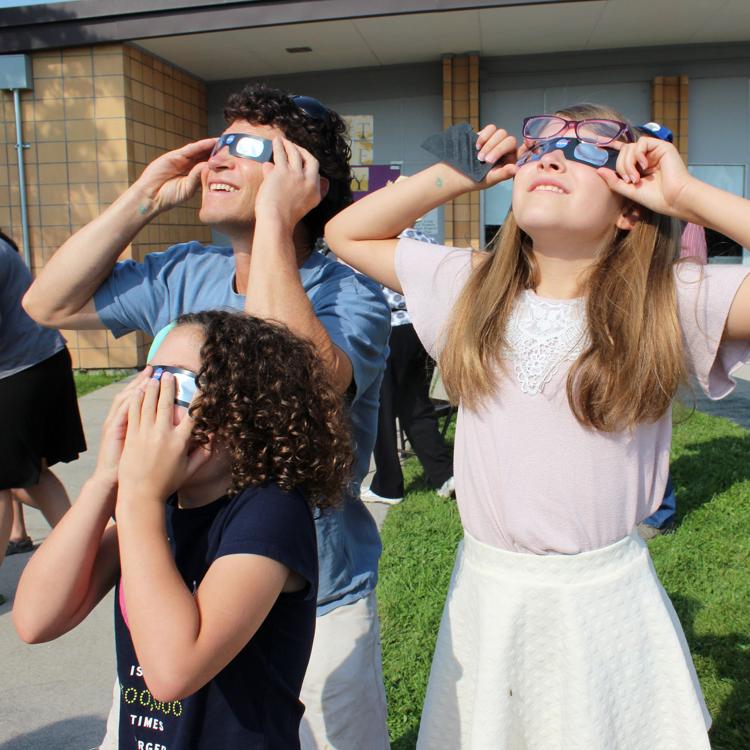 bitterroot college eclipse 03.jpg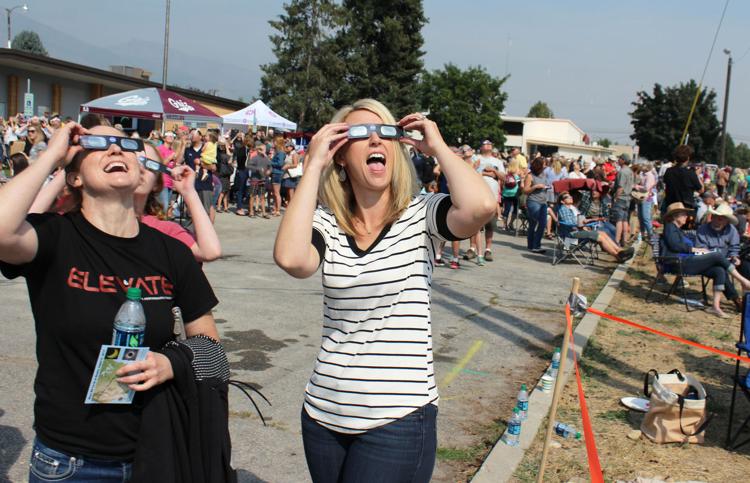 bitterroot college eclipse 04.jpg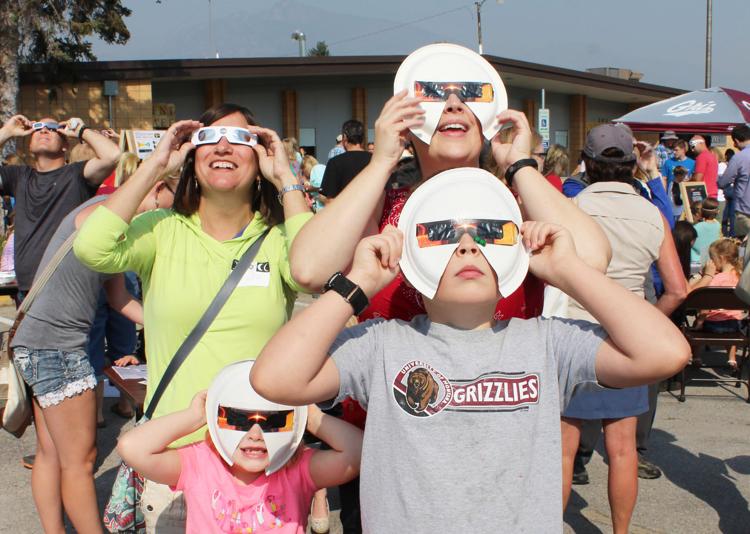 bitterroot college eclipse 05.jpg