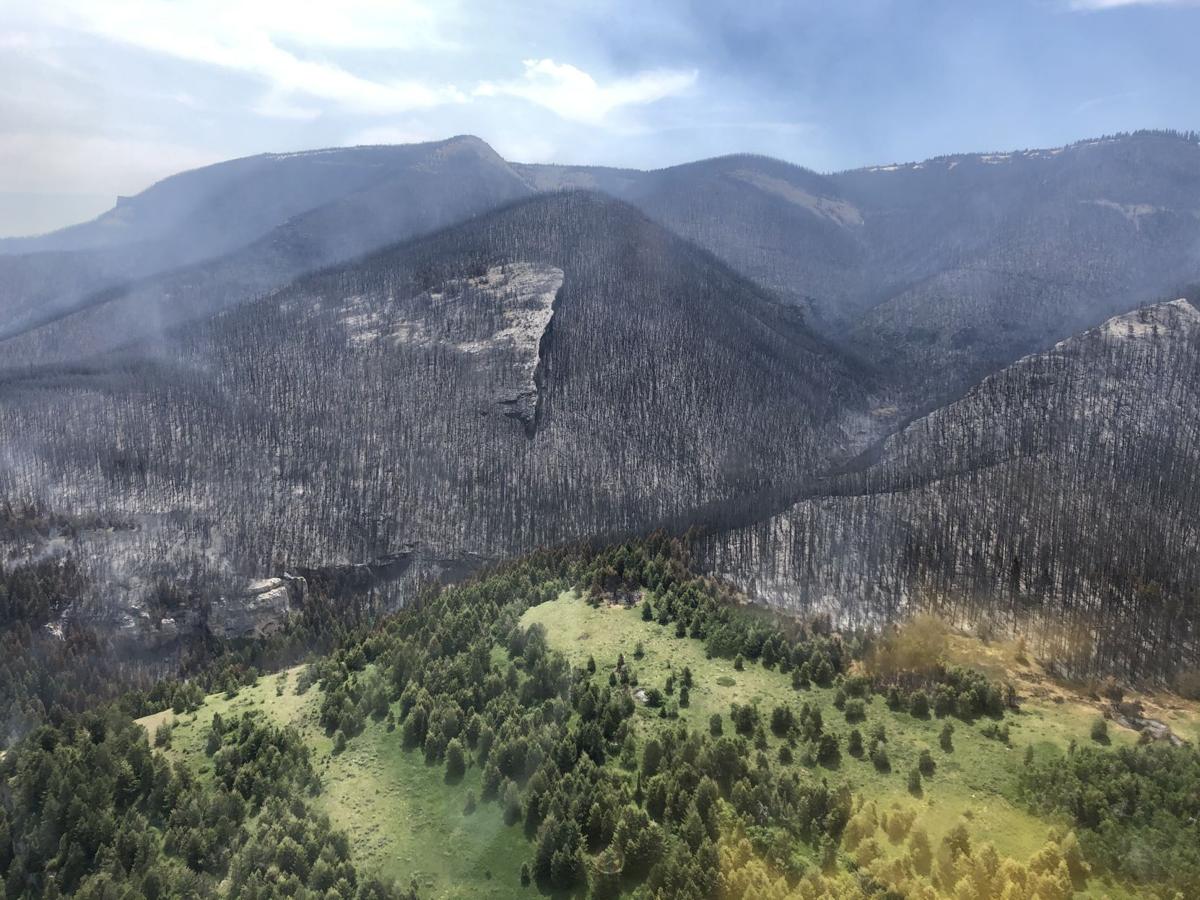 Fire officials on the Robertson Draw and Crooked Creek fires have begun to report containment gains on the wildfires that began burning last week and the incident management team handling the Robertson Draw fire is expected to take over command of both fires on Monday.
Some evacuation warnings for the Robertson Draw fire were also rolled back Sunday night in a 6 p.m. announcement from the Custer Gallatin National Forest.
Evacuation warnings were lifted for North and South Grove Creek, Ruby Creek and Robertson Draw east of Highway 72. Road access in those areas remains restricted to local traffic. Areas south of Red Lodge along the east side of Highway 212 remained under evacuation warning Sunday evening.
Incident management of the Robertson Draw fire is being handled by the Northern Rockies Type 2 Incident Management Team No. 4 under incident commander Bryan Jenkins. Crooked Creek incident command is currently under a Type 3 Incident Management team with commander Shawn Gettings. As of Sunday there were a combined 521 personnel assigned to the fires, with about 300 of them assigned to the Robertson Draw fire.
"It would have to do with the proximity and there's also some efficiencies," said Al Nash, a Bureau of Land Management information officer assigned to the Crooked Creek fire explaining the move to consolidate incident management of the fires. "It makes it easier for them to share available firefighting resources between the two fires and it means you have one incident commander and one operation section chief."
"I don't know that they're going to be calling it a complex," Nash said, referring to when two or more wildfire incidents are ongoing in the same area.
The Robertson Draw fire, estimated Sunday morning to be 29,437 acres, was reported to have 13% of its perimeter contained. That's the first time any containment has been reported on the fire, which began burning on the afternoon of Sunday, June 13. At that point in time the fire was estimated to be about 20 acres.
Containment was defined in a Sunday morning Robertson Draw fire update as "having constructed or utilized a line along the fire's edge to stop fire spread." 
A total of 296 firefighting personnel have been assigned to the fire, which is 7 miles south of Red Lodge. The National Geographic Area Coordination Center, a subset of the National Interagency Fire Center, reported Saturday that the Robertson Draw fire costs to date had reached $3.2 million and 26 structures had been lost.
A Sunday morning fact sheet issued by public information officers on the fire described the containment as being on the east side of the fire, where crews continued to patrol and cool down remaining heat pockets.
"They're feeling really confident on the east side," said Billy Chapman, a U.S. Forest Service public information officer on the fire, speaking before 5 p.m. "They're still pretty worried about that western side. Not necessarily because the fire's pushing in that direction, but because of the values at risk."
Those include ranches, homes, summer cabins and a geology camp.
The estimated size of the Robertson Draw fire increased by 1,881 acres from Saturday evening to Sunday morning. That increase was due to improved mapping. Chapman explained that sagebrush burns hot and fast enough that it can cool down before infrared flights take off for overnight mapping, meaning that those areas have to be mapped by people on the ground surveying the area.
There was some precipitation over parts of the fire Sunday, and more wet weather could return later this week. The expectation however is that thunderstorms Thursday and Friday could bring lightning strikes. In the meantime, firefighters are anticipating temperatures to rise as the week continues.
"We're going back into a hot and dry trend," Chapman said. "This was just a small, little break. And the next precipitation we get is going to probably have some lighting come along with it."
The National Weather Service in Billings is expecting temperatures in parts of the region to warm up into the low 90s to upper 80s by Tuesday.
Fire officials on the Crooked Creek fire are concerned about the long-term hot and dry weather pattern in the forecast. Nash with the BLM said some of the upcoming weather is less conducive to containment progress. 
Burning in the Pryor Mountains of Carbon County near the Crow Indian Reservation's southern border about 25 miles east of Bridger, the fire is burning primarily in timber litter and understory. 
As of Sunday evening Nash said there were no reported increases to containment or acreage on the fire.
"It certainly was beneficial," Nash said of the cool, wet weather Sunday. "Tomorrow we're supposed to be warmer, back up to the 80s here in Billings, so we're going to back into a warmer, drier period."
A Saturday evening update on the Crooked Creek fire put containment at 20 percent and the fire's estimated size at 5,400 cares. That containment estimate represents a doubling of containment from the previous 24-hour period, according to BLM.
The fire grew about 200 acres on Saturday amid hot and windy conditions.An update on the fire described the direction of growth as east. One outbuilding was destroyed by fire Saturday.
A total of 221 personnel have been assigned to the fire, and pre-evacuation warning notices for 25 primary residences in Sage Creek remained in effect as of Saturday evening. The fire remains "well northwest" of the Pryor Mountain Wild Horse Range, according to BLM.