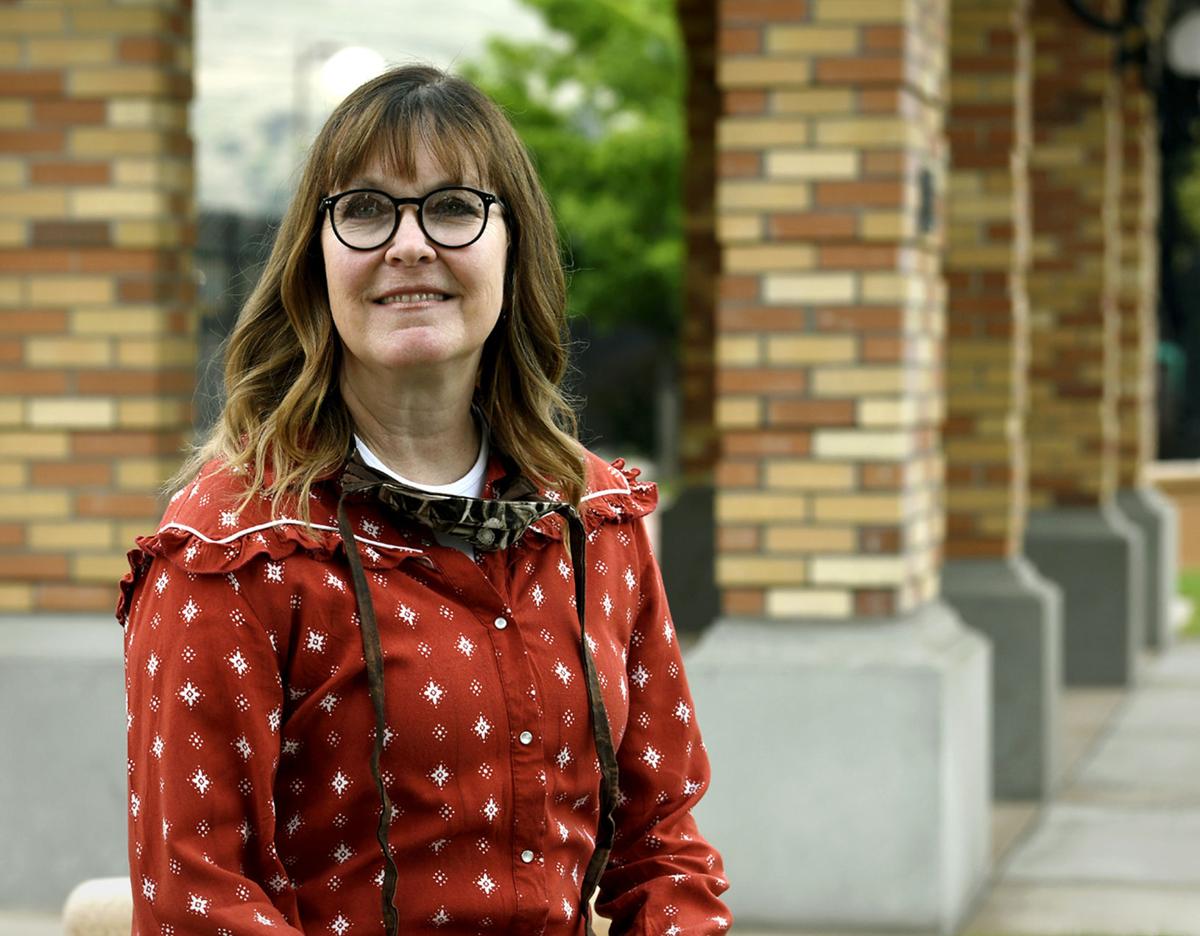 Powell County's public health officer calls it quits after rodeo boosters confront her and temporarily block patient access to the Deer Lodge Medical Center.
Mineral County's community health specialist, the face of COVID-19 response in the county, tries hard not to take personally the insults that have become just that.
"I'm being broken down into what I look like and how many times I say 'um,'" Amy Lommen said last week.
"I'm probably the most hated person in six counties, which is fine. I can handle it," said Megan Spry, sanitarian for the Central Montana Health District that serves Fergus, Golden Valley, Judith Basin, Musselshell, Petroleum and Wheatland counties. Of the six, Judith Basin and Petroleum have reported no COVID cases. The other four have a combined 10. 
It's a story resounding across the nation and the state. But in Montana's rural areas, where it's hard to blend into a crowd anyway, tensions and confrontations are escalating between those whose jobs are to keep people safe from the coronavirus and those who think they go too far.
Many of the smaller counties don't fall under the mask mandate imposed Thursday by Gov. Steve Bullock, which applies to only those with four or more active COVID cases. On Friday, the number of counties with no reported cases at all stood at 11, down six from a week earlier. Two remain in western Montana — Powell, the most populated of the bunch with roughly 7,000 people, and Mineral County, population 4,300.
Seven of the COVID-free counties east of the divide have fewer than 2,000 people.
"We are incredibly rural, and that truly makes a difference," said Spry. "The other aspect of it is we're not along the interstate where a lot of tourists are stopping to get gas and food."
"There's a little bit of luck involved" for a county to go this long without a COVID-19 case, Jim Murphy, chief of the state's Communicable Disease Bureau, said.
"You haven't been to the wrong wedding or the wrong baby shower. What it does for us is it supports the idea of social distancing. You have the best example you can have of the strength of social distancing in some of these smaller counties."
But despite the absence of the virus, or maybe because of it, county health officials have come under increasing pressure to approve applications for rodeos, fairs and festivals, the summer lifeblood of so many Montana communities.
"We're concerned with public health. We care about people," Dr. Lori Drumm of Deer Lodge told the Missoulian. "We're not there for politics, we're not there for economics. We have to keep people safe, first and above all."
Drumm is a family practitioner at Deer Lodge Medical Center and, for just two more weeks, Powell County's state-mandated public health officer.
She handed in her resignation, effective Aug. 1, after a July 6 confrontation at the hospital.
What she thought was going to be a meeting with the three county commissioners to explain "why we made some of the decisions we did," turned into something much different, Drumm said.
What Drumm called an "angry group" of eight to 10 people came to the hospital on the day of the meeting.
"They'd heard there was going to be no Tri-County Fair, that we'd limited it to 4-H events for the kids," she said. "We especially didn't want other events that would crowd people in. One of those events was the rodeo."
The mid-August event serves the county fair for Granite and Deer Lodge-Anaconda counties, as well as Powell. 
Drumm said those in the angry throng "had their own personal agenda, waving the Constitution and basically entering the facility where we were screening to keep the people coming into the hospital safe."
Witnesses told the Silver State Post the group didn't disperse until Commissioner Dan Sager arrived, after which Sager and two Deer Lodge businessmen met with Drumm. It did not go well.
The three men "were trying to intimidate Dr. Drumm into changing her declaration on the Tri-County Fair," Marianne Saylor, Powell County's public health nurse, told the Deer Lodge newspaper. "We are firm in that declaration and explained our reasoning to them, which they did not want to hear."
For Drumm, it was the final straw.
"I was very concerned that a group came in an angry way to a hospital setting," she said. "It was very unexpected."
She has listened to complaints about COVID-inspired restrictions at council meetings, always trying to reinforce the point that she and Saylor were adhering to the governor's guidelines and nothing more. And she's heard from her patients about the unflattering comments directed at her on Facebook, though Drumm said she chooses not to read them herself.
"But now they're infringing on my place of business and potentially endangering the (hospital) and blocking patients," Drumm said. "I can't control their behavior, but I can control what I do. I thought about it that night and decided I can't let it happen again."
She announced her resignation as public health officer the next day. Drumm said she will carry on her work as a physician and will work behind the scenes with Saylor and whoever the health board or commissioners appoint as her successor.
Sager didn't return requests by the Missoulian for comment. He told the Silver State Post he was interested in how health guidelines implemented by the governor were being applied by to event applications by the county.
"There's always some things we see different," Sager said. "We look at the economic value of what we're losing and public safety looks at the health, but ultimately it is the health and safety of the citizens that is the Number One factor."
He and his fellow commissioners support health department officials, Sager added, and "will follow what they decide."
Lincoln County had a jump in new COVID-19 cases early last week and cases in Lake County spiked a day or two later. Sanders County slid off the no-COVID landscape as well.
"We're on our own little island now," Lommen said of Mineral County. "Now more than ever, even though it's not a mandate, we're hoping people will continue to carry on those best practices like face coverings, hand washing and social distancing."
Since March, Lommen has been persistent in spreading that gospel on Facebook, in the local media and in information videos online. Most people are in her corner, she said, but there are those who aren't, and aren't afraid to say so.
"It's really hard not to take it personally, because they are personal attacks," Lommen said. "But when you understand that the way the public is reacting right now is not any different from how people reacted to epidemics and pandemics for hundreds of years. For us going through it the first time, though, it really is shocking."
While Interstate 90 splices Mineral County from the Idaho border to Alberton, almost all the rest of its 1,220 square miles is public land.
"We have plenty of room to social distance out here," Lommen said.
She credited Bullock's swift response to the COVID-19 threat that "drastically reduced the potential spread."
Organizers of large events such as the Superior Lions Club Rodeo and the Mineral County Fair scheduled for July 30 through Aug. 1 have pulled the plugs themselves or, in the case of the fair, modified it to a 4-H event.
"Ultimately it's been those organizations that are deciding," Lommen said. "There are a million reasons why but I think, bottom line, people don't personally want that responsibility of knowing they hosted an event where a breakout could potentially occur. They're also looking at the extra planning that goes into it.
"Sometimes they say the health department canceled us. That works."
A busy travel center alongside I-90 at St. Regis earned Mineral County the state's designation as a Gateway Community for tourism. That opened up funding for surveillance testing in four Mineral County towns for asymptomatic carriers on June 22 and 23.
"We tested 412 people, 10% of the county, and they all came back negative," Lommen said.
It made people like Patty Sayler more comfortable. Since the COVID-19 outbreak Sayler and others have been handing out lunches at noon on Tuesdays and Thursdays at the Alberton Senior Citizens Center, then shooing their guests out the door to eat at home. Attendance has dropped but there's a core of 20 or so loyal regulars, most of whom wear masks.
"It's been hard," Sayler said. "These senior citizens are 80 years-plus. They come to visit with friends whether they get a meal or not."
As the weather warmed up, some have started taking their meals to picnic tables outside.
"There's no social distancing out there," Sayler said. "I tell them, 'Out,' but once you're out the door you're not my responsibility. You have to have a little humor in things."
It's not a goal to have zero cases in Mineral County.
"While that is the best-case scenario, it just isn't the reality of the situation," Lommen said. "Montana has been very fortunate to have so few cases, but we expect those case counts to increase."
Indeed, it's probably just a matter of time. Next-door neighbor Idaho was one of 18 states placed in a "red zone" in an unpublished report distributed last week by the White House coronavirus task force.
In central Montana, the Central Montana Fair in Lewistown decided to cancel its night shows and focus on 4-H activities. But Harlowton and Roundup both pulled off Fourth of July rodeos under health department guidelines. 
"They estimated around 3,000 people showed up in Harlow, which was way more than expected," she said. "The undersheriff there, Randy Cameron, is our (director of emergency services) and he was in charge of making sure people were staying safe. So far we haven't seen an influx of cases."
As sanitarian for the Central Montana Health District, Spry is in charge of ensuring events, businesses and schools are in compliance with the governor's directives and for calling on law enforcement when they're not.
She said she's received "some pretty angry voicemails  about certain events and stuff, and we've had issues where public officials or the public don't agree with something we've done."
"I like to remind people we're sticking with the bare minimums of what the governor directed when event plans get approved," Spry said. "It's a little nuts, but at the end of the day their civil liberties are not a threat. At the end of the day, we all have a job to do."
Paul McKenna is chairman of the Petroleum County commission, but you can excuse him for having things other than the coronavirus on his mind these days.
The smallest county in Montana has had no positive cases, but grasshoppers are ravaging the second cutting of alfalfa on McKenna's cattle ranch near Winnett, the county seat.
"You've got to remember there's less than 500 people in our county," McKenna said Friday.
"I wouldn't say we worry about it," he said.
But a lack of civility toward health officials?
"That's really unfortunate," McKenna said. "People just need to have a little compassion for one another and use a little common sense. I think this is just going to have to run its course and probably a large protion of us are going to either get the COVID or some form of it and develop an immunity. At some point we're going to have vaccinations.
"It's not going to go on forever, and it's not going to magically go away."
Back in Deer Lodge, Saylor said a couple of big weddings have slipped under her radar as public health nurse. But Powell County, which stretches north through Avon, Helmville, Ovando and the fringes of Seeley Lake, remains a blessed shade of gray on the the state's daily COVID-19 map posts.
"Everybody says it's going to happen, and I'm sure it will," Saylor said. "I could tell you it's just good public health and I'm a stellar public health nurse, but I can't tell you that."