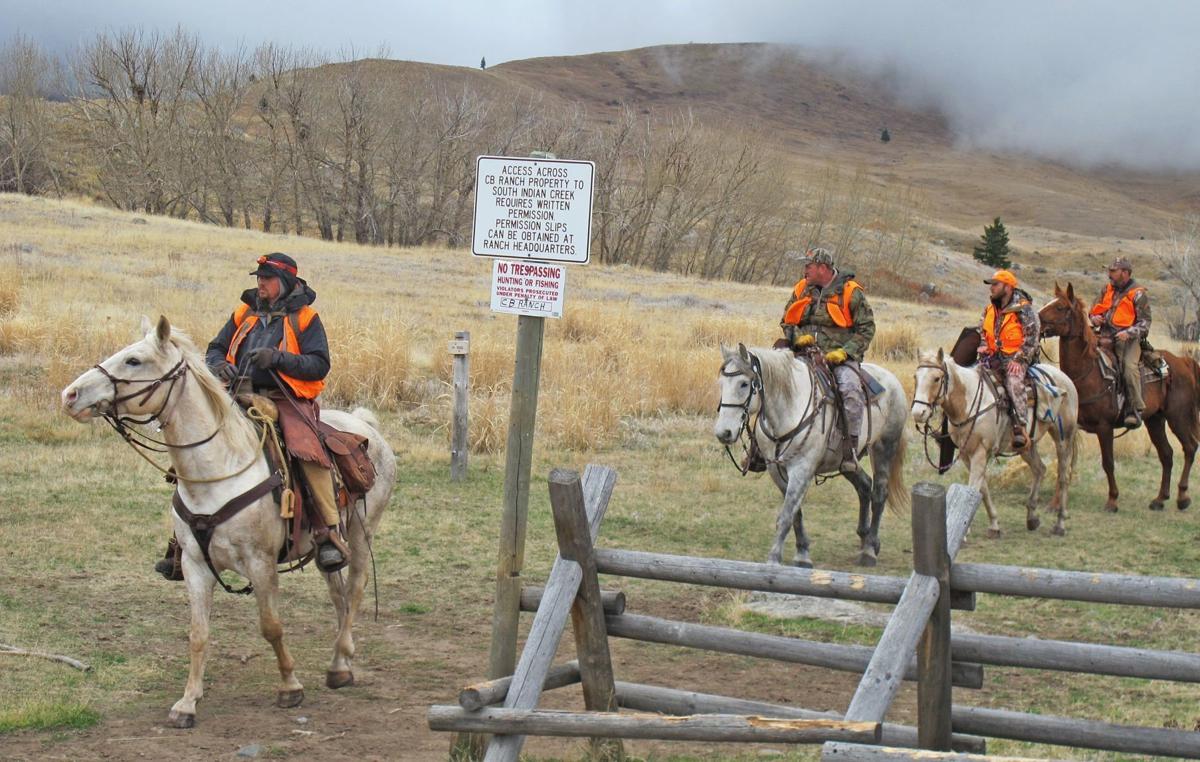 The Montana House on Tuesday passed a bill amended to add restrictions to prescriptive easements and require they be filed with the state by the end of next year — a proposal supporters said protected property values but critics characterized as an attempt to curb public land access.
A prescriptive easement is a legal concept rooted in English common law. Under Montana law, a prescriptive easement across private property is established by open, exclusive, notorious, hostile, adverse, continuous, and uninterrupted use for a period of five years. Experts estimate thousands of prescriptive easements exist in the state, both in written and unwritten form.
Sen. Steve Hinebauch, R-Wibaux, said in support of Senate Bill 354 that the goal was to address the limits of easements. He gave the example of the Forest Service crossing private property to control weeds or fight fires, but not wanting that to equal open public access. Another example he provided was a landowner giving access to a neighbor to check livestock, but not wanting that to lead to continued access for a future subdivision. The bill passed the Senate on a vote of 35-15 at the start of the month, picking up four Democrats voting with majority Republicans.
But once in the House, Rep. Barry Usher, a Republican who represents rural Yellowstone and Musselshell counties, brought an amendment to the bill that appeared to blindside Democrats on the House Judiciary Committee late last week. The amendment prohibits a prescriptive easement accessing public lands if other access is available within one mile. It further prohibits a prescriptive easement created through a leaseholder. The amendment also creates a process within the Montana Department of Natural Resources and Conservation for a person or governmental entity to obtain a prescriptive easement, including a $100 filing fee, and states that such filings must be made by the end of 2022.
Given the significance of the amendment, Rep. Danny Tenenbaum, D-Missoula, moved that the committee delay action, which Republicans voted down. Democrats continued to question the amendment but were outvoted by majority Republicans to move the measure to the floor this week.
Rep. Seth Berglee, R-Joliet, carried the bill onto the floor. The legislation, as Berglee sees it, will create an adjudication process for prescriptive easements similar to those for water rights. The bill was largely focused on those leasing private lands and to prohibit leaseholders from allowing access to guests that could then claim a prescriptive easement, he said.
Tenenbaum raised multiple issues on the bill on the floor, saying that as written it appears to apply to all prescriptive easements in the state, not just those obtained for public access, and brings a host of potential legal issues. 
Rep. Tom France, D-Missoula, also spoke in opposition, pointing to the expiration date on many easements currently used by the public.
"If this bill passes we'll see gates going up and your constituents are going to wonder why," he said.
The bill passed the House on a vote of 62-38, with a handful of Republicans joining Democrats in opposition.
"It looks like it will undo all the historic record we have and case law of prescriptive easements," he said. "No. 2, it's an attempt to impair the public's right to access public lands."
Goetz estimated that there are thousands if not tens of thousands of prescriptive easements in Montana and for many purposes besides recreational access.
One point of the bill Goetz noted appears to limit who can bring a case for a prescriptive easement to a person or governmental entity. That would essentially prohibit nonprofit groups, which have pushed for and in some cases successfully litigated, public access through prescriptive easements, he believes.
In an interview Usher said he brought the amendment at the request of a constituent.
"I know about (prescriptive easements) but I don't understand that stuff as much as a lot of people do," he said, again pointing to the example of a leaseholder providing unauthorized access as a problem the amended bill is trying to solve.
Usher agreed that the bill would likely make obtaining a prescriptive easement more difficult. When asked why it should be more difficult, he said "it seemed like a good idea," and said a constituent asked him to run the amendment, but he did not identify the constituent. The amendment, as he understood it, would not bar nonprofits from being involved in prescriptive easement cases, he said.
Usher said he generally supports public access and one reason he got into politics was frustration out of seeing locked gates on public lands. 
Nobody had brought up any issues with the Dec. 31, 2022 deadline but he said it could probably be extended if deemed necessary.
Conservation groups have been outspoken about the bill since the amendment.
"It's a blatant attempt to get rid of prescriptive easements that lead to public land," said Nick Gevock with the Montana Wildlife Federation. "Anyone who votes for this bill and says they're for public access is being disingenuous. This is an effort to keep people off their public lands and waters."
Gevock also agreed the bill affected groups such as the Public Land/Water Access Association, which has litigated both successfully and unsuccessfully on access issues such as prescriptive easements. The cases are often extremely complicated, timely and expensive, he said, and access advocates do not take them lightly.
With the amended bill passing the House it now goes back to the Senate for consideration on the amendment. Should the Senate vote the amendment down, the bill would go to a bicameral conference committee to decide its fate.
This story has been changed to clarify that Usher did not name the constituent but was not asked to identify them.